A rapidly growing trend in the restaurant industry is the Banquette Booth Seating. A banquette booth is a popular design due to its versatile nature. A banquette booth is usually a minimum of 10' long and can be made the length of any available space. The style is paired with tables and chairs to give the visitor the choice to sit on a comfy booth or a dining chair.
The versatile nature of this booth style allows you to use tables of different sizes and combined them as needed. A popular banquette booth arrangement is large 4-seater tables on ends which also serve as handicap accessible tables and smaller 2-seater tables in the center. These tables can later be pushed together to accommodate large parties.
Does Banquette Booth Seating Save Space?
Yes, a banquette booth can run along any wall in your restaurant dining area utilizing every inch available as seating space. When compared to chairs and tables, a banquette booth will stay put keeping your dining area looking clean and together. The depth of the booth utilizes only what is necessary to create a comfortable seating experience.
How much clearance do you need for Banquette Booths?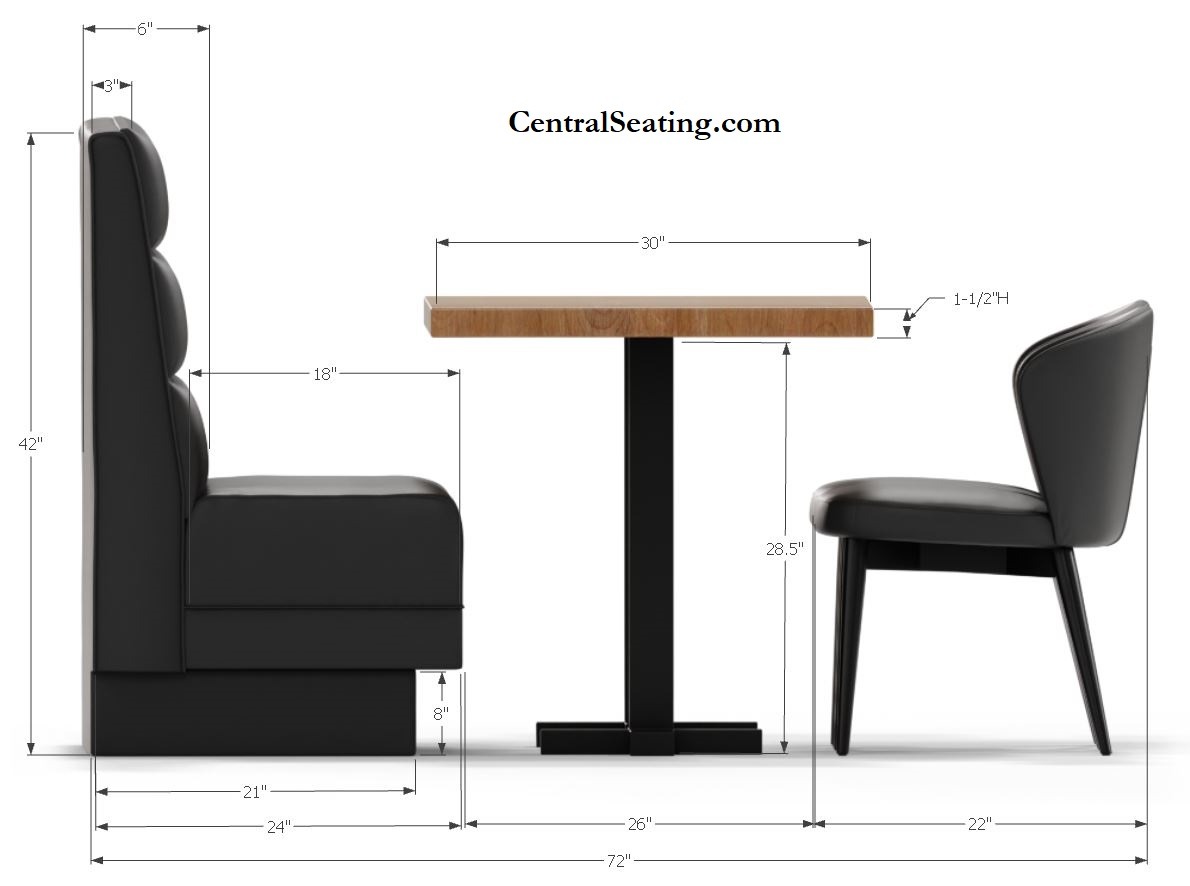 A banquette booth depth (front to back) is same as a single booth and any other style of booth. The industry standard depth of 24" is a combination of 18" seat depth and 6" overall back rest depth. A dining booth starts at 3" at top and ends at 6" where it connects with seat. This creates a standard and common incline providing comfort for the user. A standard booth, 30" wide table, and dining chair will usually utilize 72" to 74" of space. The depth may change depending on table and chair size.
Can banquette booth be adjusted to fit in area with limited space?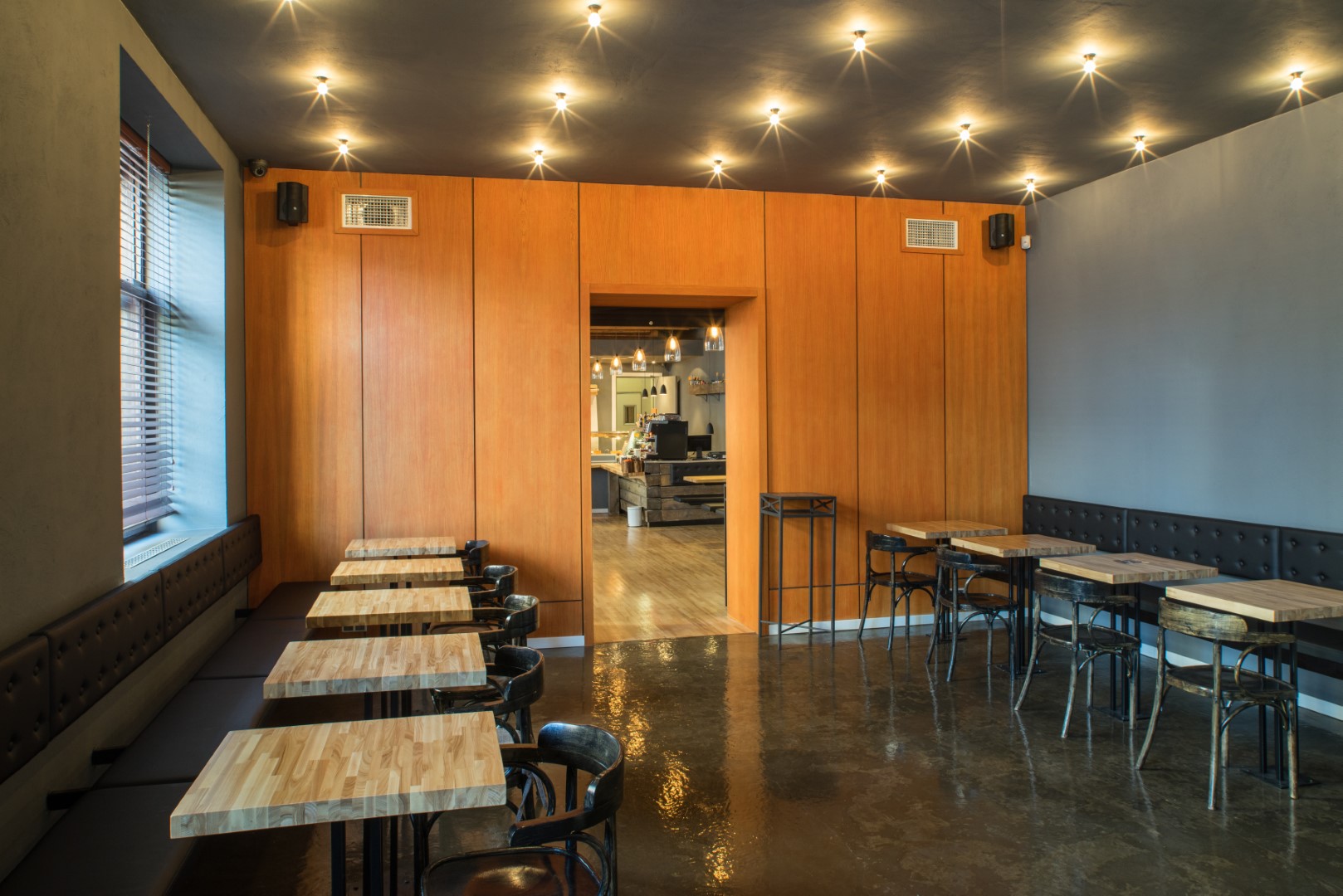 Not all restaurants are made the same, some areas will be limited in space and, some will have enough room to fit the largest U shapes, 3/4 circle booths and more. In many cases, a banquette booth is a great addition to restaurants with limited space and will provide a cleaner and spacious seating than a table with 4 chairs.
Banquette booths can be adjusted in different ways to fit in small areas. Here are a few extra steps you can take if a standard size booth does not fit in your dining area due to unusual limited space.
Reduce depth of back rest. It is common to reduce the back rest depth from standard 6" to custom 3" depth. A 3" back rest coupled with 18" seat depth will give you a total of 21" overall depth. This saves you 3" compared to standard. Reducing the back rest from 6" to 3" will create a more up-front vertical back rest that may not be comfortable to all visitors but is common and accepted by many.
Eliminate the back rest and have a waiting bench style seating only. This will turn the overall depth of 24" to 18" saving you 6" of space. Visitors can rest against a wall or a small 2" cushion can be hung on back rest for minimal comfort.
Reduce table width from standard 30" to 24" depth. A standard stable with 30" depth will give the 2 users a standard 15" of dining area. If the table is changed to 24" depth, this will reduce the table space for each person to 12". You can decide if this is a good enough space by measuring your existing dishes and cups.
Reducing the depth of seat will not help in reducing overall space as a visitor's legs will remain same length on any seat size. It is better to focus on back rest as this is more effective.
There are 3 common styles of overall booth depths, and each serve a different purpose.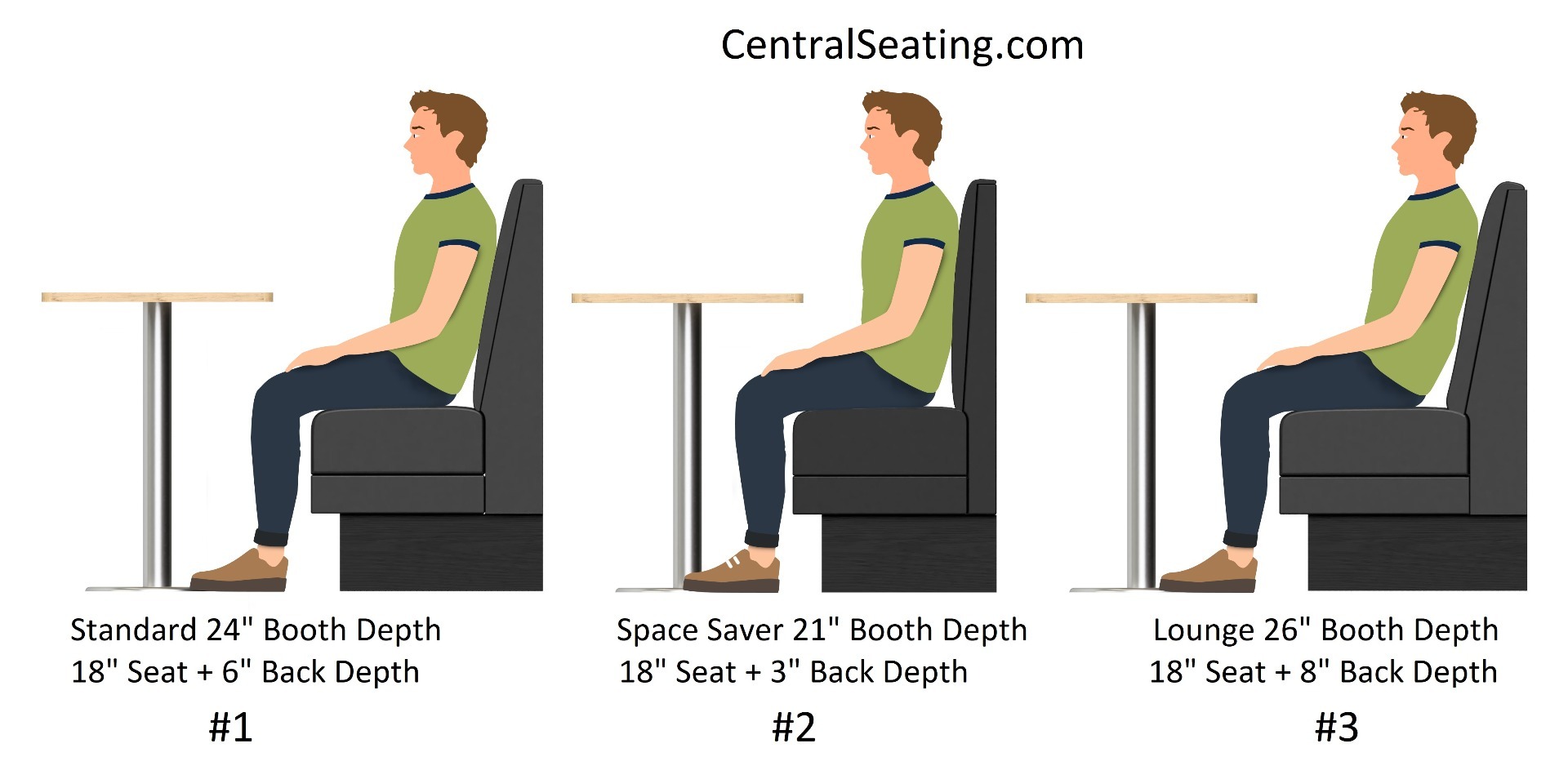 Standard 24" Overall Depth is a common booth depth in dining areas.
Space Savor 21" Overall Depth. Common in areas with limited space.
Lounge Style 26" Booth depth. Common in night clubs and lunge style dining areas. Throw pillows may be required in some cases.
Can you use a round table with a banquette booth?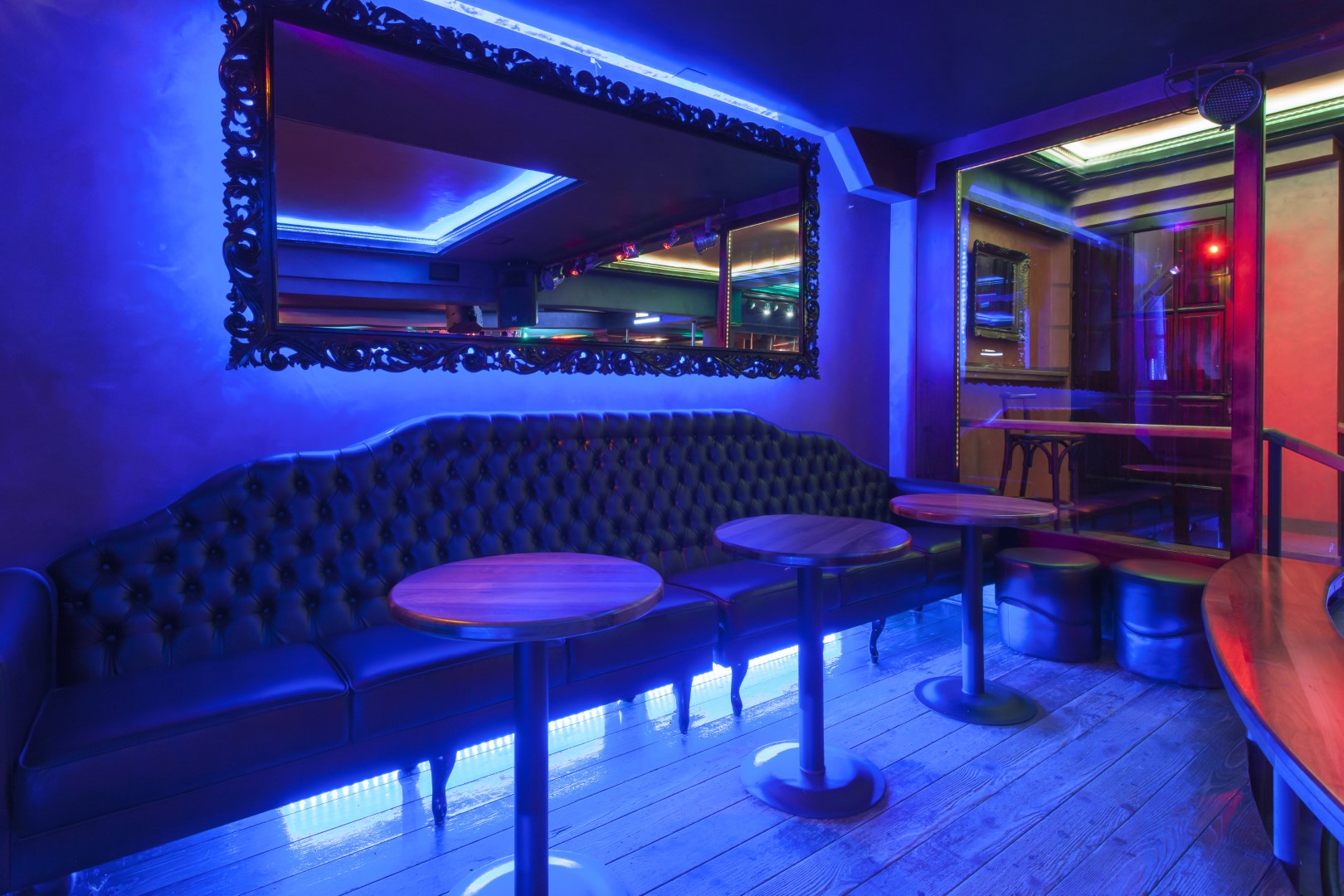 Yes, in lounge style dining areas such as night clubs, bars, break rooms and alike, it is common to have round coffee height tables in front of banquette booths. These areas usually serve small snacks, drinks or small dishes that do not necessarily require large dining tables. The round tables make it easy for someone to walk in and out of booth.
Round tables in lounge seating areas are usually small 24" to 30" round and are commonly 14" t 20" coffee table height.
12 Most Common Banquette Booth Seating Lengths
A banquette booth seating usually starts at 8' long and can be any length you desire. Here are 12 common lengths for banquette booths and their table combination options. These options will give you an idea of what tables can be used per size of wall. The space between each table is recommended to be a minimum of 14" to 18" depending on your space and desired outcome. There is no maximum space recommended as this varies depending on type of environment, restaurant theme and group size. Sizes may vary, use this only to give you an idea of what is possible, your goals and available space will dictate the best outcome.
| | | | | |
| --- | --- | --- | --- | --- |
| # | Banquette Booth Length | Fits 24" by 30" Two Seater Tables | Fits 30" by 48" Four Seater Tables | Amount of People Banquette Booth Supports |
| 1 | 8' or 96" Long | 1 to 3 | 0 to 1 | 6 |
| 2 | 10' or 120" Long | 2 to 4 | 1 to 2 | 8 |
| 3 | 12' or 144" Long | 1 to 4 | 1 to 2 | 8 to 10 |
| 4 | 14' or 168" Long | 3 to 5 | 1 to 2 | 10 |
| 5 | 16' or 192" Long | 2 to 6 | 1 to 3 | 10 to 12 |
| 6 | 18' or 216" Long | 3 to 7 | 1 to 3 | 14 |
| 7 | 20' or 240" Long | 2 to 7 | 1 to 4 | 14 to 16 |
| 8 | 22' or 264" Long | 3 to 7 | 1 to 4 | 14 to 18 |
| 9 | 24' or 288" Long | 3 to 8 | 1 to 4 | 16 to 18 |
| 10 | 26' or 312" Long | 4 to 9 | 1 to 5 | 18 to 20 |
| 11 | 28' or 336" Long | 5 to 9 | 1 to 5 | 18 to 22 |
| 12 | 30' or 360" Long | 5 to 10 | 1 to 5 | 20 to 22 |
#1. 8' or 96" Long Banquette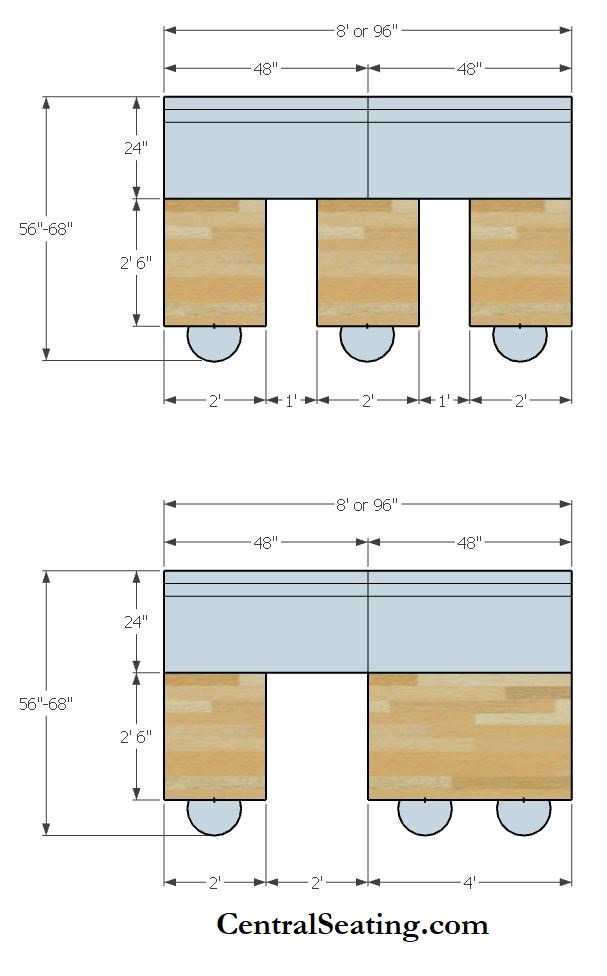 #2. 10' or 120" Long Banquette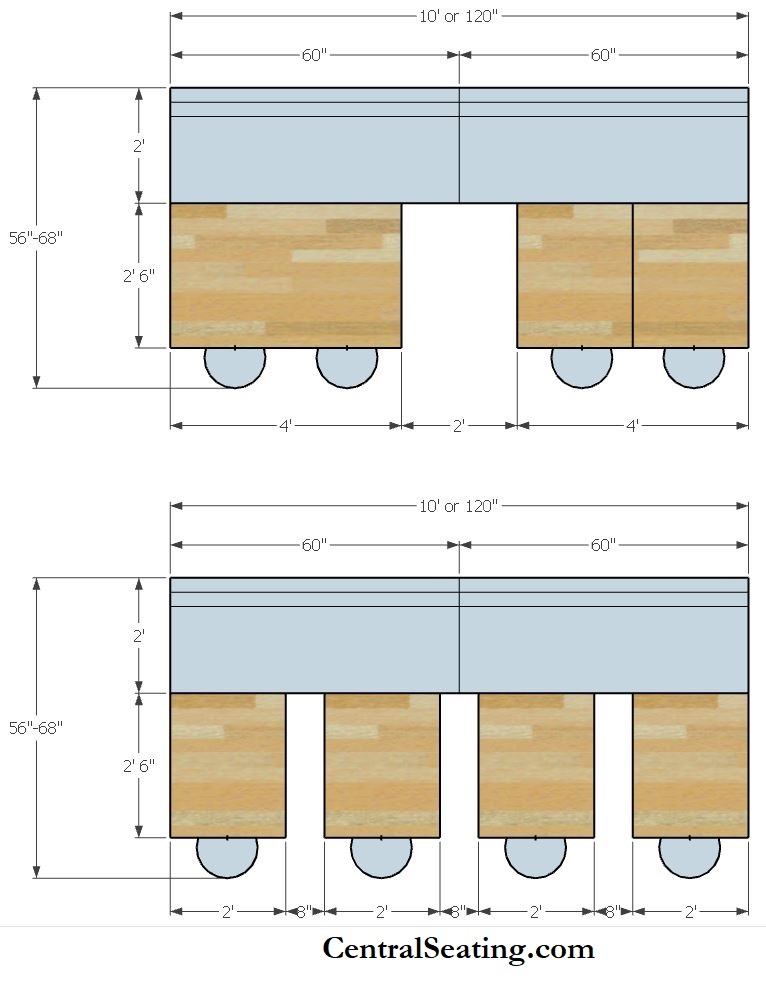 #3. 12' or 144" Long Banquette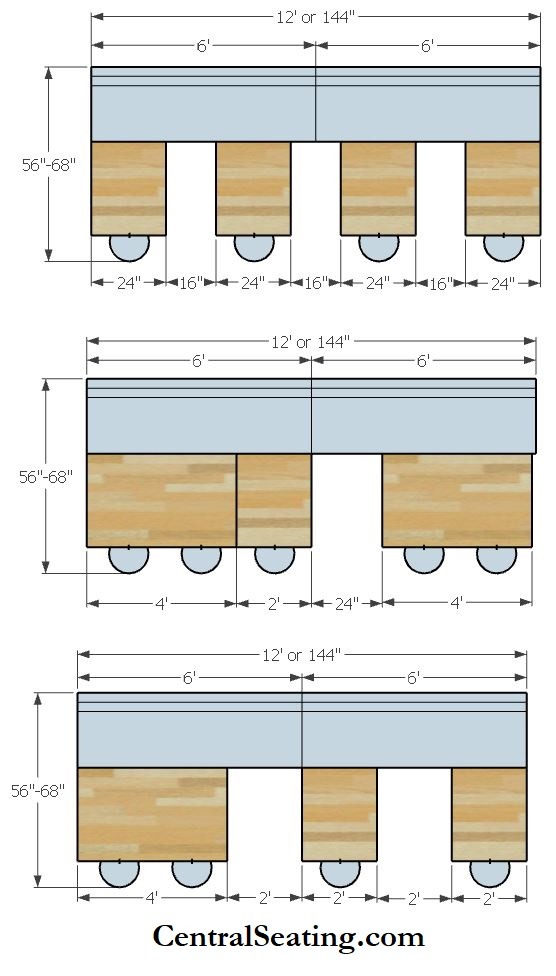 #4. 14' or 168" Long Banquette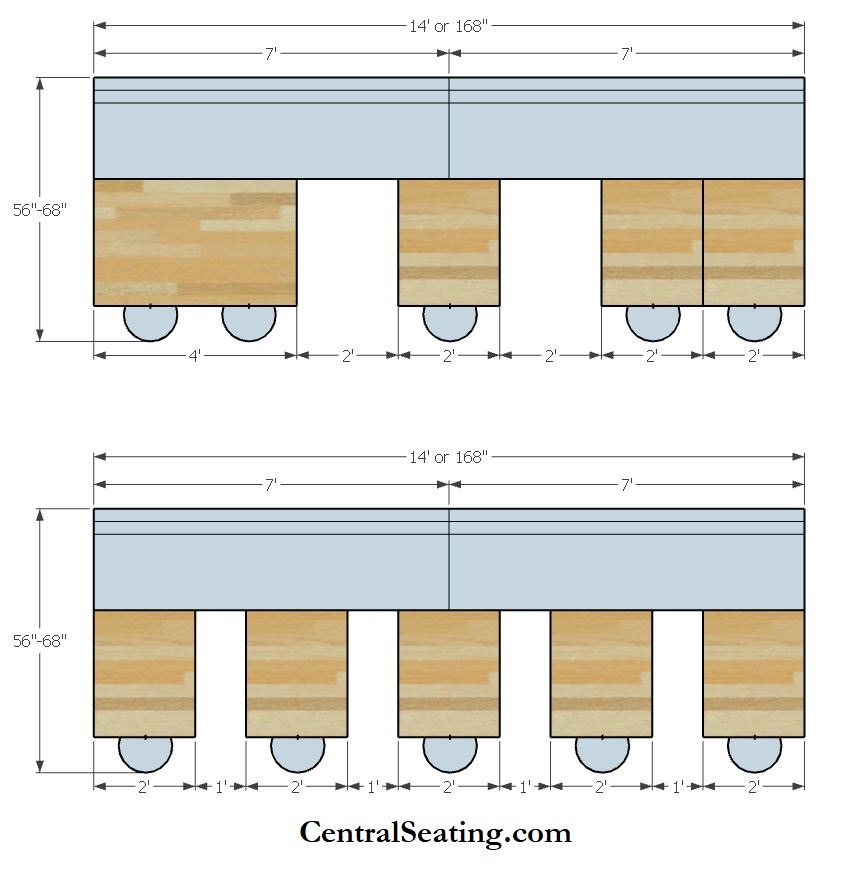 #5. 16' or 192" Long Banquette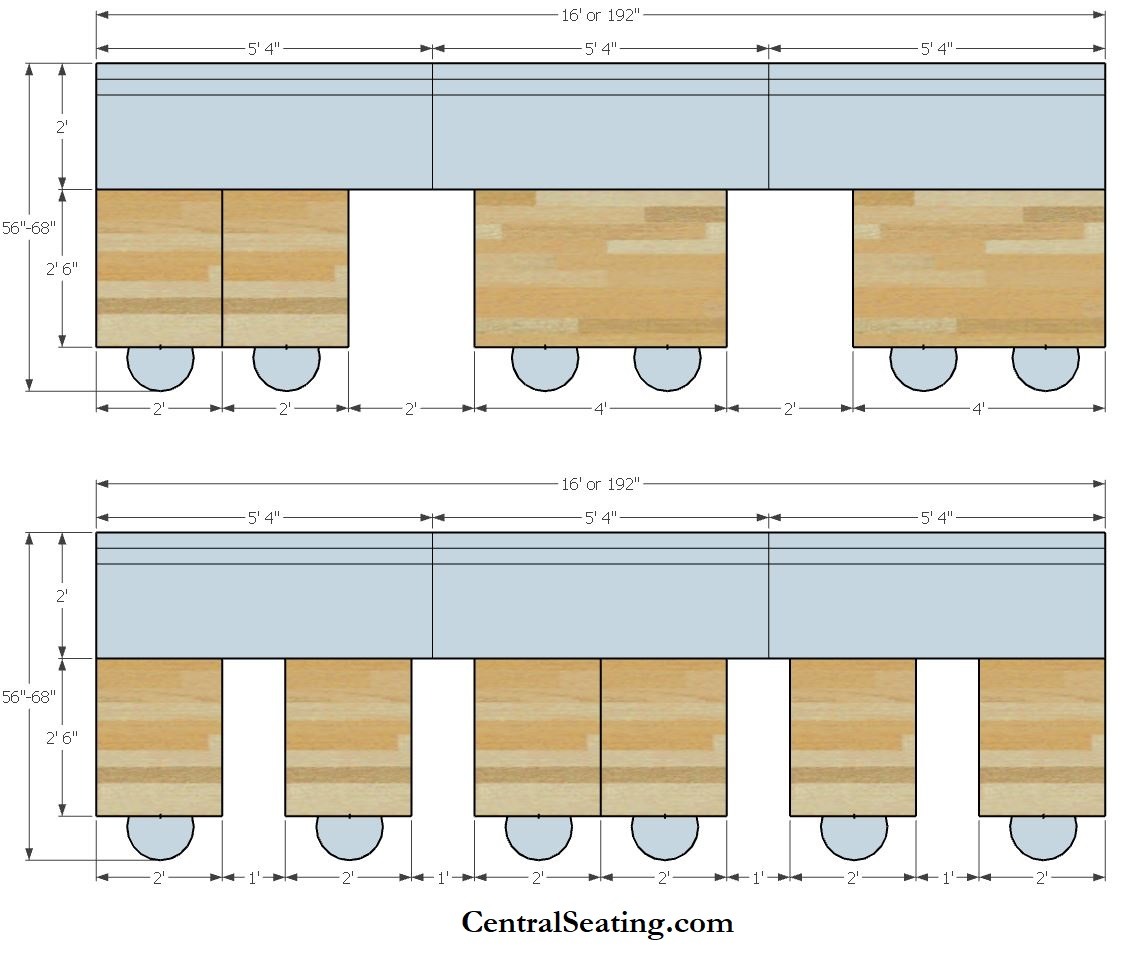 #6. 18' or 216" Long Banquette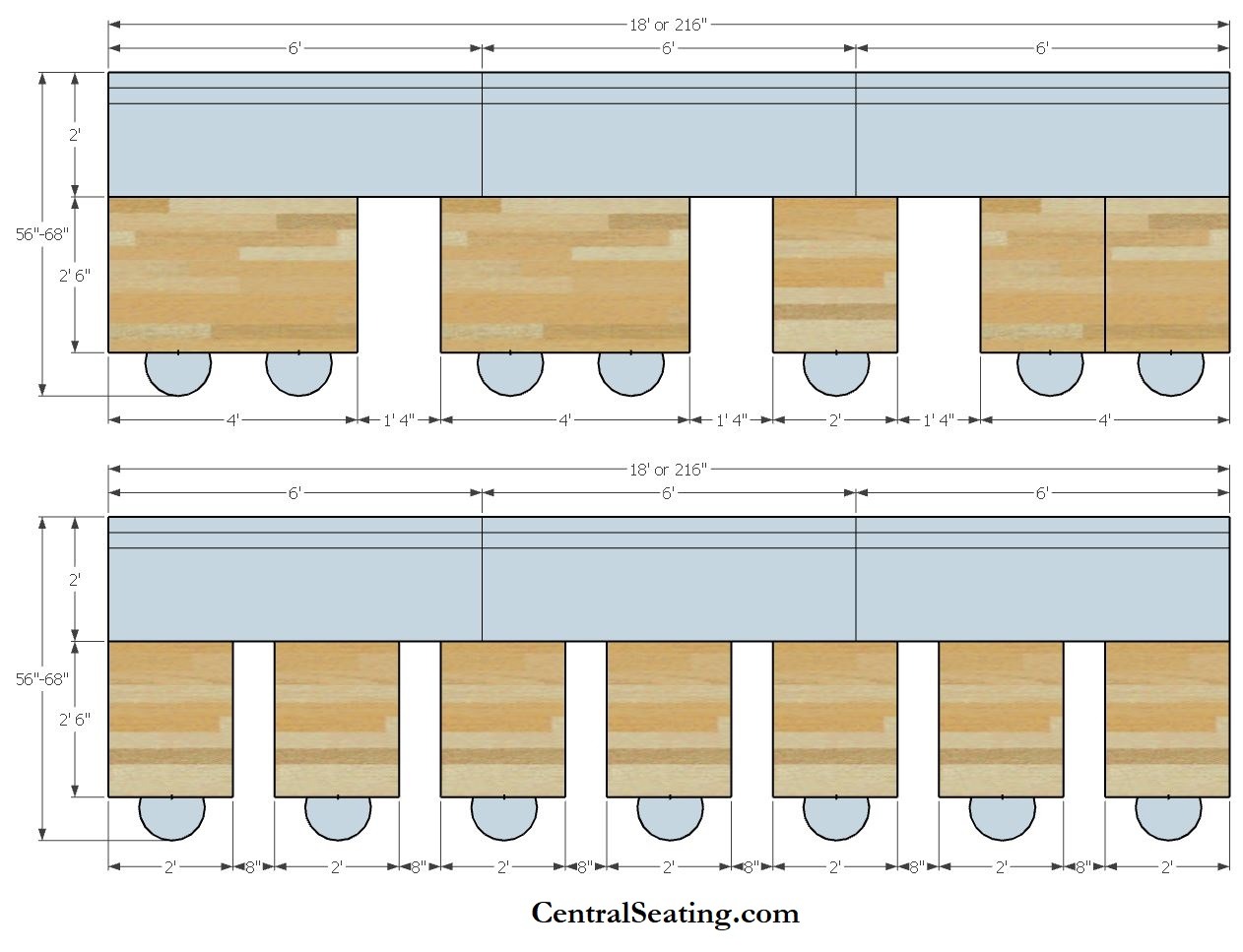 #7. 20' or 240" Long Banquette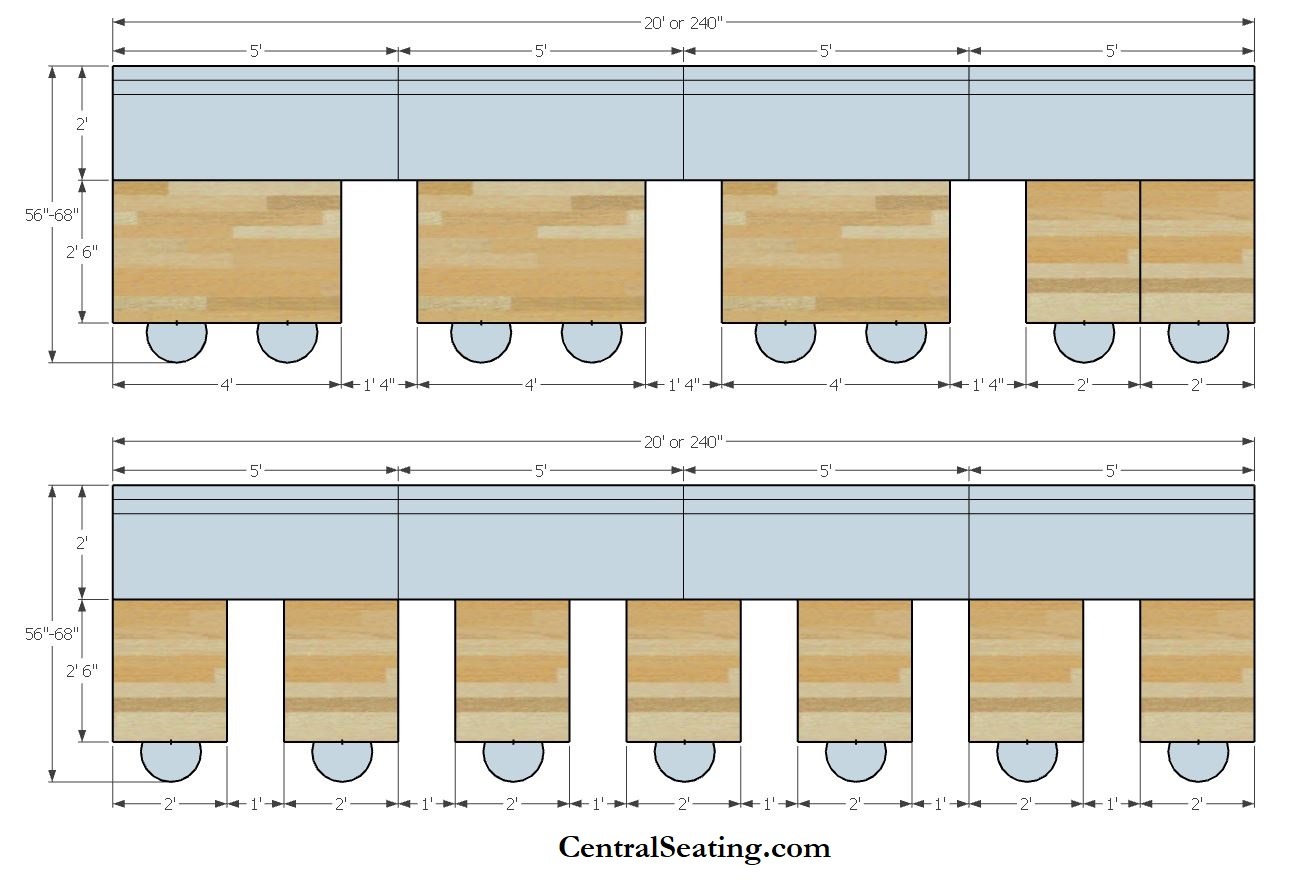 #8. 22' or 264" Long Banquette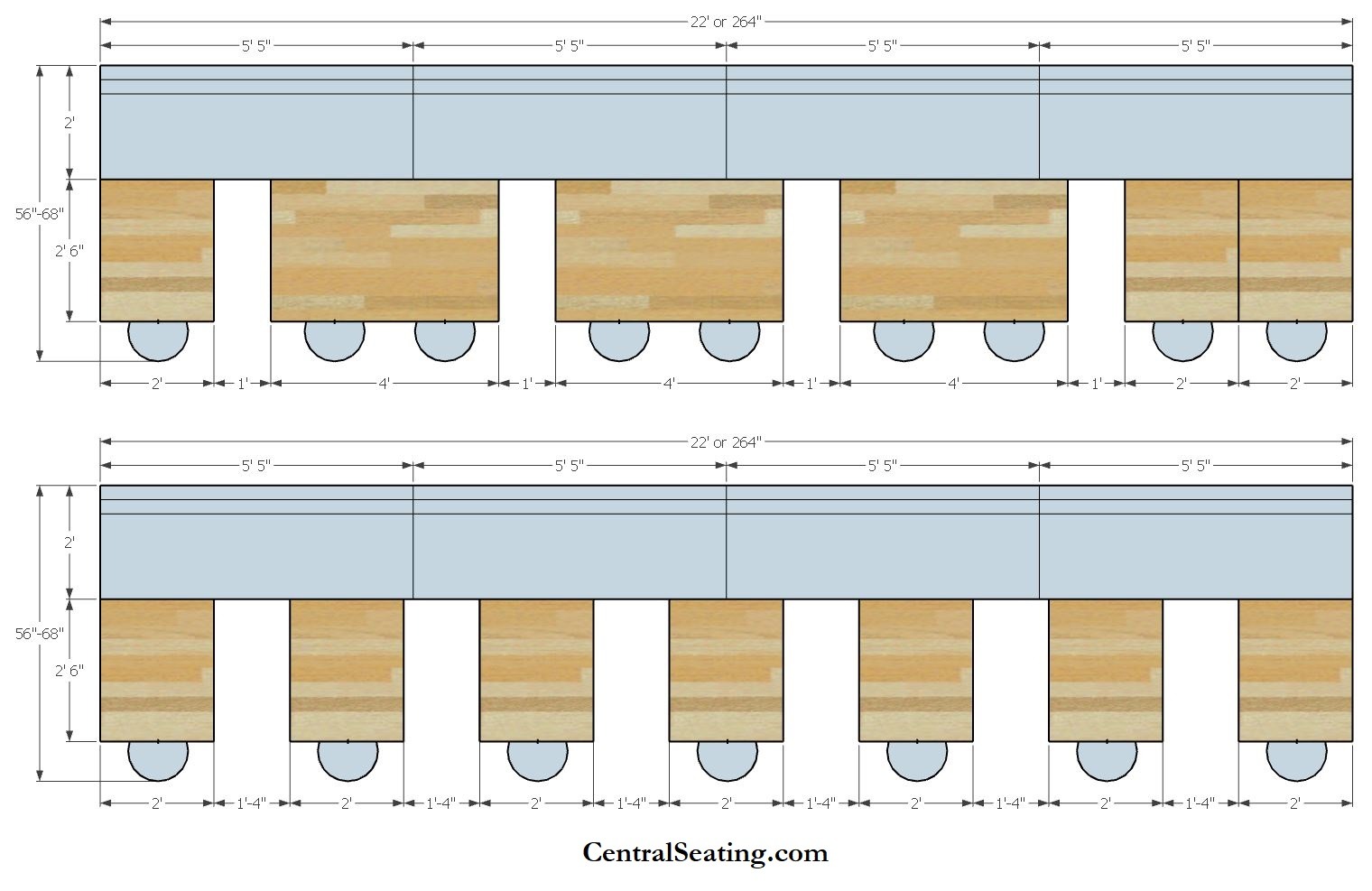 #9. 24' or 288" Long Banquette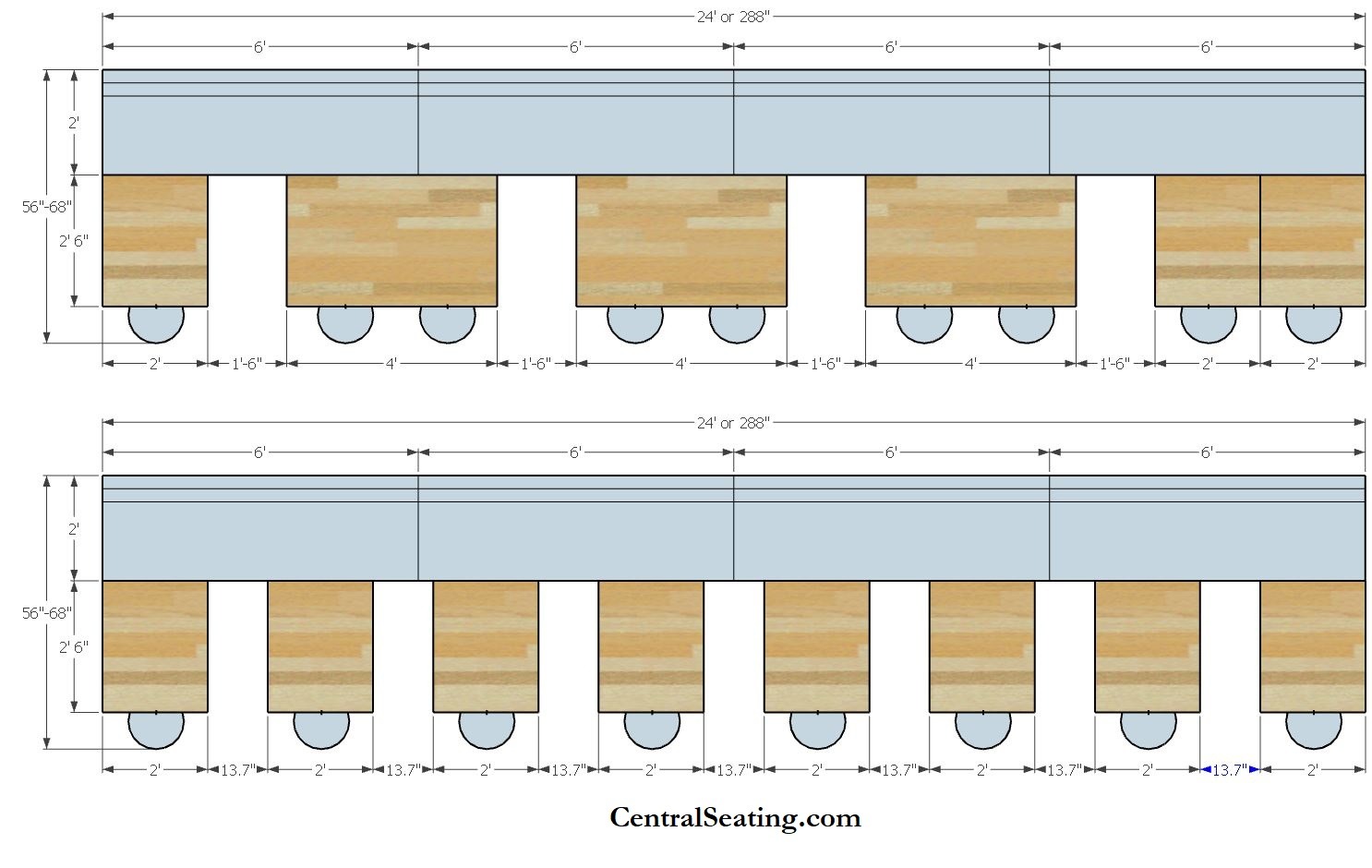 #10. 26' or 312" Long Banquette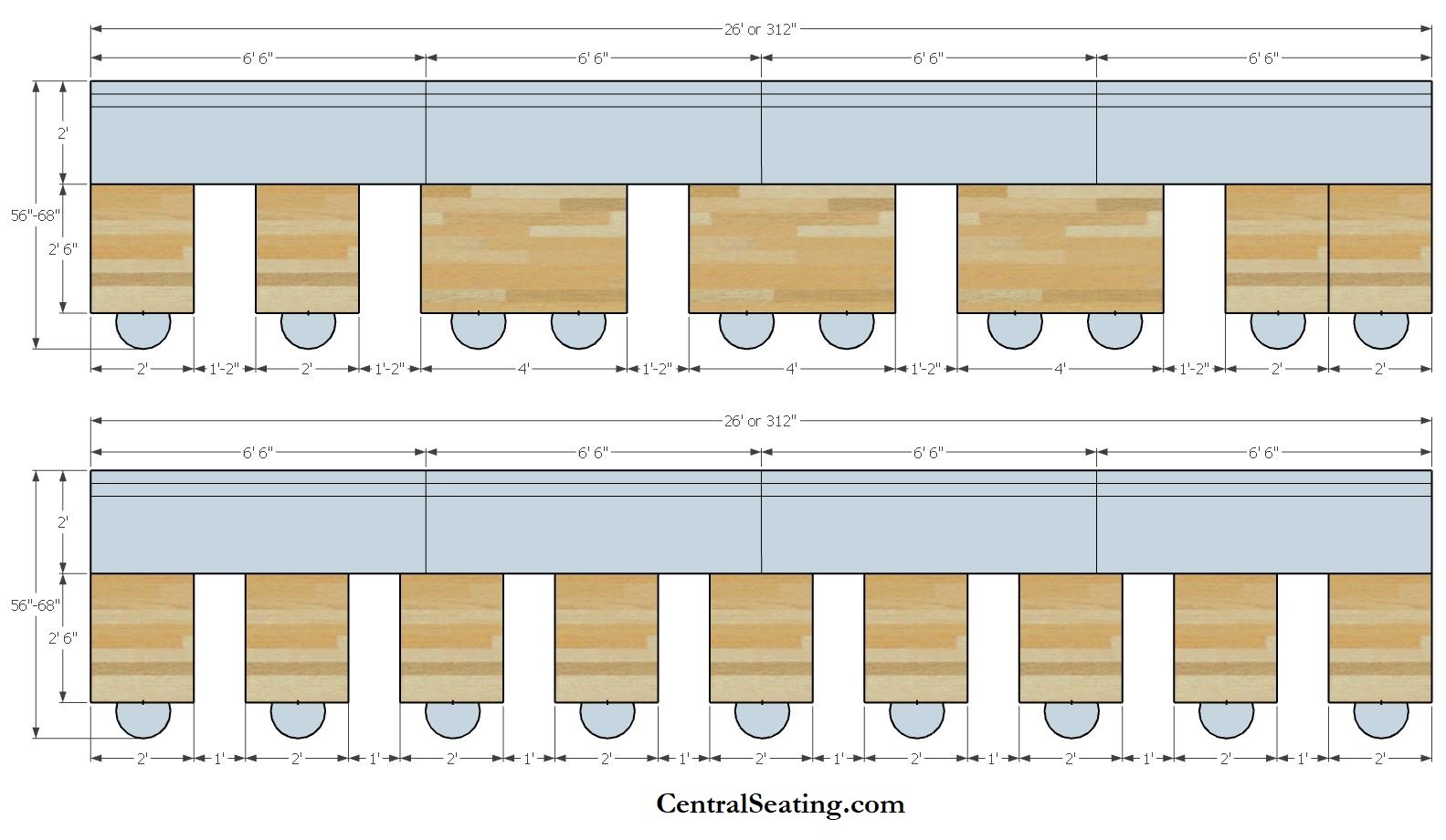 #11. 28' or 336" Long Banquette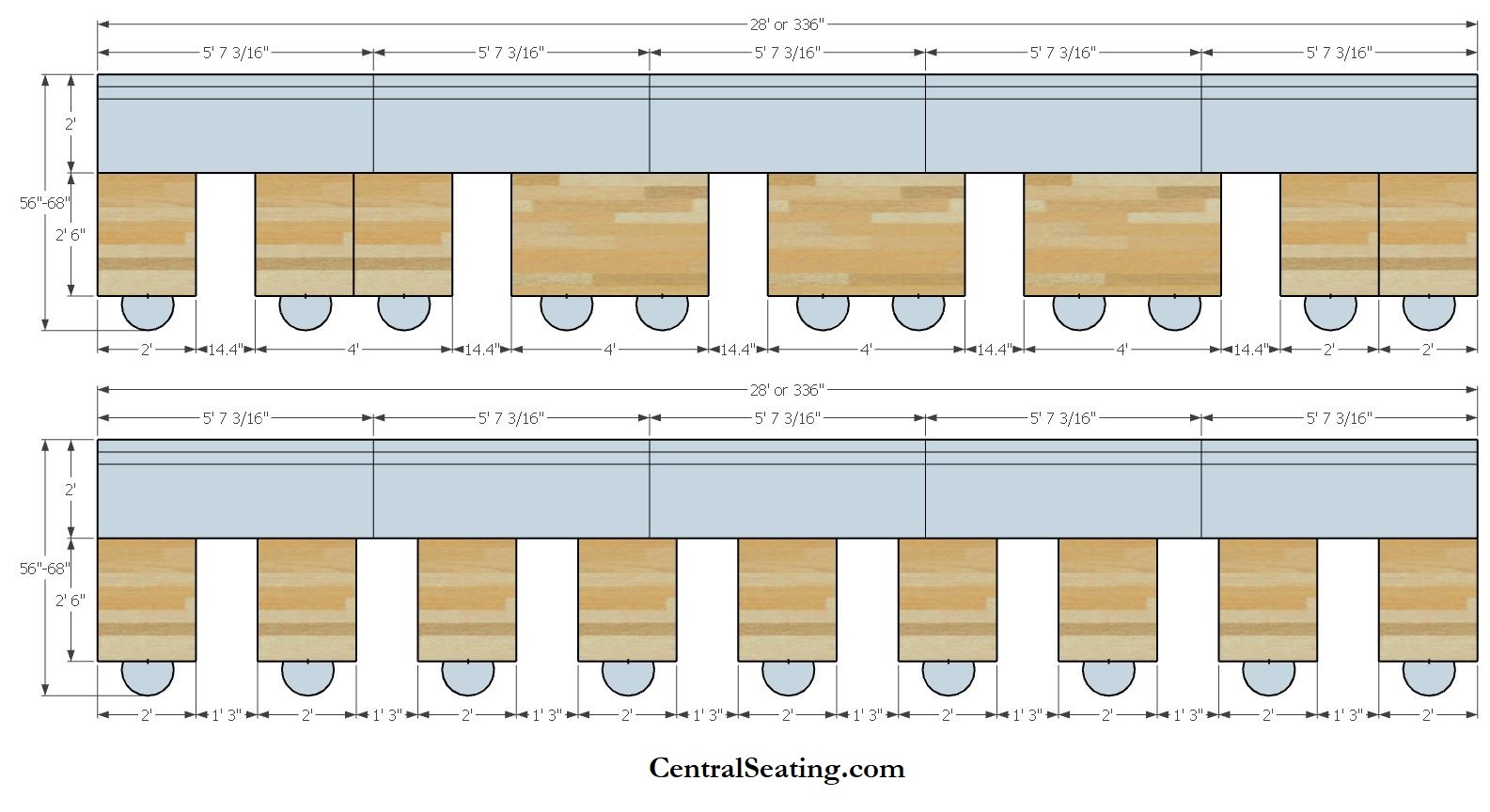 #12. 30' or 360" Long Banquette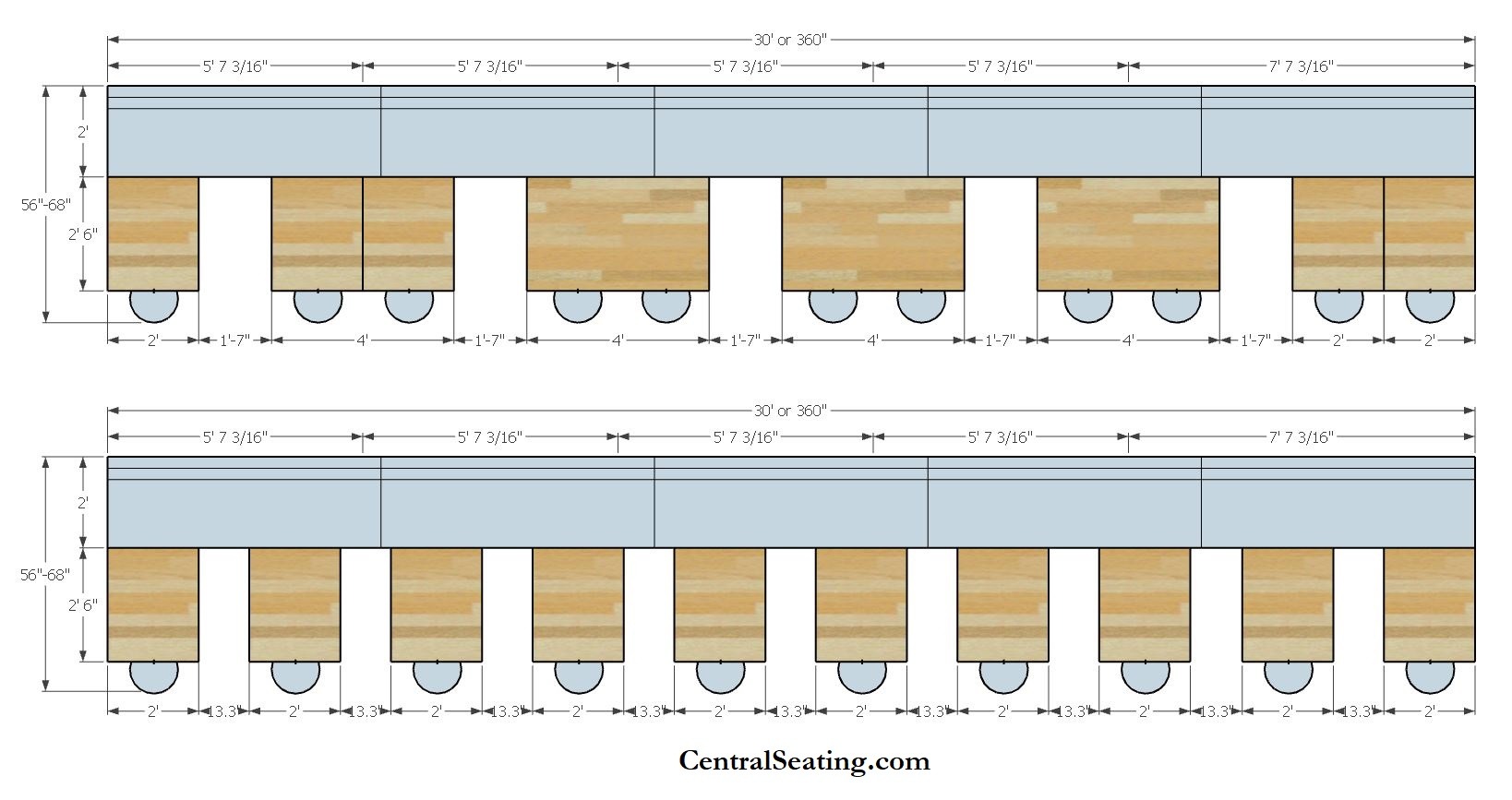 Can a Banquette Booth be made Bar Height?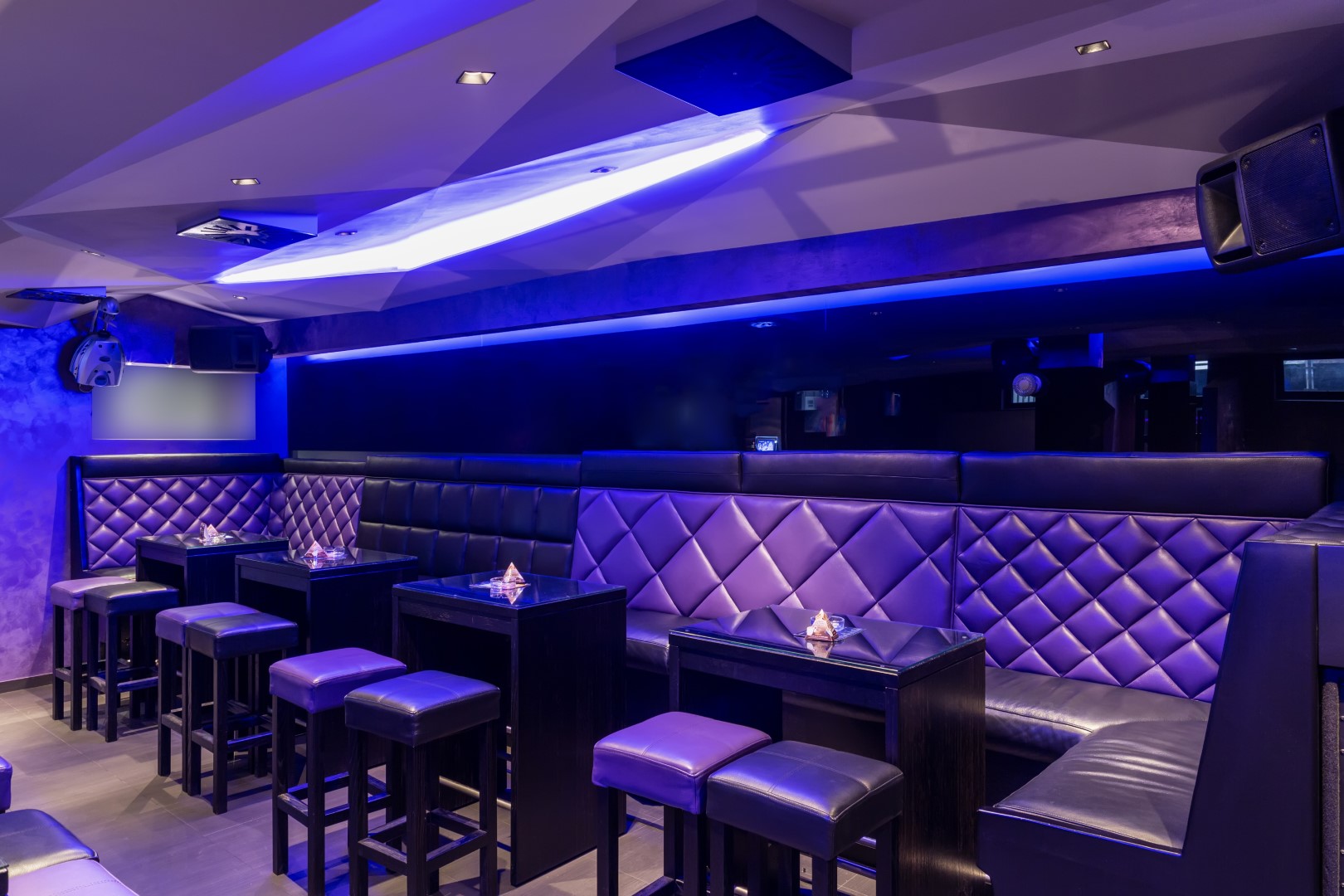 Yes. A popular addition to nightclub or bar establishment is a Bar Height Banquette Booth Bench combined with Bar Tables and Bar Stools. This type of bench allows the group that is sitting to be at eye level with patrons walking around. This is important for someone that wants to sit and enjoy their time without having groups of people towering over them as they chat or eat. The visitors can choose to sit on comfortable cushioned booths or barstools.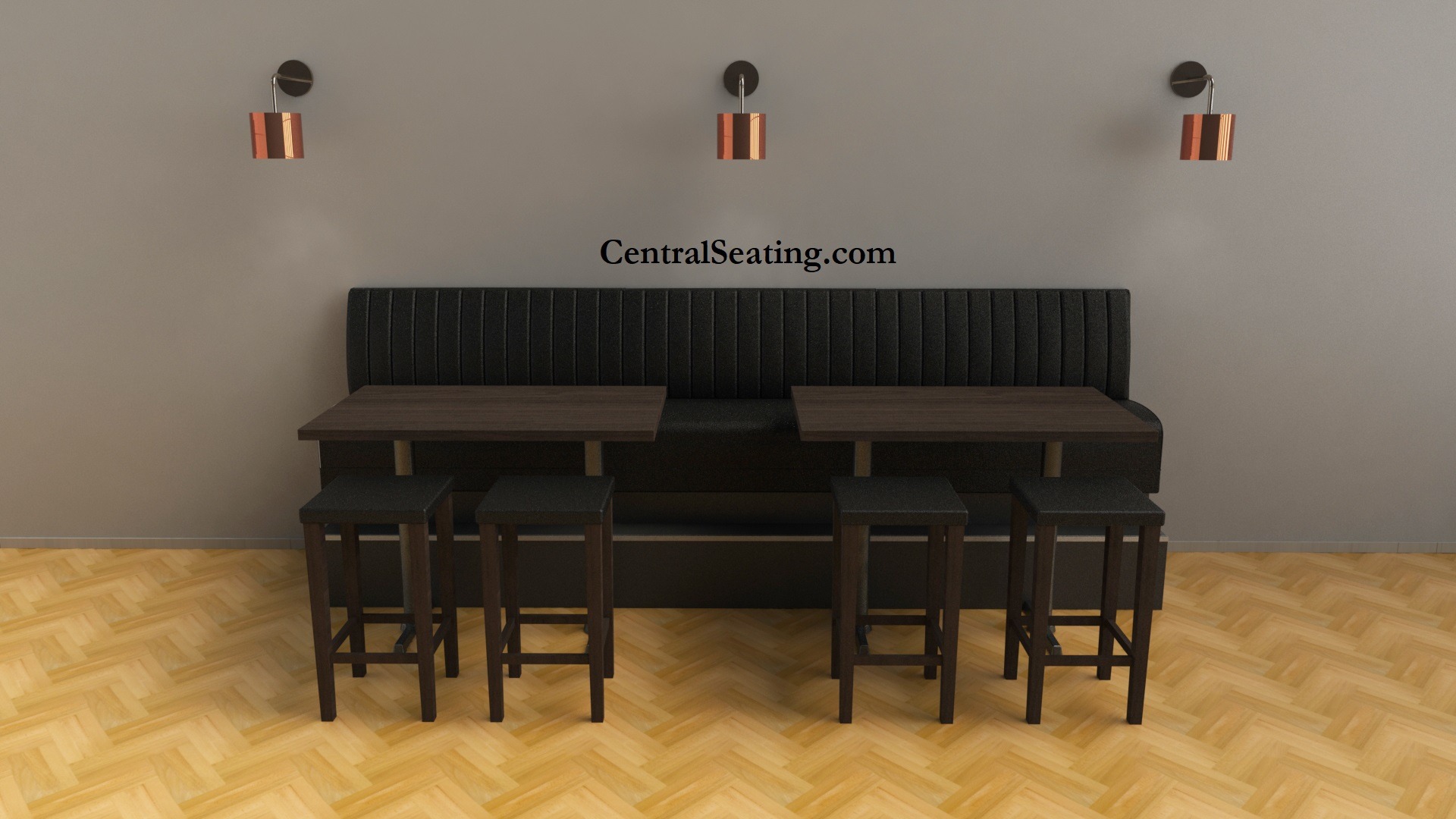 A wall with dead space can easily be turned into comfortable seating area by adding banquette bench that is made in bar height measurement.
The bar height banquette booth will have a similar depth to a dining height banquette booth and usually the only main difference is a 30" bar seat height.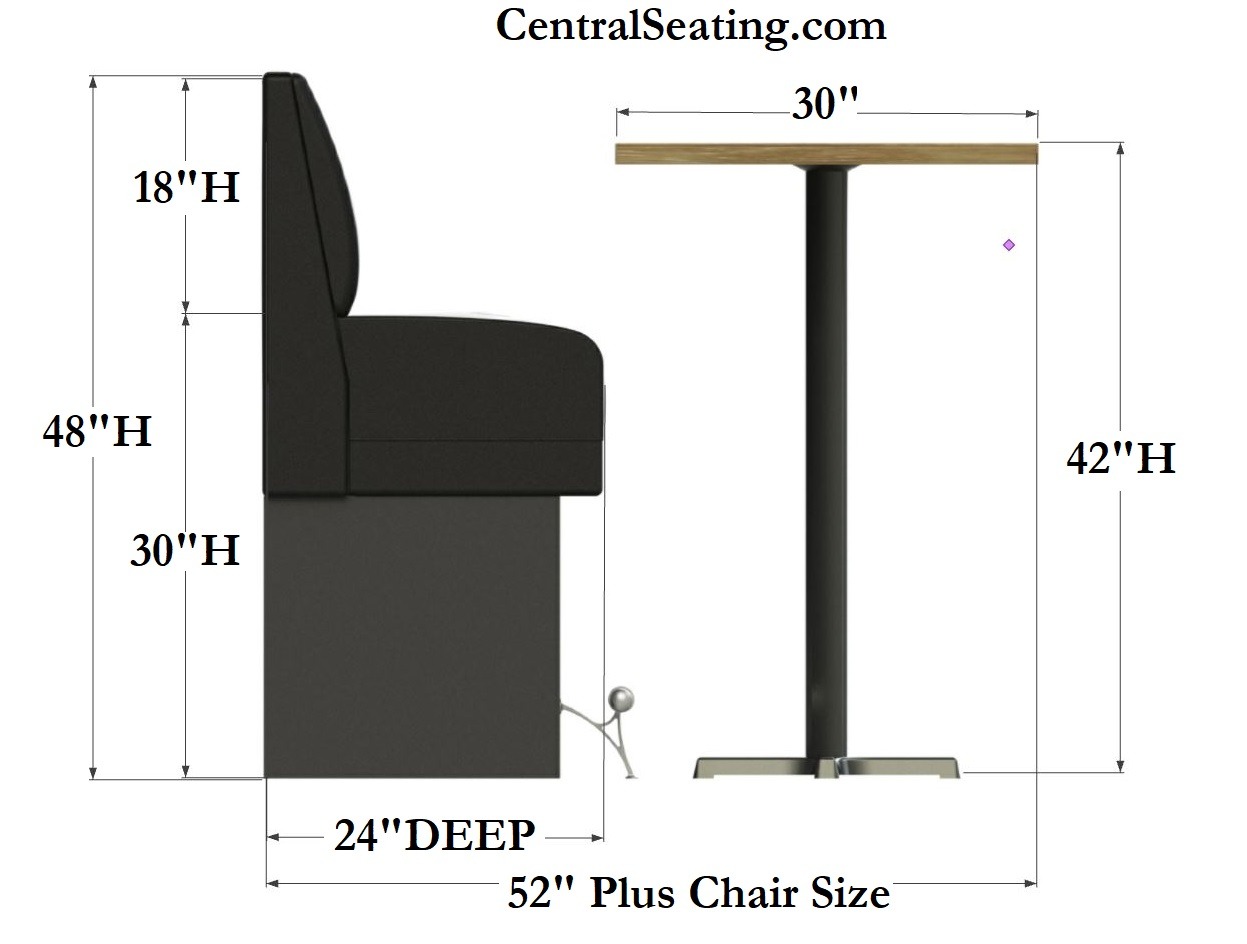 3 Most Common Seat Height Options for Banquette Booth Seating, Dimensions
| | | |
| --- | --- | --- |
| Seating Type | Seat Height | Recommended Table Height |
| Dining Height | 18" Tall | 30" Tall |
| Counter Height | 24" to 26" Tall | 34" to 36" Tall |
| Bar Height | 30" Tall | 40" to 42" Tall |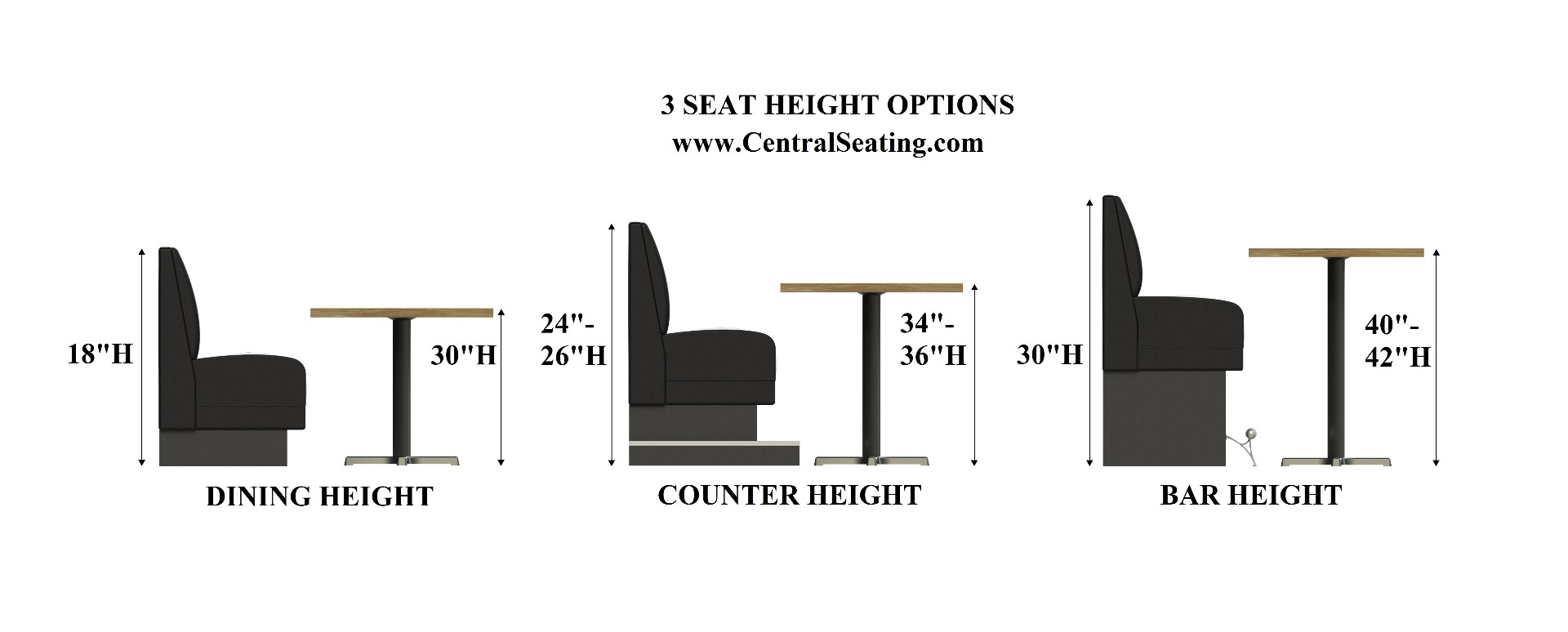 Depending on your goal, you can choose 18" Dining Height, 24" to 26" Counter Height, or 30" Bar Height for youre Banquette Booth Seating.
What is Standard Banquette Booth Height?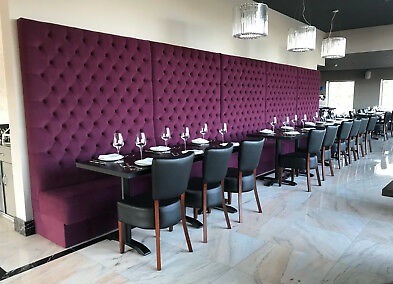 A banquette booth can be made into any desired height depending on your goals. There are 4 most common heights, and they are 36" Tall, 42" Tall, 48" Tall and 54" to 60" Tall from floor to top of booth.
Depending on your overall wall height, you can choose any of the standard above-mentioned heights or cover entire wall with booth to create a focal point of your interior design.
36" Tall booths if sitting will be around your chest area. This short height does not make the restaurant look crowded and will leave enough room on your wall to add decorations, special moldings, make way for windows or anything else you desire.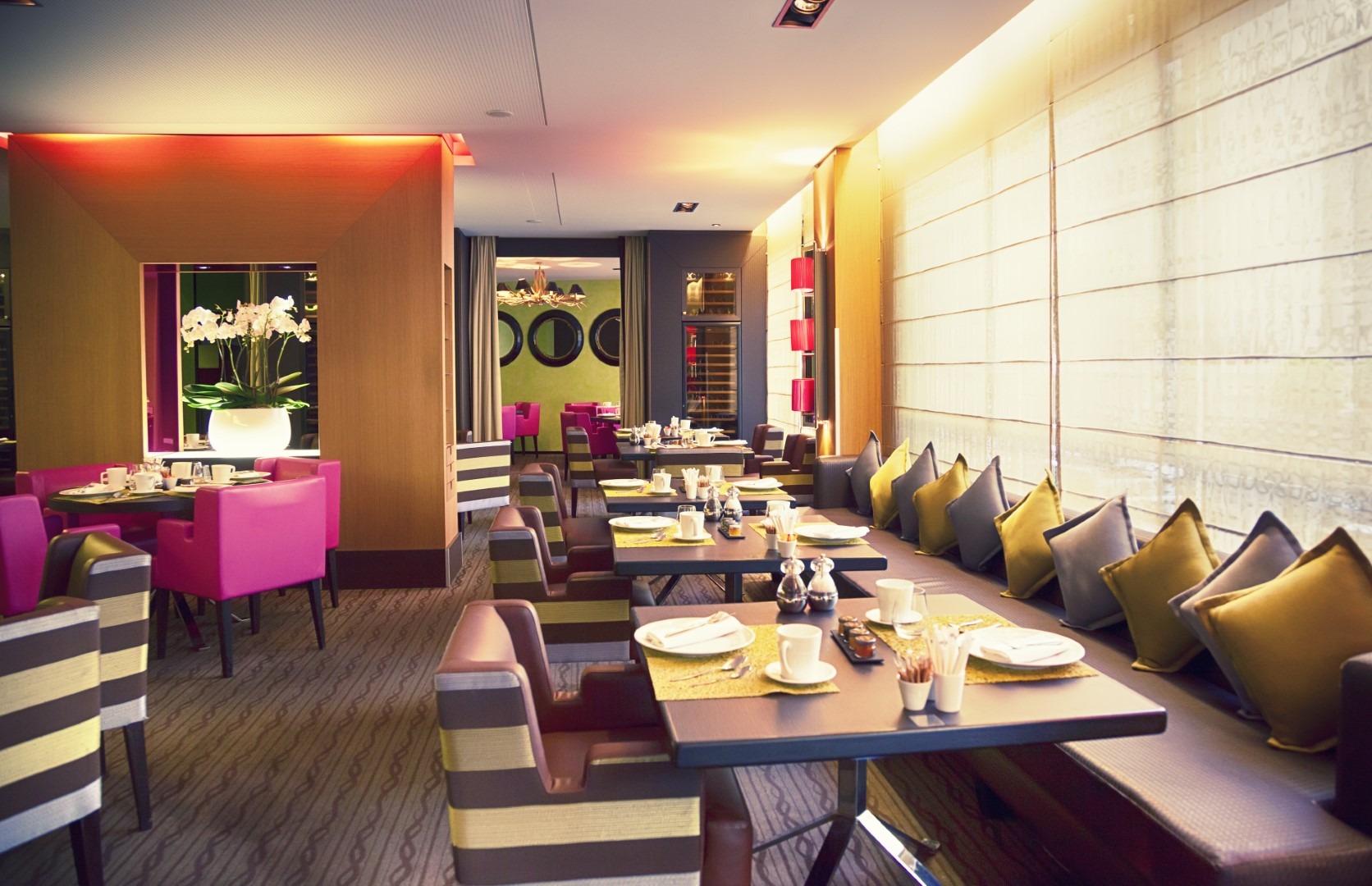 36" Tall
42" Tall booth if sitting will be around your chin area. This is the most common height and falls under standard pricing along with 36" Tall booths.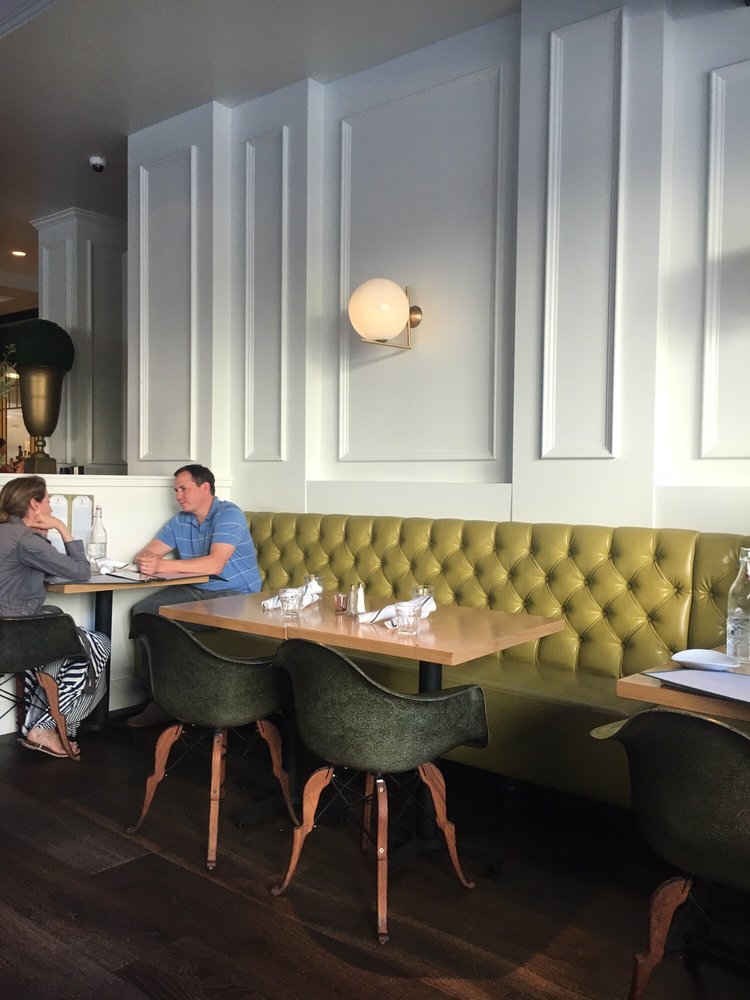 42" Tall
48" Tall booths if sitting will be around your ear area. This booth takes up more of your wall and will stand out more compared to the other 2 common height booths. This booth will have an increase in pricing due to height.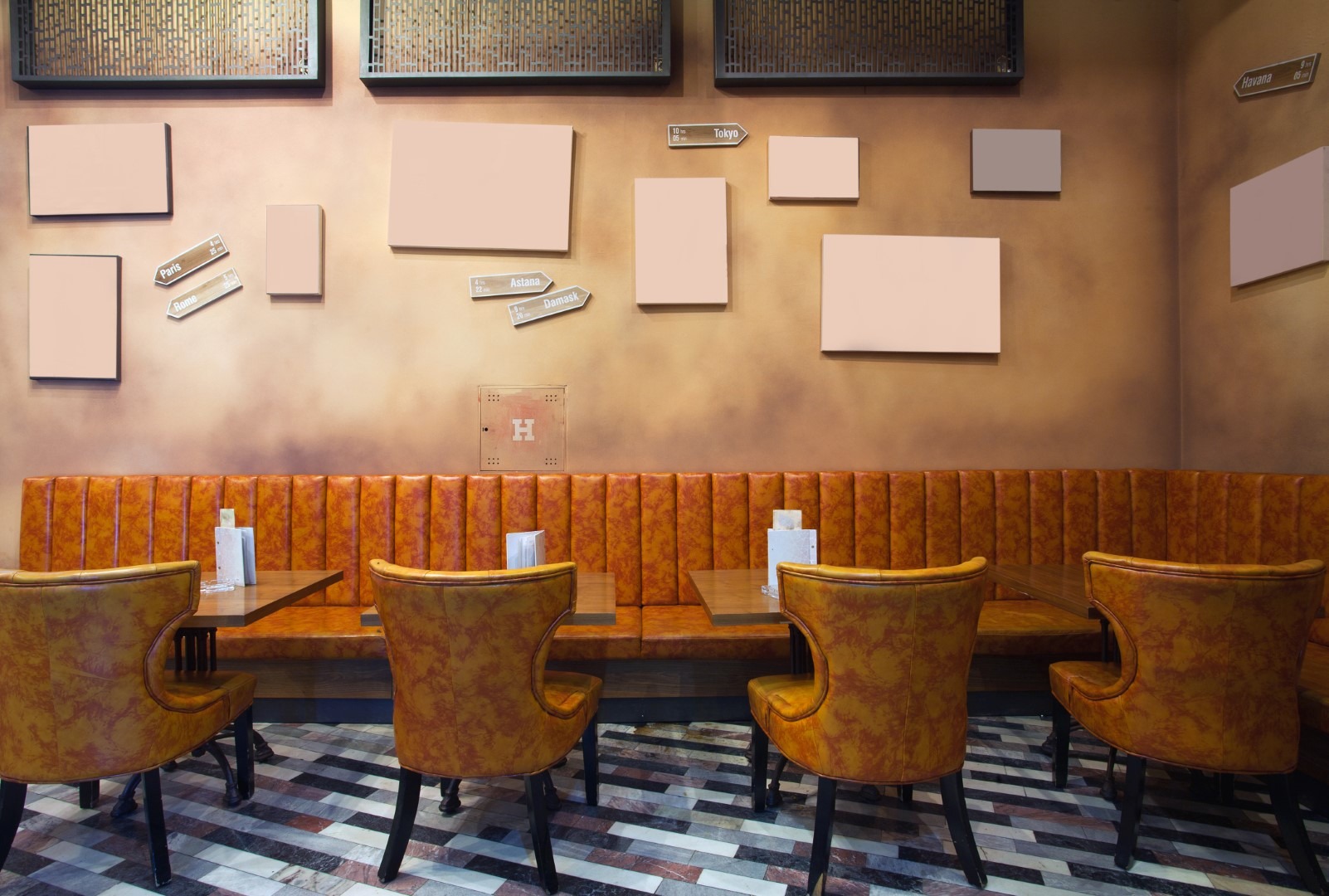 48" Tall
A 54" to 60" tall banquette booth will usually take up more than 50% of an interior wall with standard sealing height of 84". This type of booth stands out more and will make it so you don't have to add additional decorations to your wall.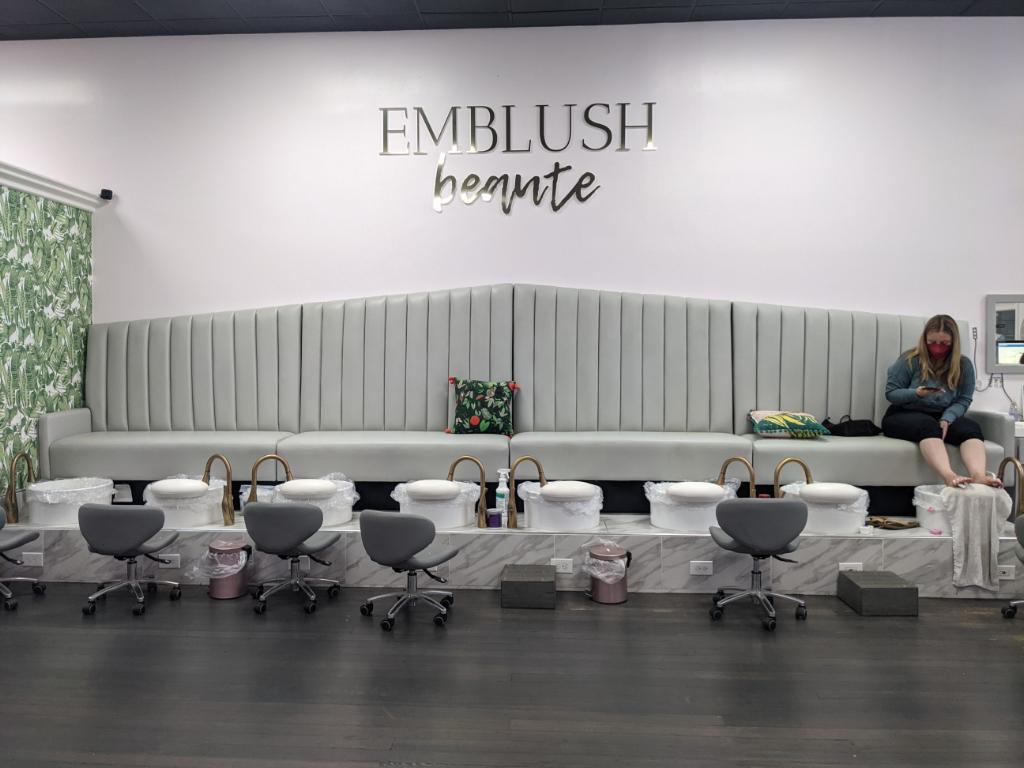 54" to 60" Tall
You can choose as tall as 84" from floor to top of booths, this style will come in 1 piece back and seat. Any taller than 84" and the back will sometimes be delivered in pieces for easy assemble.
Top 4 Most Popular Banquette Booth Upholstery Styles
A banquette booth can be made into any style including upholstered and wood construction. There are 4 styles of upholstered restaurant booths that are the most requested and we keep seeing an even popularity for these styles every year.
Vertical Channel Back booth model #B1004-6W. This unique booth has been fitted with 6" wide vertical channels that provide a minimal style and deeply relaxing ride. The stable base has been crafted to support the stunning and distinctive panel structure, bringing a clean and light feel to any room. This piece makes for exquisite modern commercial furniture by providing a lavish look and durable construction that can handle constant use.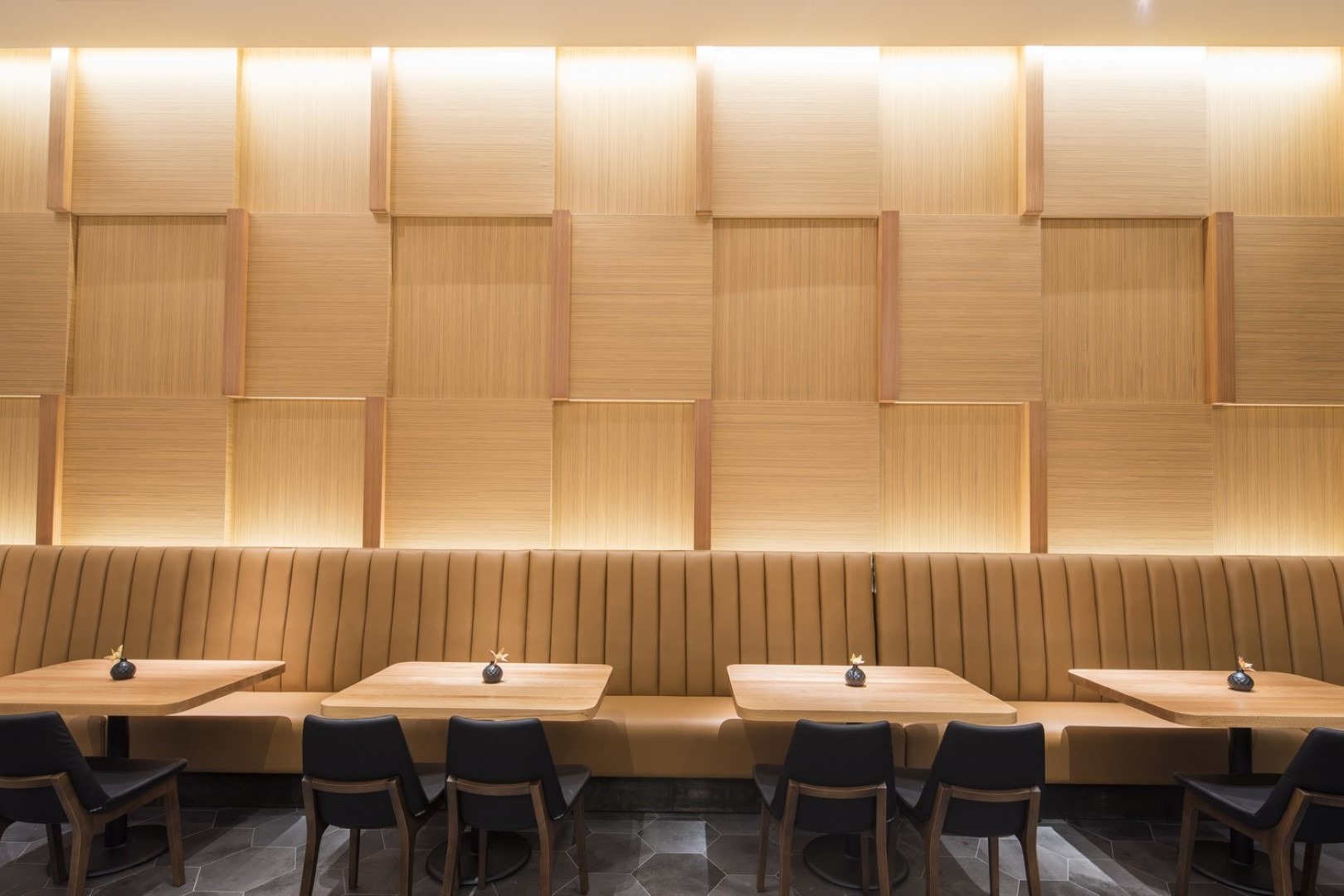 Diamond Tufted Restaurant Booth model B1012. Tufted furniture was first popularized in the 1700s and is still a part of modern interior design today for a reason — it looks incredible and feels better. Our expert crafters are passionate about creating stunning furniture that brings a smile to your face every time you take a seat. Its sturdy structure and plush cushions make this piece a wood restaurant booth that guests will adore, with resilient foam designed for constant use.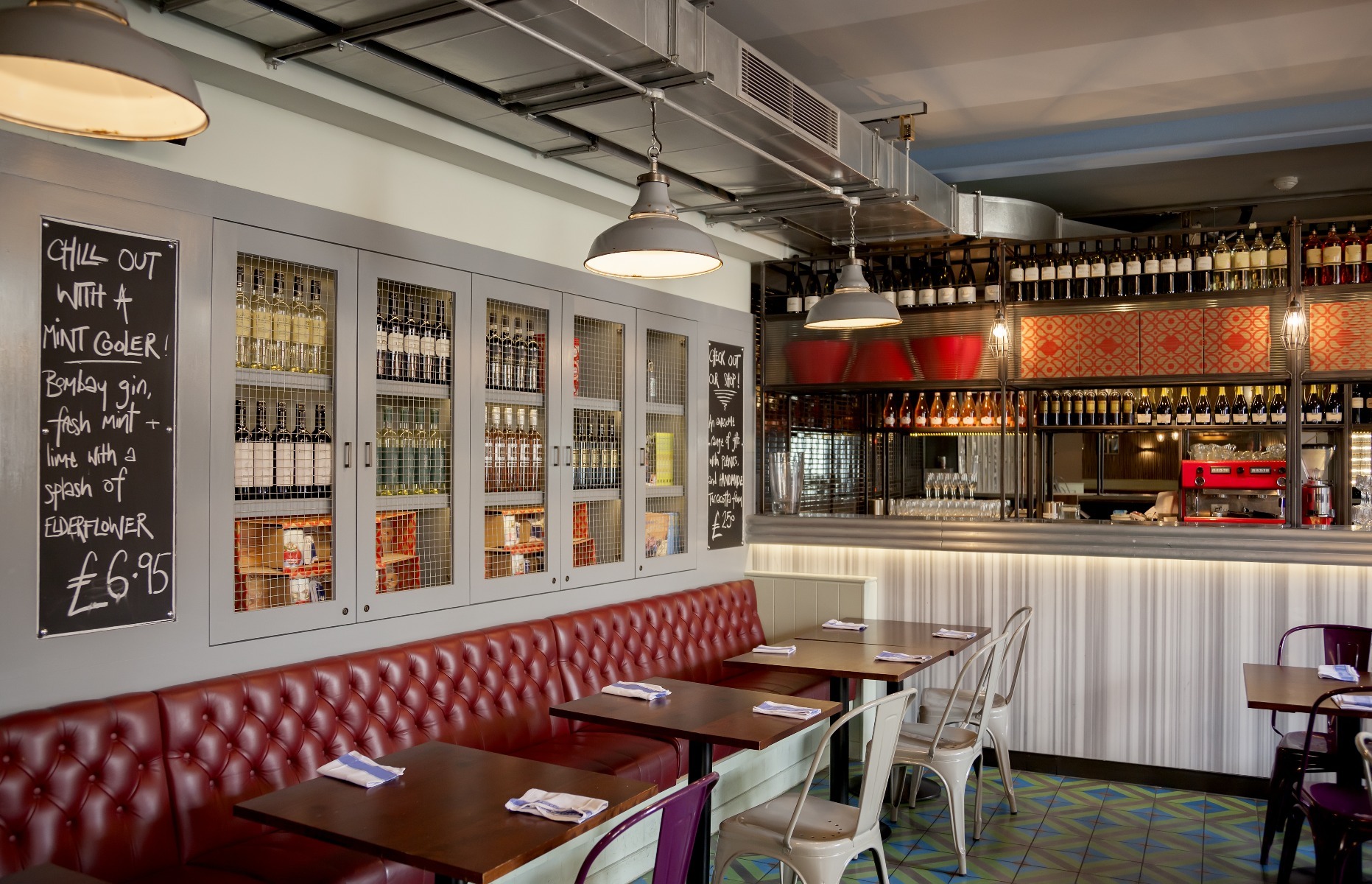 Push button back booth. This stellar piece of commercial quality furniture has been carefully constructed to bring you cozy relaxation with a stunning vinyl cover that doesn't give in after years of commercial use. The line-free design makes for stunning contemporary restaurant furniture with a little old-school flair courtesy of the tuft buttons. It's effortless to maintain and fitted with resilient foam cushions.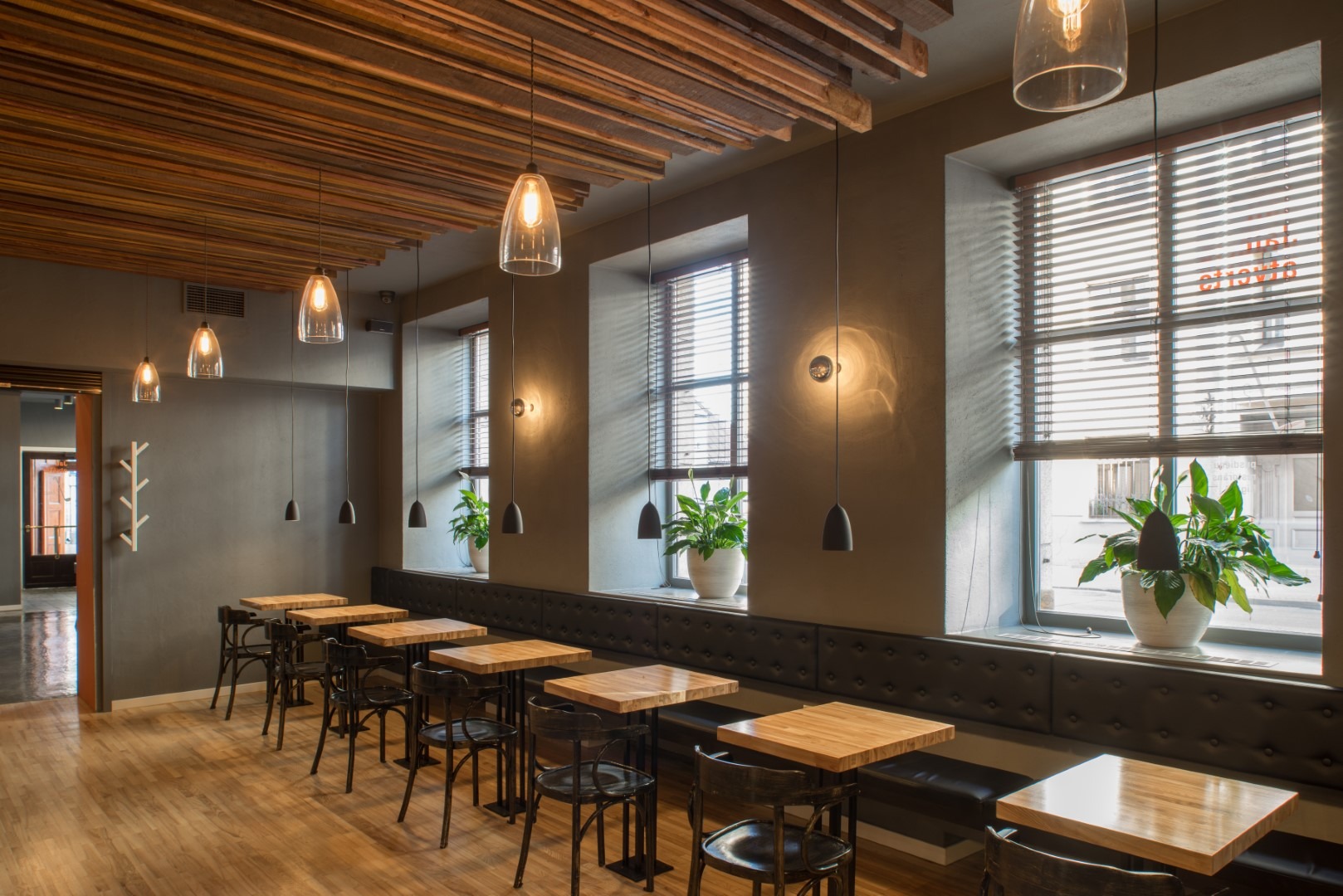 Plain back upholstered booth model B1007. You're looking at a straight shooter. There's a reason it's one of our most popular pieces with an honest look and textured cover surface everyone adores! It creates a comfy space in any modern dining area or works as an exquisite addition to your funky restaurant furniture. Take your pick from 100 awesome vinyl colors and feel free to easily bolt down this booth for extra safety and security. The plain back upholstery design complements vinyl or fabric with texture, patterns and designs as they are able to stand out more due to the sleek plain upholstery style.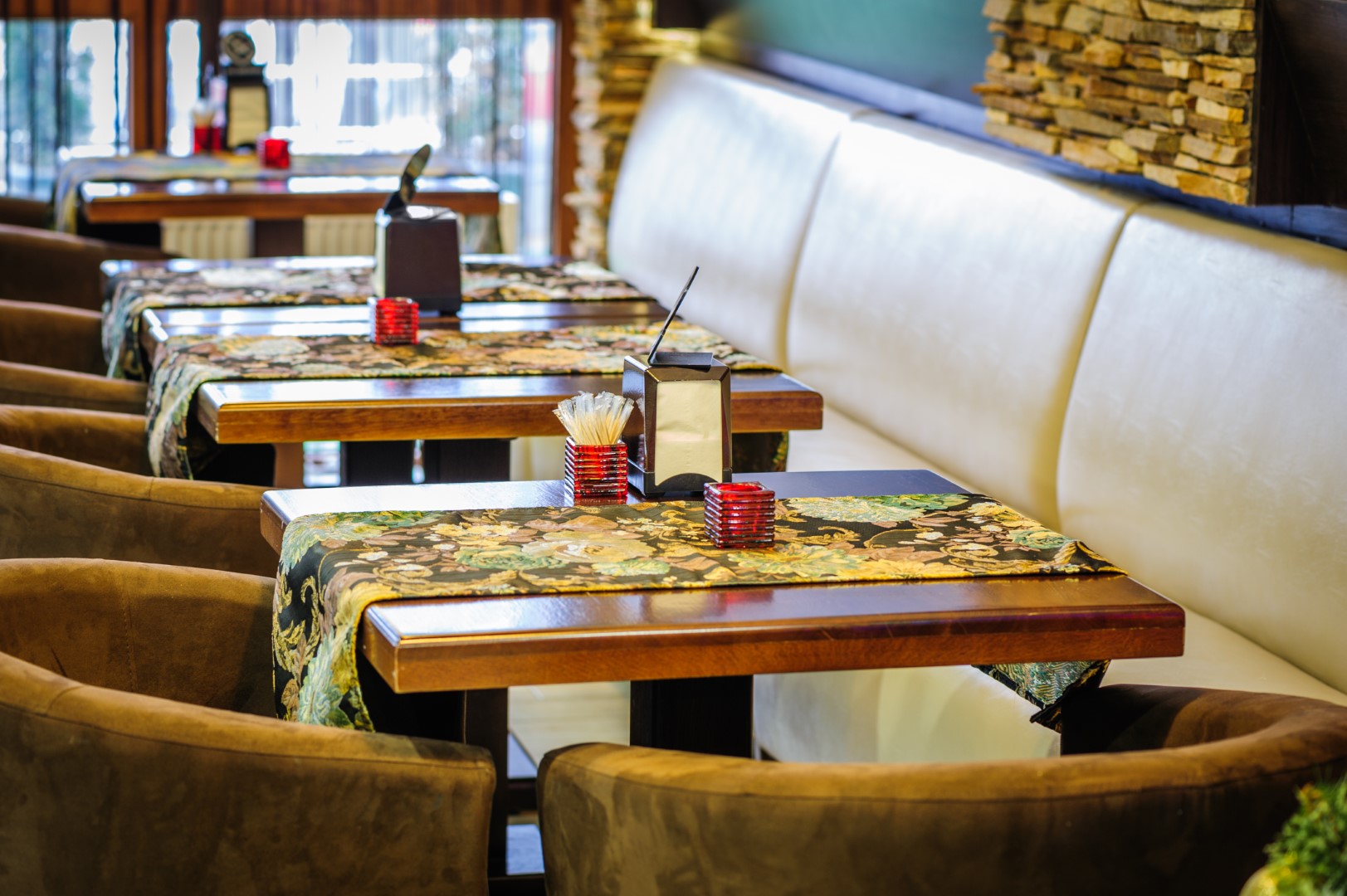 When are Back Covers necessary on Banquette Booths?
Because a banquette booth usually sits against a wall for years, we do not normally add a Back Cover to the back of the booth. Instead, the back of the booth is uncovered exposing the inside wood construction. This space allows you to assemble booths together easier, run electrical wires when necessary or sometimes use this back space as small storage area. Back covers are available for booths with exposed backs and will be applied to quote when requested.
Thank you for taking your time to read about this booth style. Let us know if we missed anything and if you have any further questions related to Banquette Booth Seating. Contact us for pricing, lead time and anything else related to our furniture and ordering process. Thank you.