The popularity of banquette restaurant booth seating in the restaurant industry can be attributed to its many advantages. Firstly, it offers a more intimate dining experience for patrons by providing a comfortable and private seating option. The booth design also creates a sense of enclosure that helps to minimize noise and distractions, thereby creating a more relaxing atmosphere for customers.
Another benefit of banquette booth seating is its versatility. Unlike traditional tables and chairs that are fixed in place, banquette booths can be custom-made to fit any available space. This means that restaurant owners can make the most of their space and accommodate more patrons without sacrificing comfort or style.
The combination of banquette booths with tables and chairs also offers customers the option to choose between a cozy booth or a traditional dining chair, depending on their preference. This provides a flexible and inclusive dining experience that caters to the diverse needs of customers.
In terms of design, banquette booths can be tailored to match the overall decor and style of the restaurant. This is because they are available in various shapes, sizes, and materials, ranging from classic leather to contemporary fabrics. As such, they offer restaurant owners the opportunity to create a unique and memorable dining experience for their customers.
The versatile nature of banquette booth seating makes it an ideal option for any restaurant looking to provide a comfortable, intimate, and flexible dining experience for its patrons.
Does Banquette Booth Seating Save Space?
A banquette booth is a great addition to any restaurant's dining area as it can be designed to run along any wall, utilizing every inch of available space as seating. Compared to individual chairs and tables, a banquette booth is a fixed structure that adds a sense of cohesion and tidiness to the overall look of the dining area.
The depth of a banquette booth is designed to provide maximum comfort while utilizing only the necessary amount of space. This means that restaurant owners can make the most of their available space without compromising on customer comfort.
Furthermore, banquette booths offer a more intimate and cozy dining experience for customers, making them ideal for couples or small groups. Additionally, the fixed nature of the booth means that customers don't have to worry about chairs or tables moving around and potentially causing inconvenience or discomfort.
Overall, banquette booths are a practical and stylish seating option for restaurants that want to make the most of their available space while also providing a comfortable and enjoyable dining experience for their customers.
How much clearance do you need for Banquette Booths?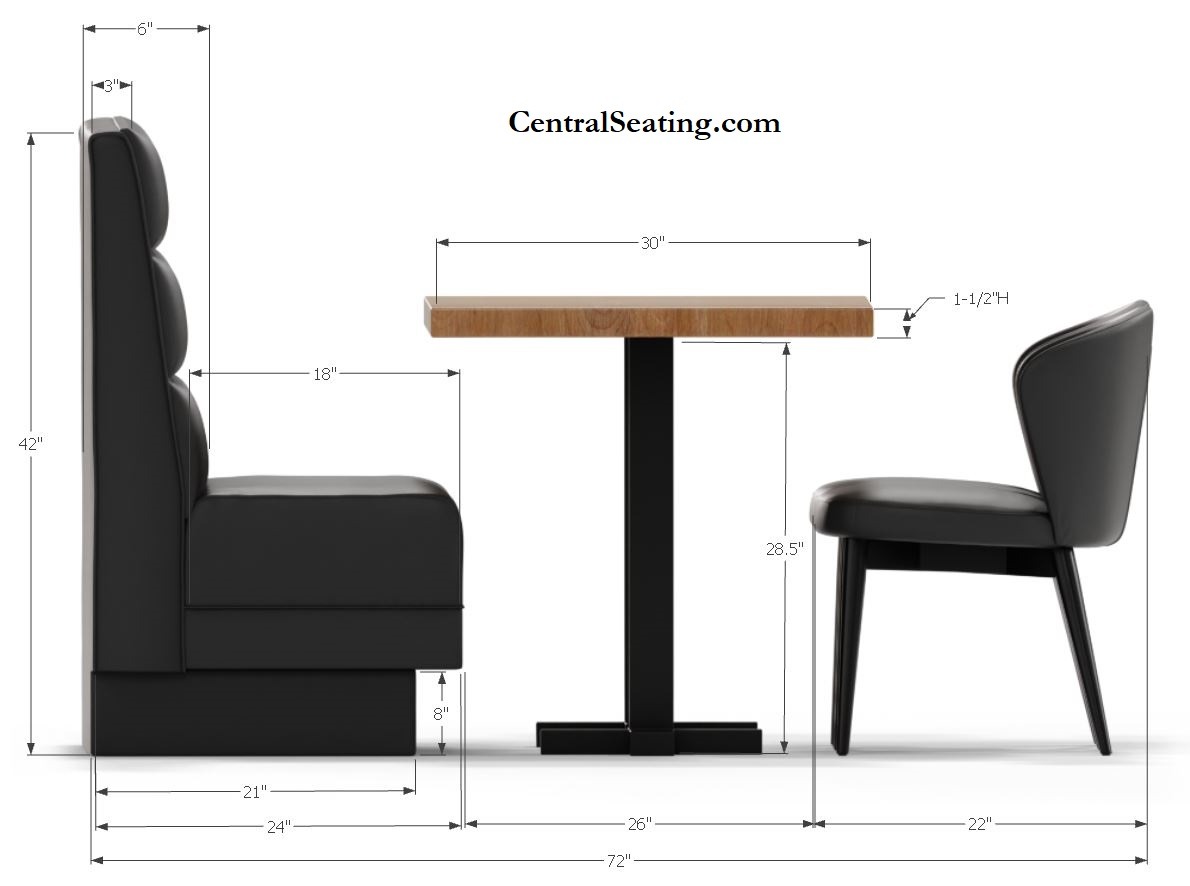 The depth of a banquette booth is equivalent to that of a single booth or any other booth style. The typical depth in the industry is 24", which is comprised of an 18" seat depth and a 6" backrest depth. In a dining booth, the backrest depth starts at 3" at the top and gradually slopes down to 6" where it meets the seat. This incline is standard and commonly used to provide comfort to users. A standard booth, along with a 30" wide table and a dining chair, usually requires 72" to 74" of space, although the depth may vary depending on the size of the table and chairs.
Can banquette booth be adjusted to fit in area with limited space?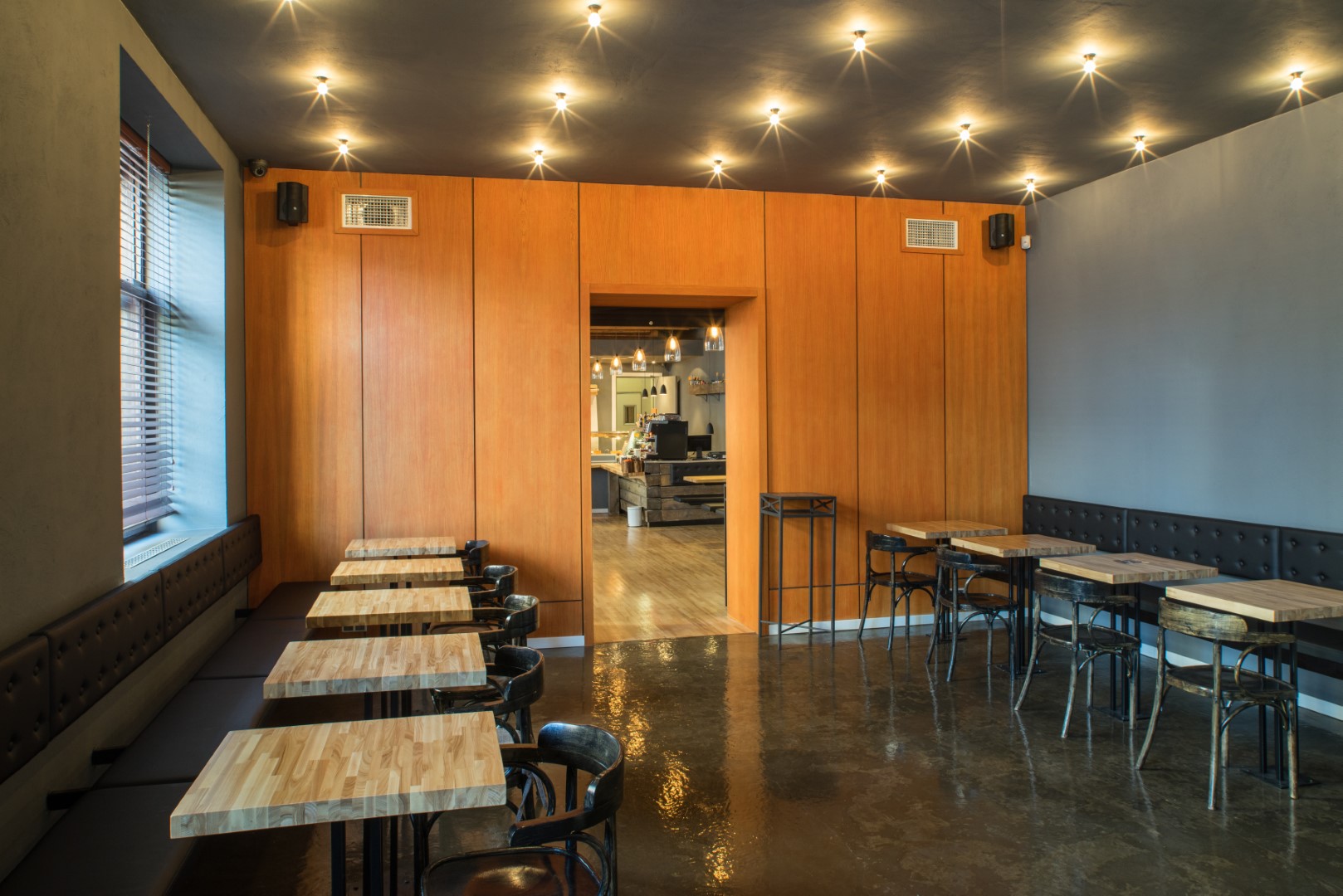 Restaurants can differ in their available space, with some having ample room for large booths while others are more limited. Banquette booths are a great option for restaurants with limited space as they can provide a cleaner and more spacious seating arrangement than a table with four chairs.
In cases where a standard-sized booth does not fit in the dining area due to unusual space limitations, there are several steps that can be taken to adjust the size of the banquette booth:
One option is to reduce the depth of the backrest. This is commonly done by reducing the standard 6" backrest depth to a custom 3" depth. Coupled with an 18" seat depth, this results in an overall depth of 21", saving 3" of space compared to the standard size. However, it's worth noting that a more up-front vertical backrest may not be comfortable for all visitors, although it is accepted by many.
Another option is to eliminate the backrest entirely, creating a waiting bench-style seating arrangement. This reduces the overall depth from 24" to 18", saving 6" of space. Visitors can either rest against a wall or a small 2" cushion can be hung on the backrest for minimal comfort.
A third option is to reduce the table width from the standard 30" to 24" depth. However, this reduces the table space for each person from the standard 15" to 12". It's important to measure existing dishes and cups to decide if this is an adequate amount of space.
It's worth noting that reducing the seat depth will not effectively reduce overall space as a visitor's leg length remains the same regardless of seat size. Therefore, it's better to focus on adjusting the backrest depth instead.
There are 3 common styles of overall booth depths, and each serve a different purpose.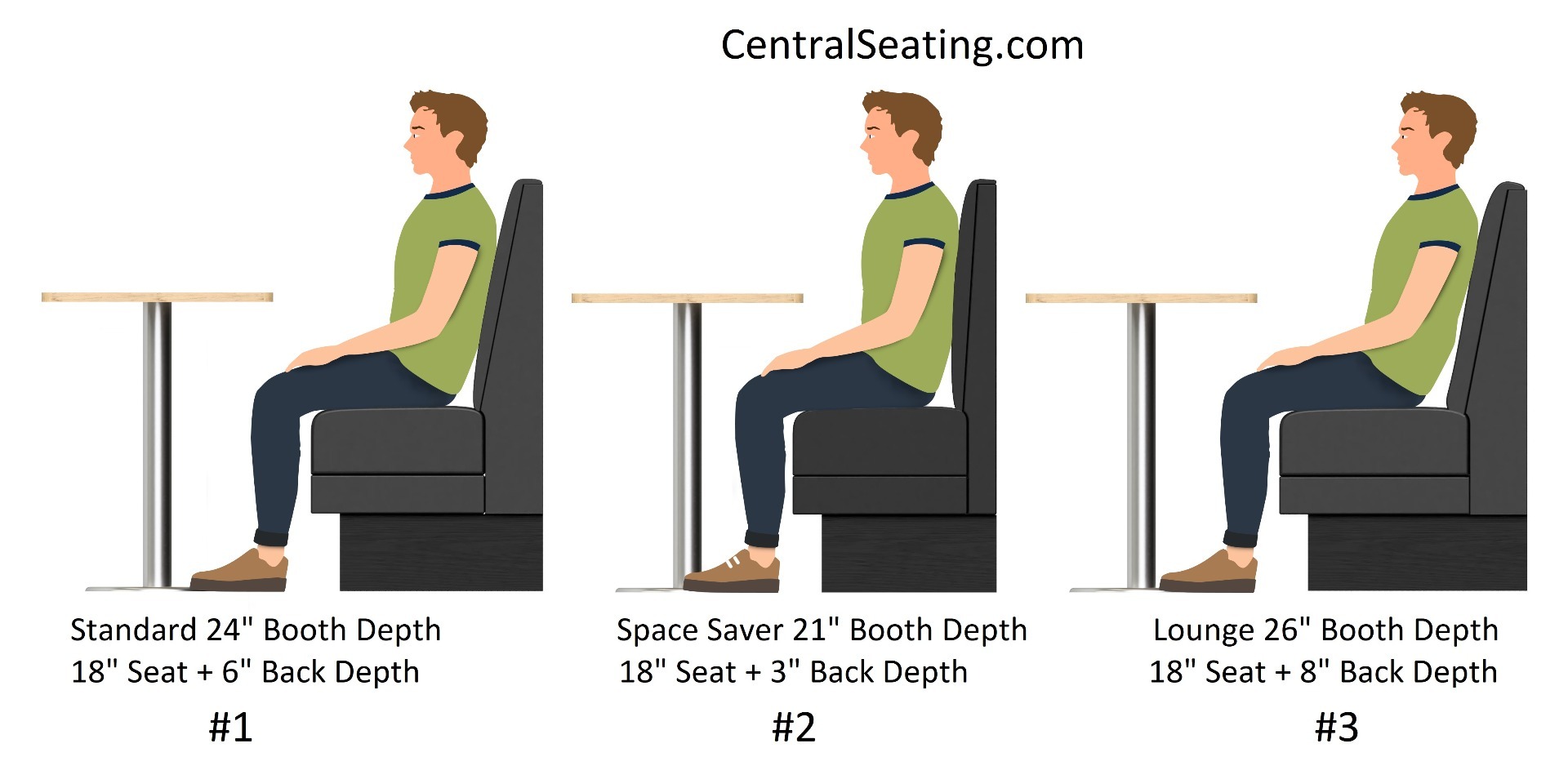 A common booth depth for dining areas is 24" overall depth.
An overall depth of 21" is often referred to as a Space Saver and is commonly used in areas with limited space.
Booths with an overall depth of 26" are often referred to as Lounge Style and are commonly found in nightclubs and other lounge-style dining areas. In some cases, throw pillows may be required to make the seating more comfortable.
Can you use a round table with a banquette booth?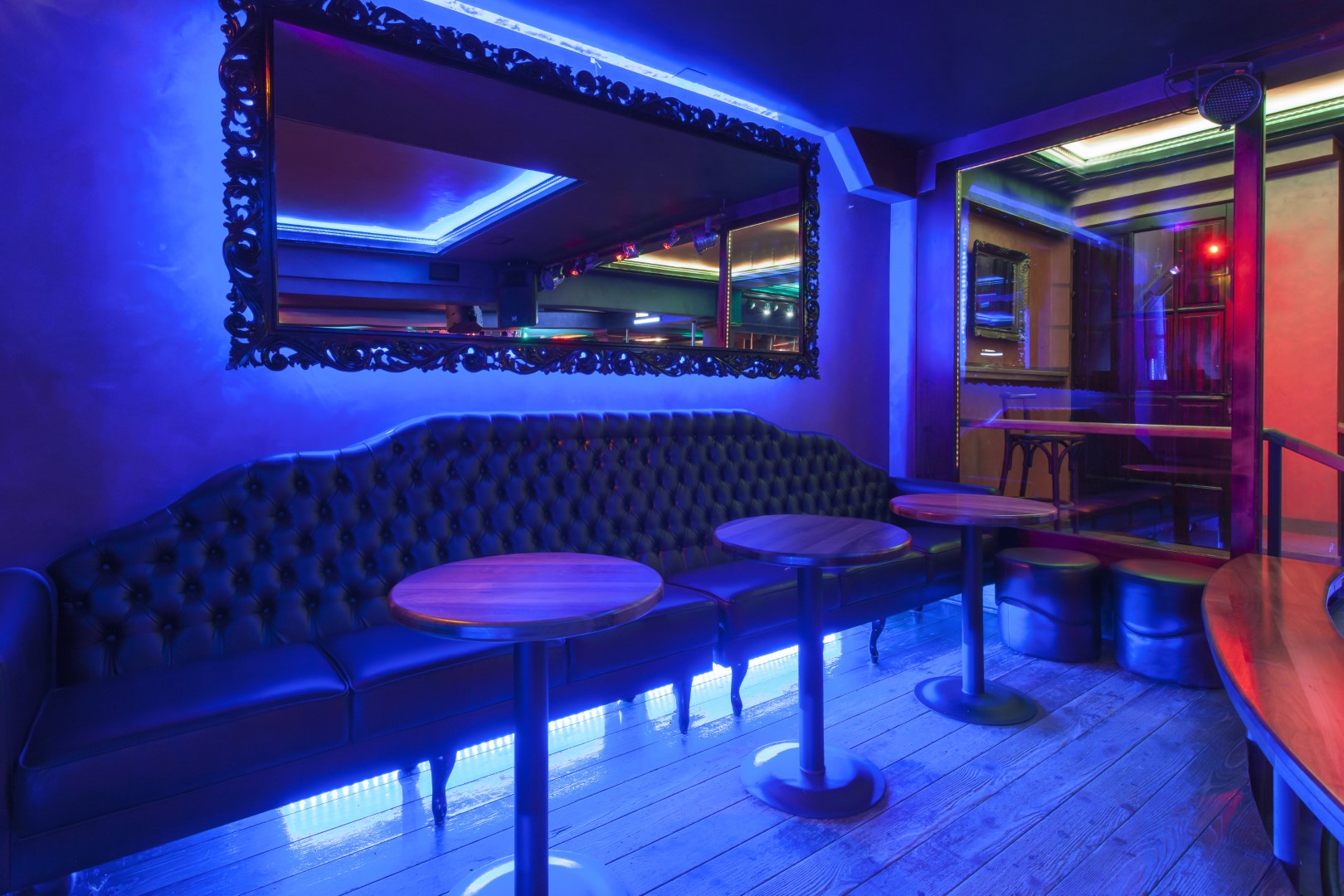 Lounge style dining areas, such as nightclubs, bars, and break rooms, often have round coffee-height tables positioned in front of banquette booths. These areas typically serve small snacks, drinks, or small dishes that don't require large dining tables. The round tables make it easy for patrons to walk in and out of the booth.
The round tables found in lounge seating areas are usually small, ranging from 24" to 30" in diameter, and are commonly set at a height of 14" to 20" as coffee tables.
12 Most Common Banquette Booth Seating Lengths
Banquette booth seating typically starts at a length of 8 feet, but can be customized to fit your desired length. Here are 12 common lengths for banquette booths, along with their recommended table combinations, which can help you determine the appropriate table size for your wall. To ensure comfortable spacing between each table, it is recommended to leave a minimum of 14" to 18" between them, although the maximum space is flexible and can be determined by the type of environment, restaurant theme, and group size. Keep in mind that sizes may vary, so use these recommendations as a guide to help you determine the best outcome for your specific goals and available space.
| | | | | |
| --- | --- | --- | --- | --- |
| # | Banquette Booth Length | Fits 24" by 30" Two Seater Tables | Fits 30" by 48" Four Seater Tables | Amount of People Banquette Booth Supports |
| 1 | 8' or 96" Long | 1 to 3 | 0 to 1 | 6 |
| 2 | 10' or 120" Long | 2 to 4 | 1 to 2 | 8 |
| 3 | 12' or 144" Long | 1 to 4 | 1 to 2 | 8 to 10 |
| 4 | 14' or 168" Long | 3 to 5 | 1 to 2 | 10 |
| 5 | 16' or 192" Long | 2 to 6 | 1 to 3 | 10 to 12 |
| 6 | 18' or 216" Long | 3 to 7 | 1 to 3 | 14 |
| 7 | 20' or 240" Long | 2 to 7 | 1 to 4 | 14 to 16 |
| 8 | 22' or 264" Long | 3 to 7 | 1 to 4 | 14 to 18 |
| 9 | 24' or 288" Long | 3 to 8 | 1 to 4 | 16 to 18 |
| 10 | 26' or 312" Long | 4 to 9 | 1 to 5 | 18 to 20 |
| 11 | 28' or 336" Long | 5 to 9 | 1 to 5 | 18 to 22 |
| 12 | 30' or 360" Long | 5 to 10 | 1 to 5 | 20 to 22 |
#1. 8' or 96" Long Banquette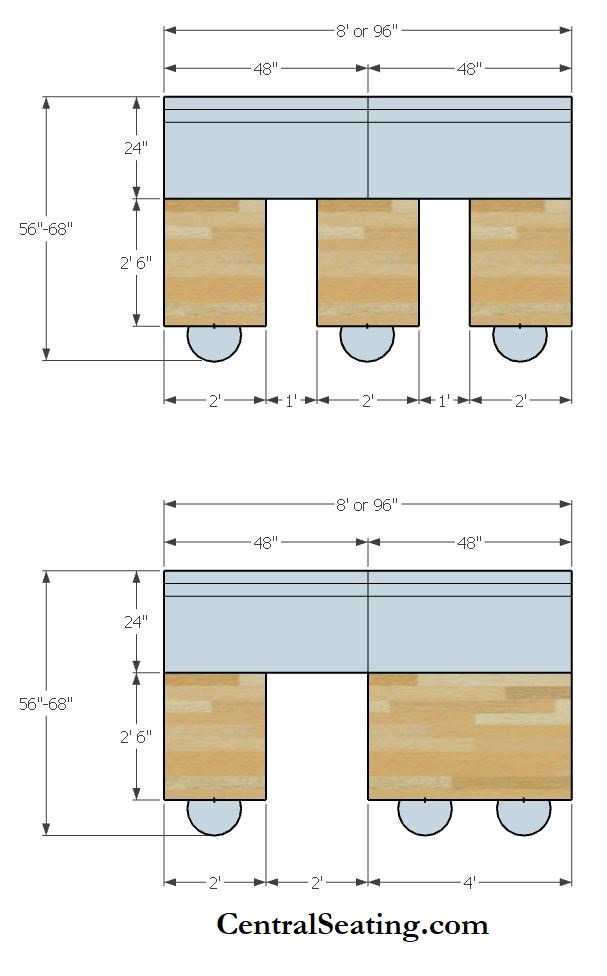 #2. 10' or 120" Long Banquette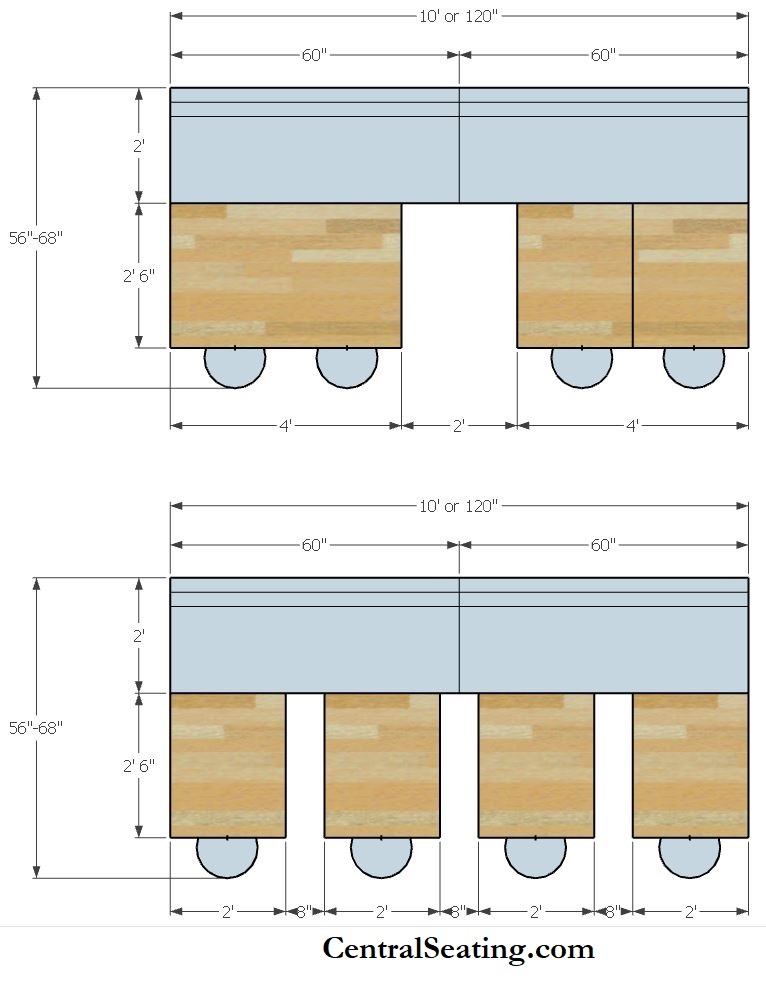 #3. 12' or 144" Long Banquette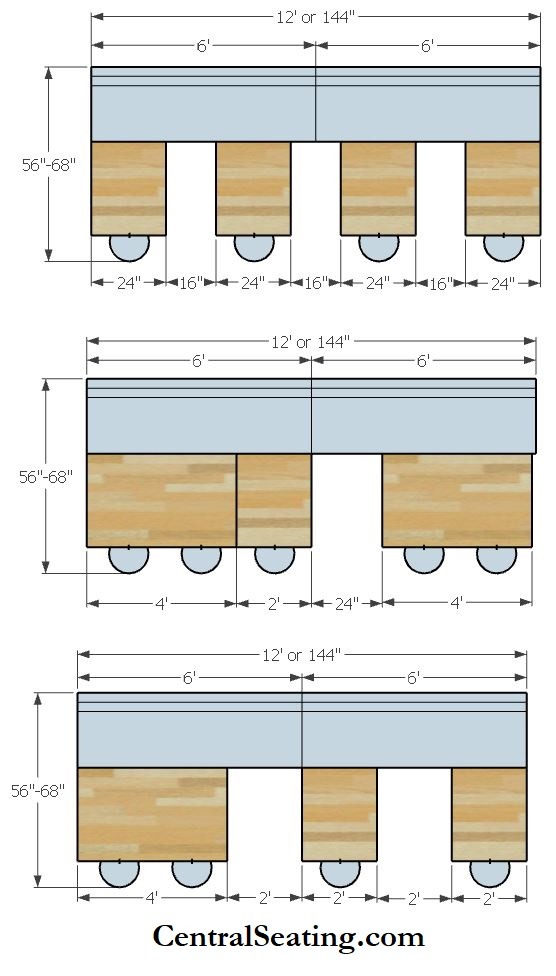 #4. 14' or 168" Long Banquette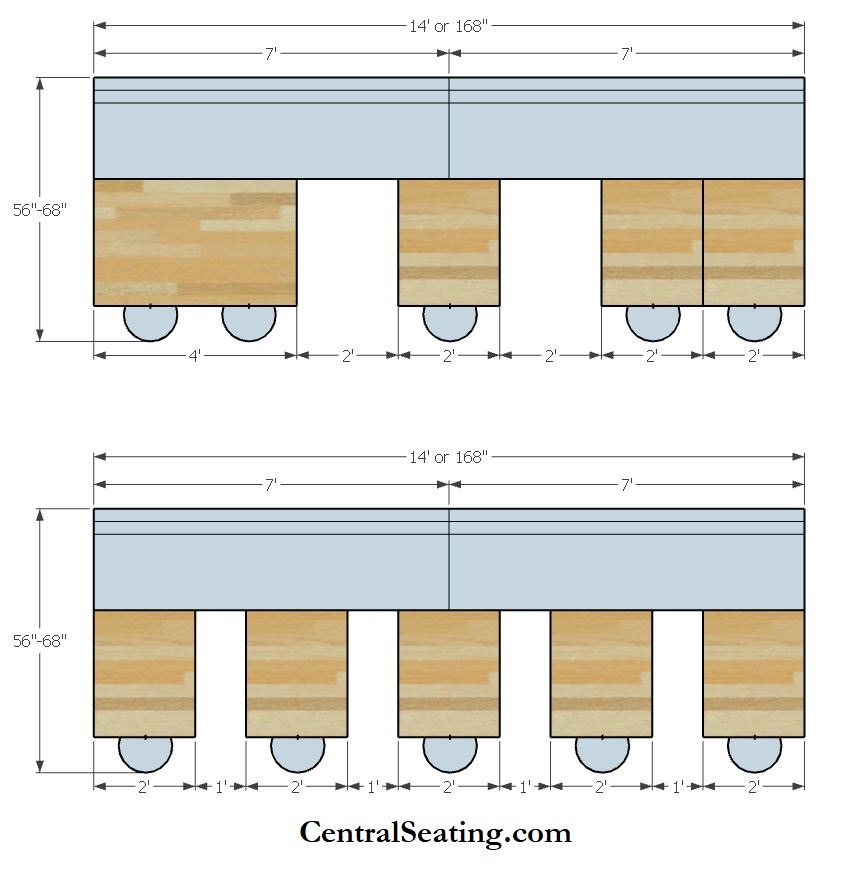 #5. 16' or 192" Long Banquette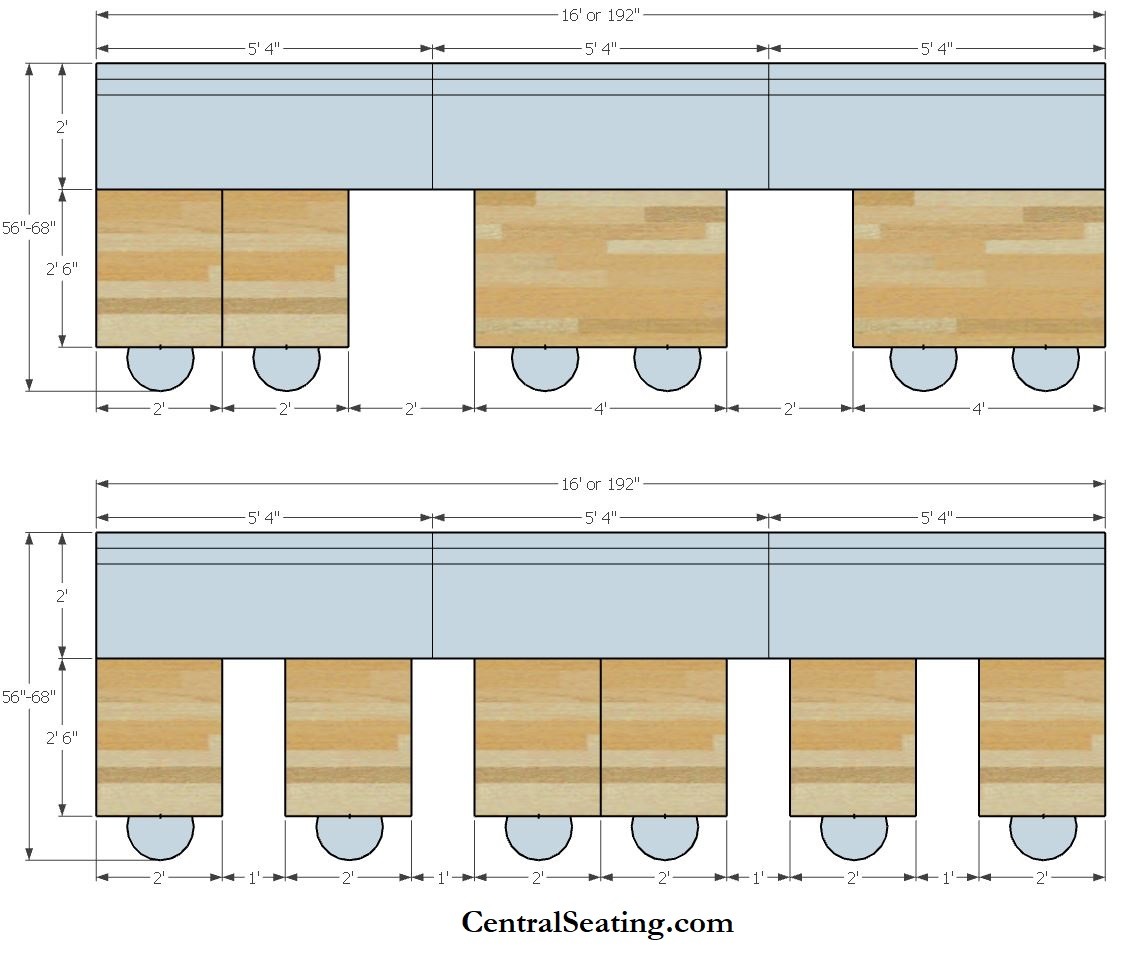 #6. 18' or 216" Long Banquette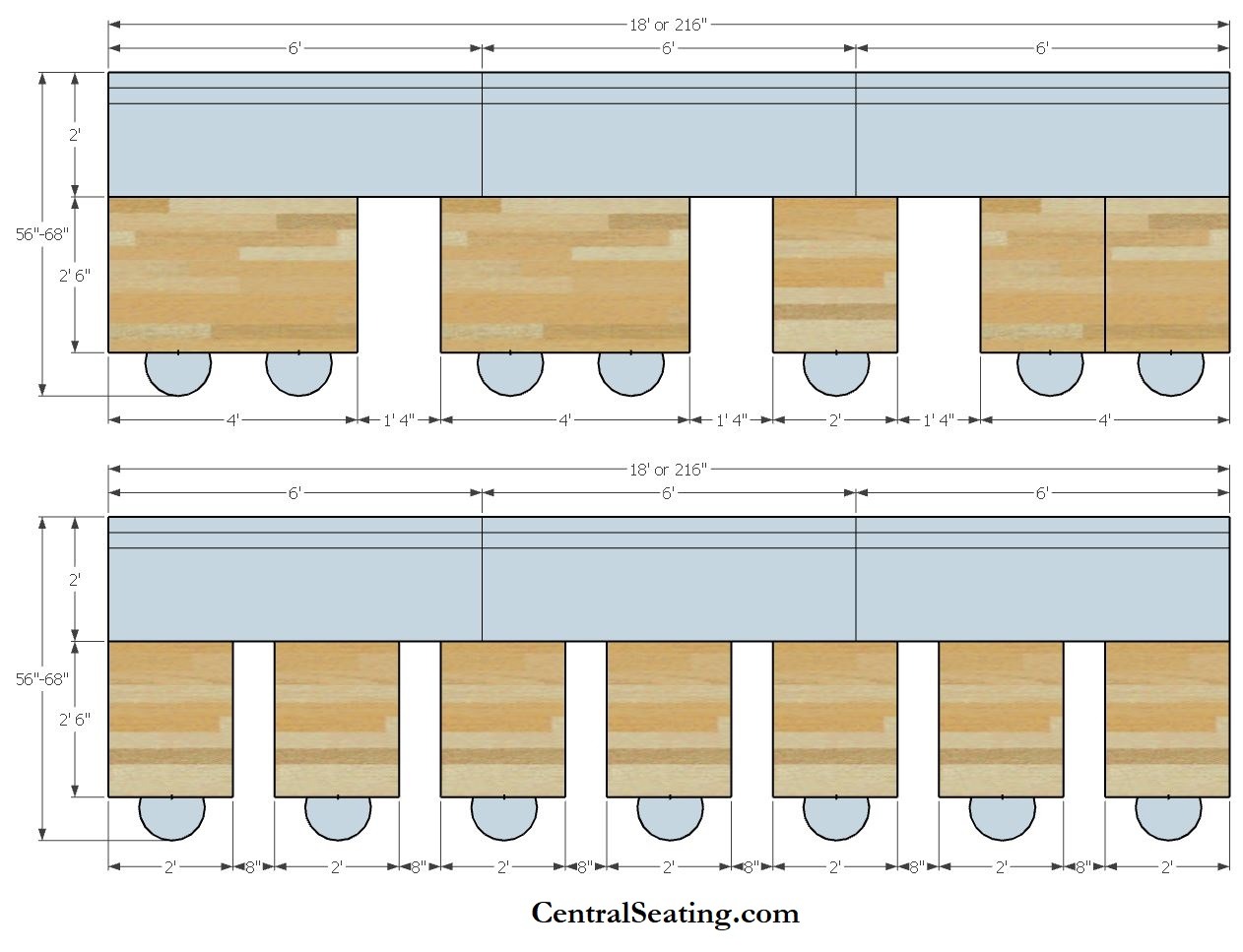 #7. 20' or 240" Long Banquette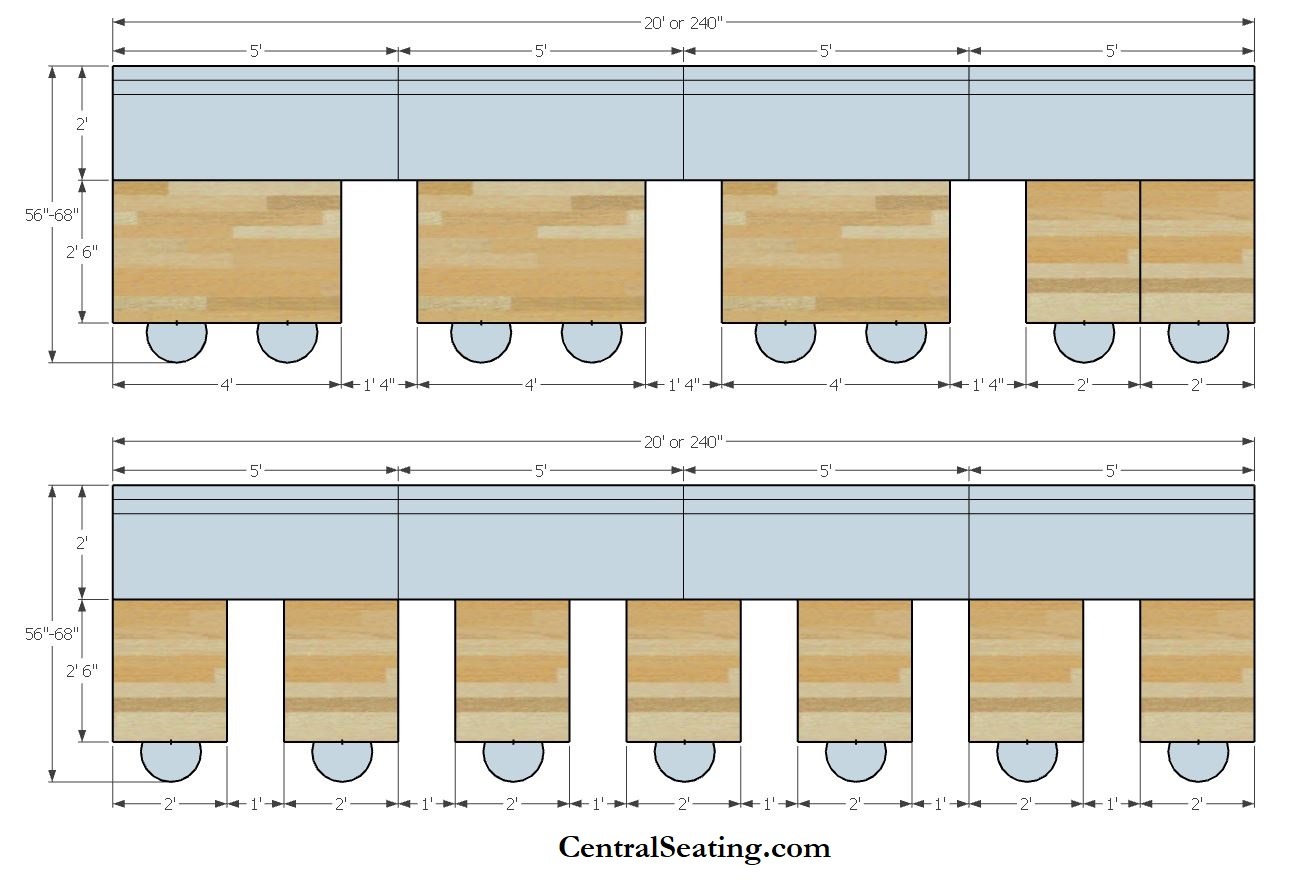 #8. 22' or 264" Long Banquette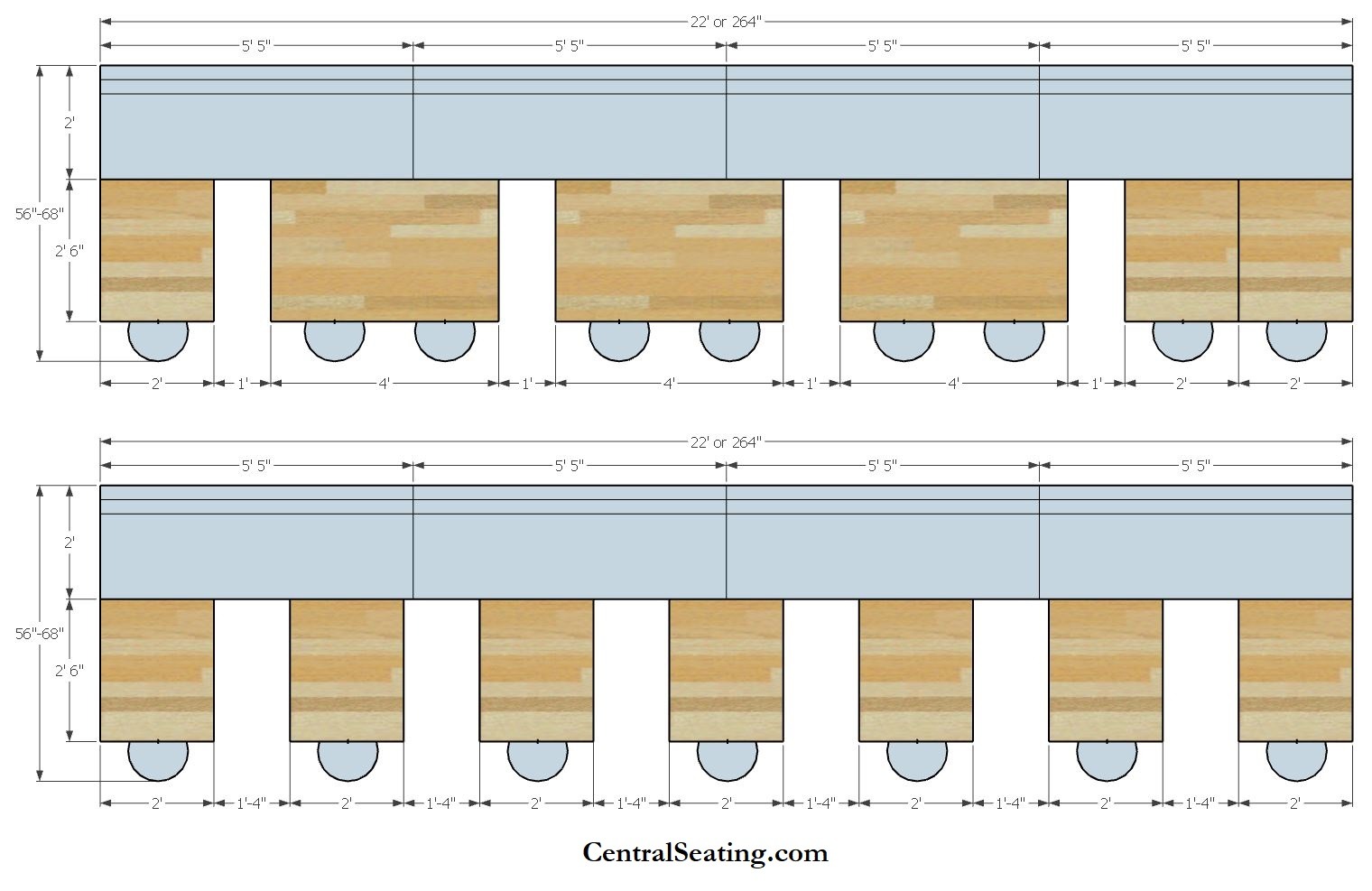 #9. 24' or 288" Long Banquette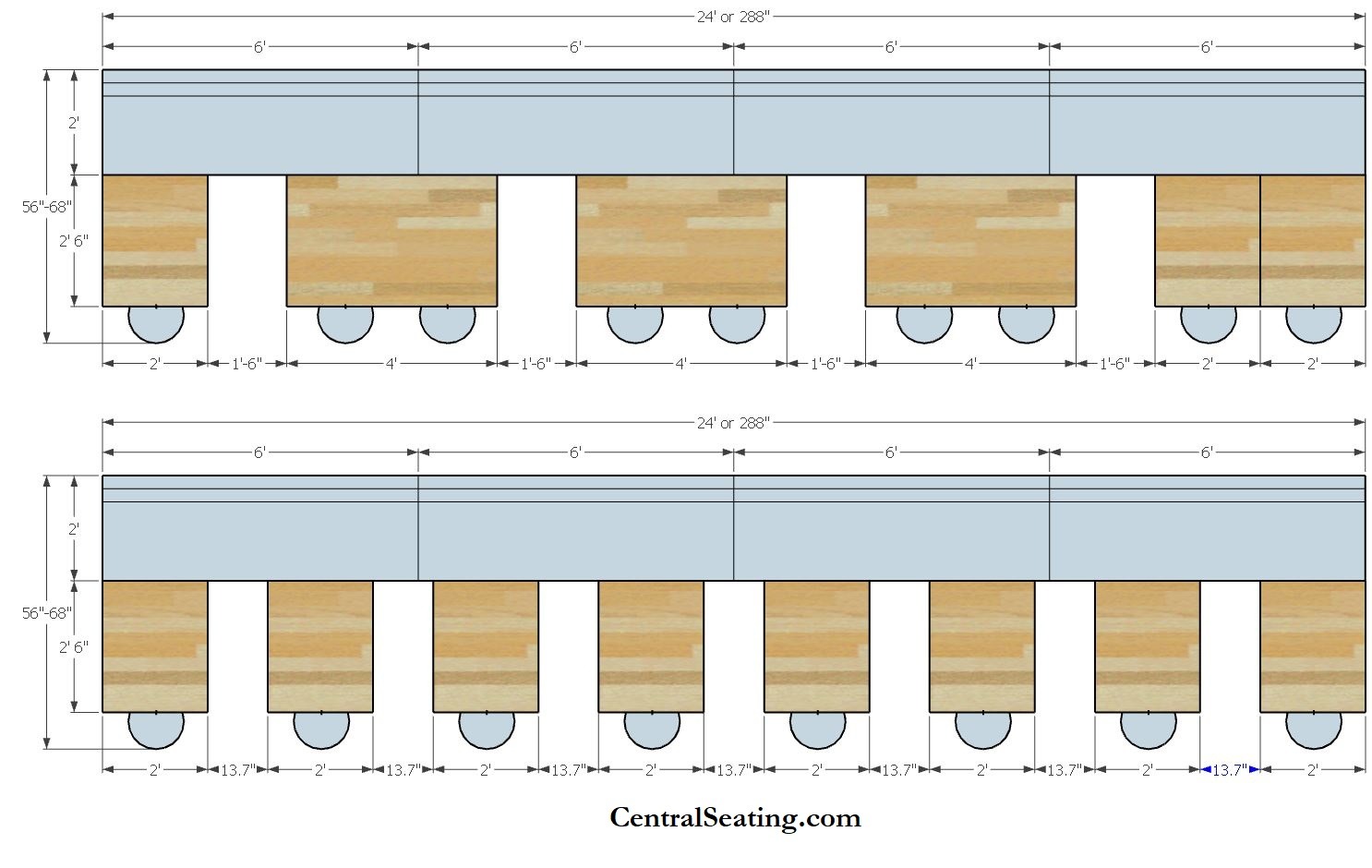 #10. 26' or 312" Long Banquette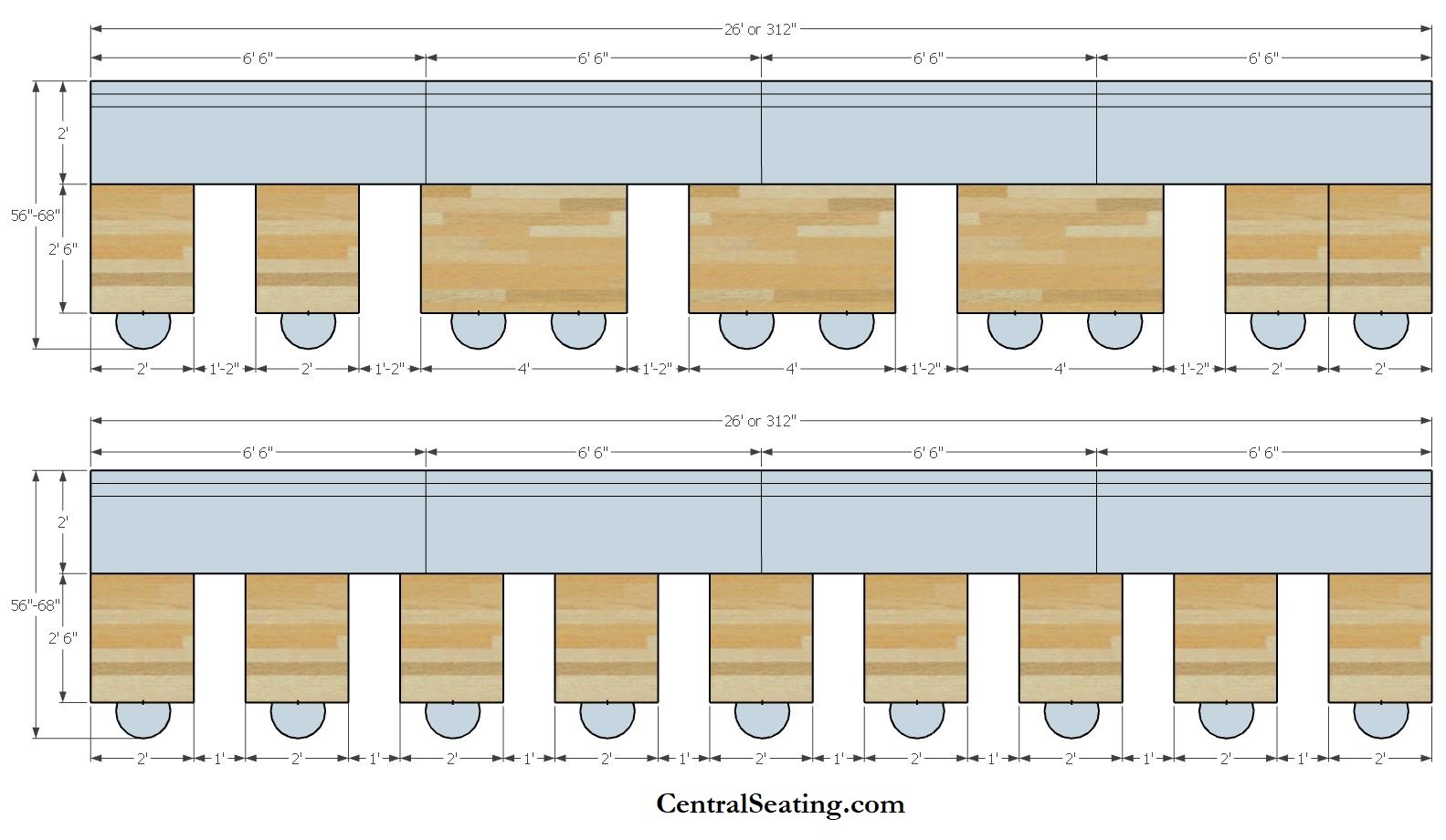 #11. 28' or 336" Long Banquette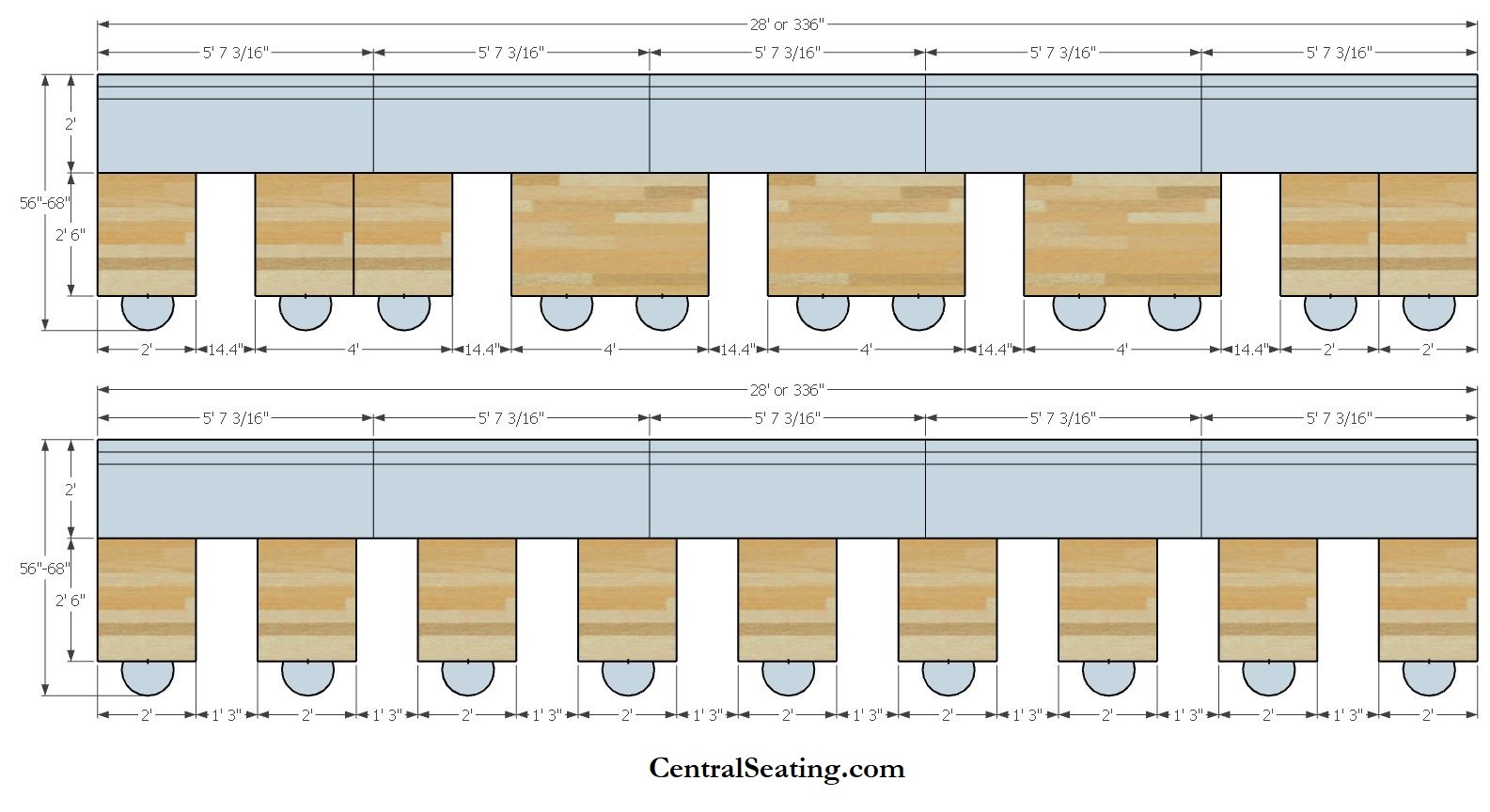 #12. 30' or 360" Long Banquette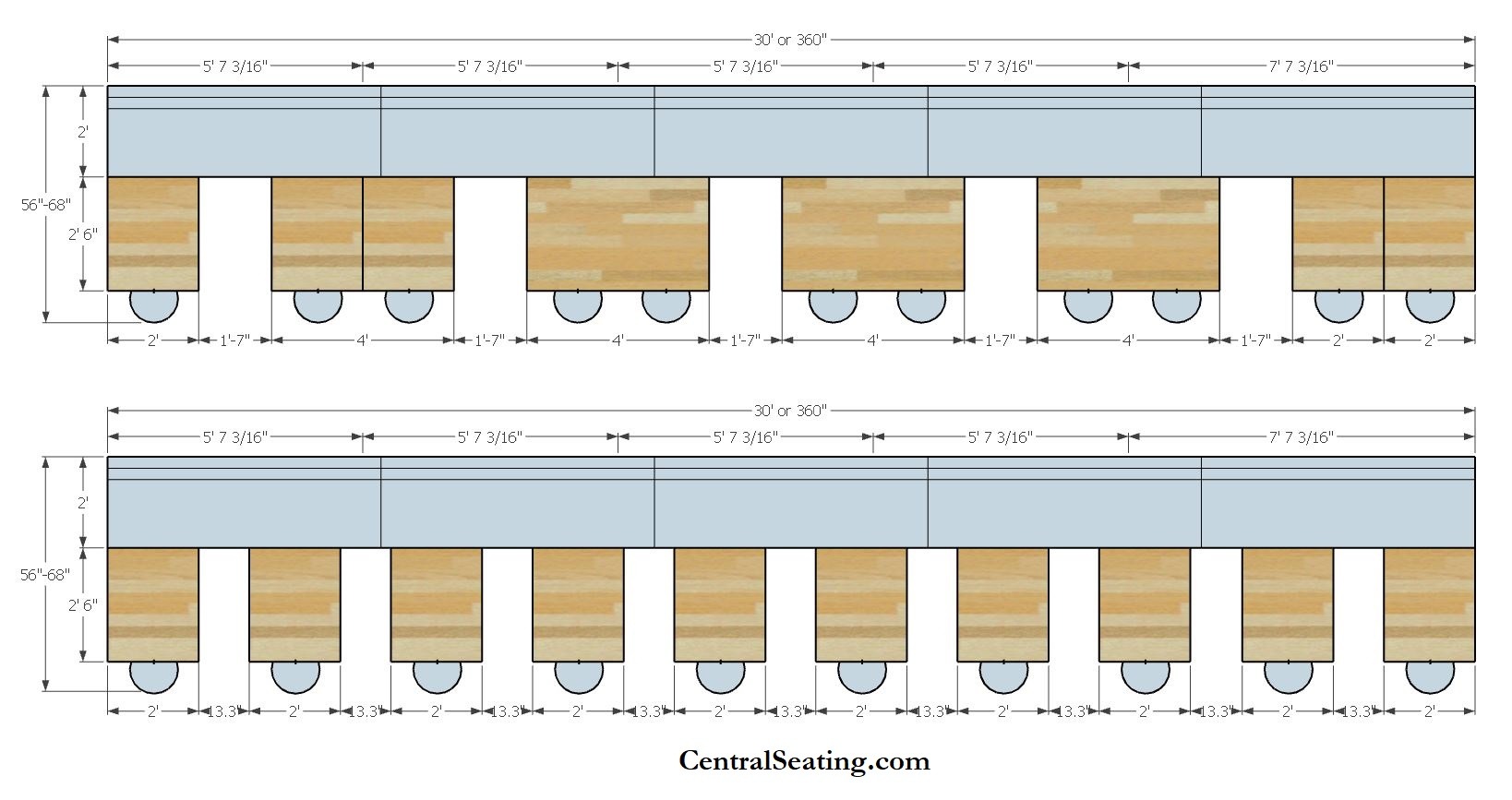 Can a Banquette Booth be made Bar Height?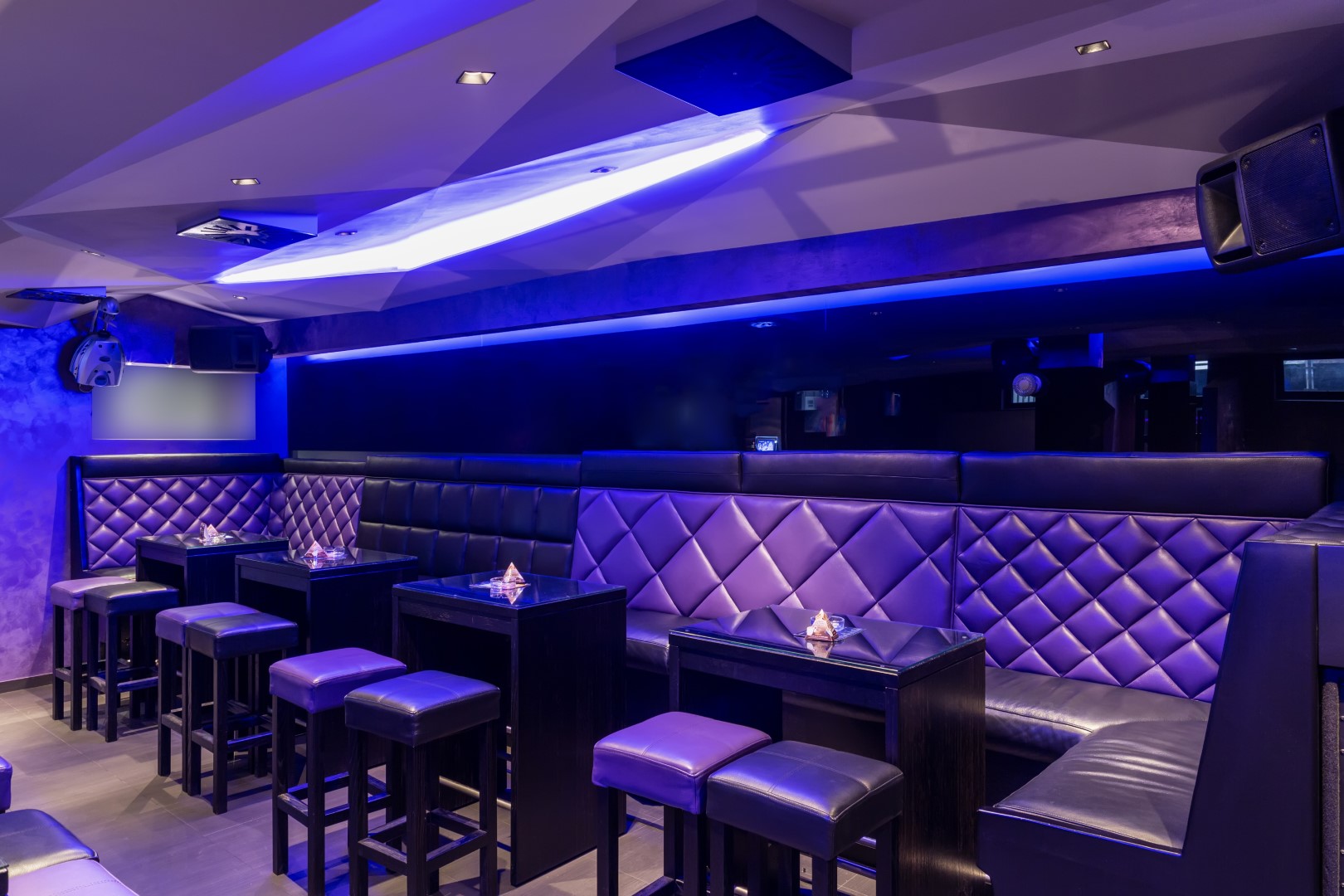 Indeed, a Bar Height Banquette Booth Bench is a popular addition to nightclub or bar establishments. This type of bench is typically combined with bar tables and bar stools, allowing the seated group to be at eye level with other patrons walking around. This feature is important for those who wish to sit and enjoy their time without feeling dwarfed by other groups of people chatting or eating. Visitors can choose to sit on comfortable cushioned booths or bar stools, depending on their preference.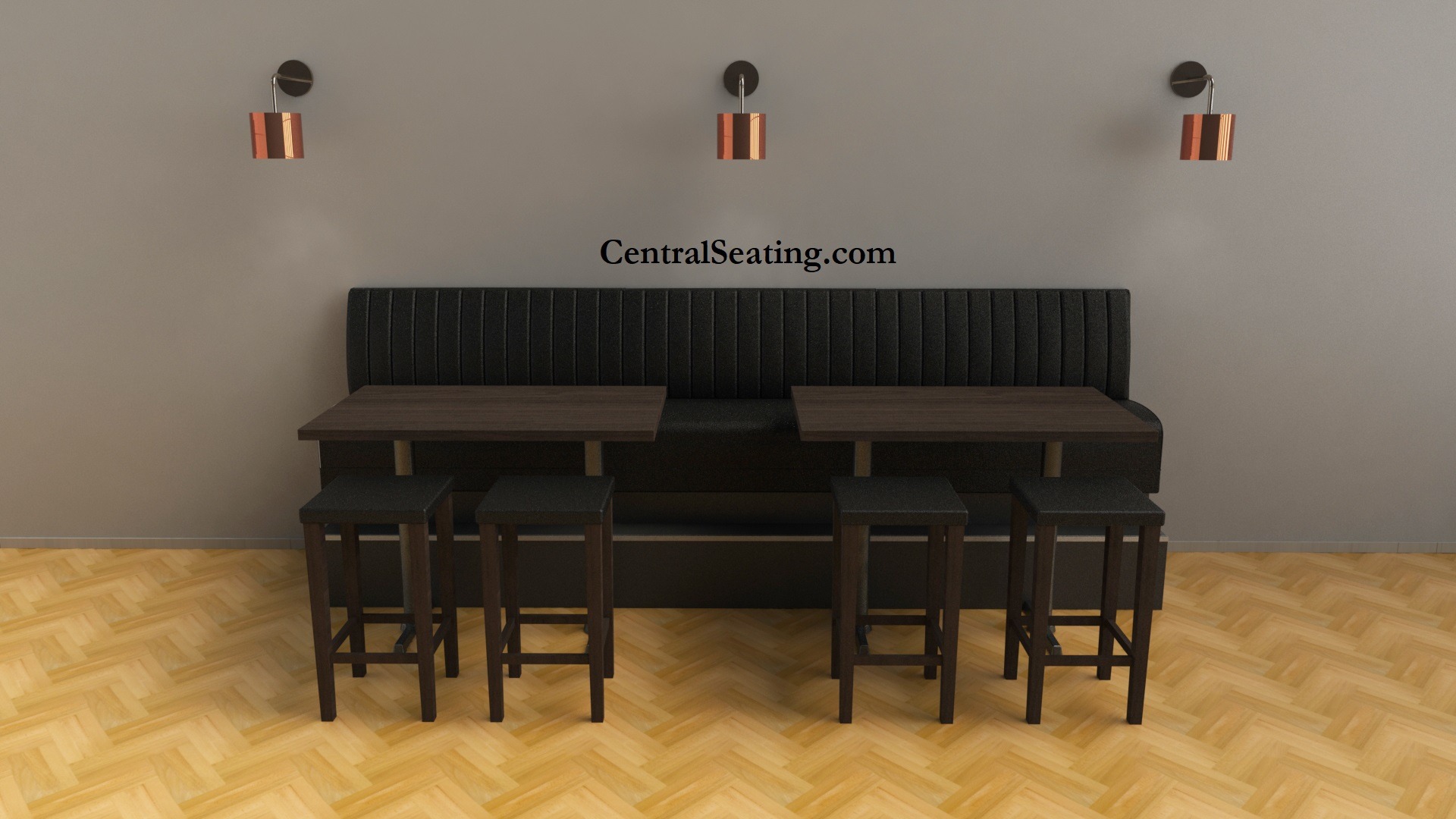 Transforming a dead space on a wall into a comfortable seating area is easy with the addition of a banquette bench that is designed at bar height. These types of benches typically have a similar depth to a banquette booth designed for dining height, with the primary difference being the 30" bar seat height.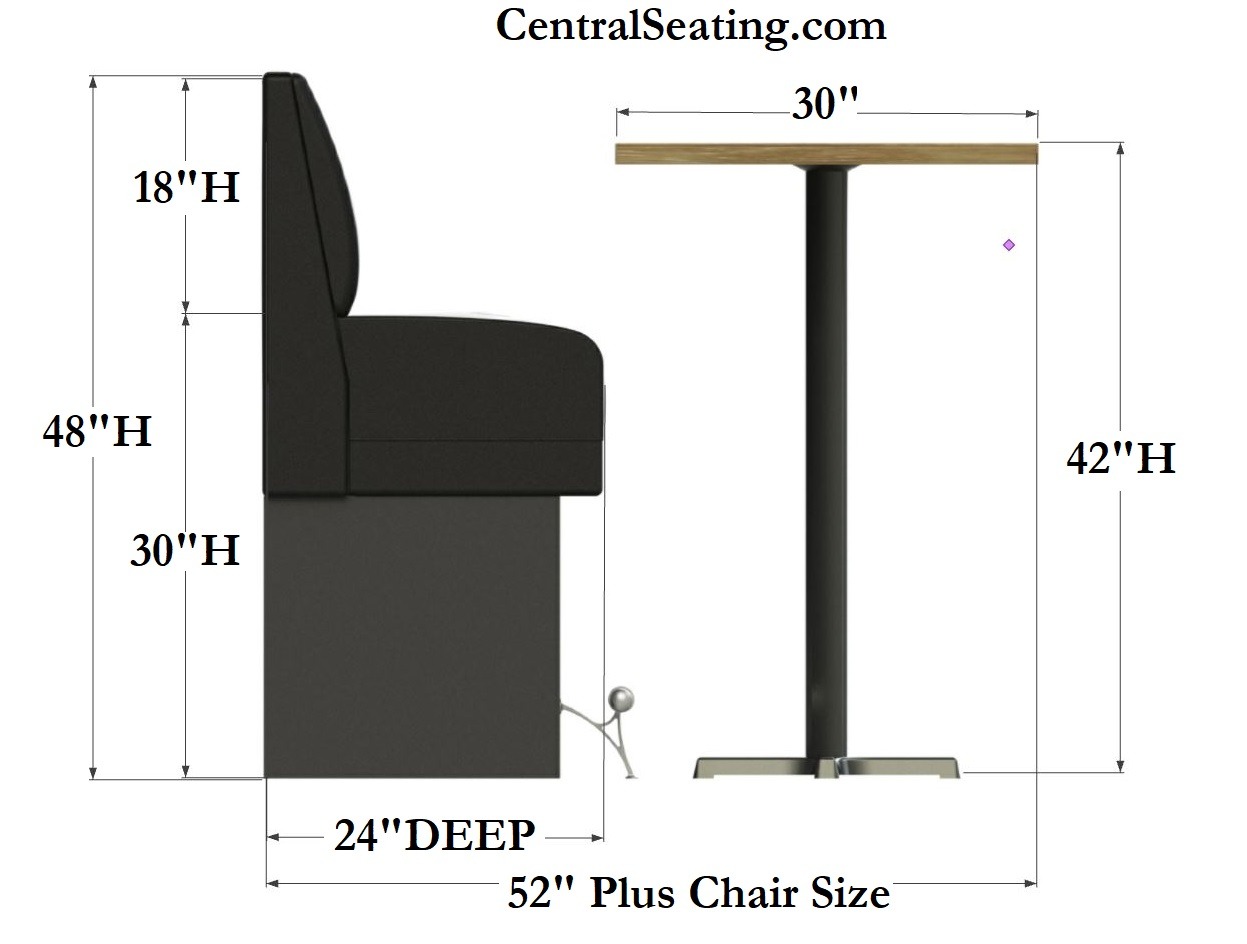 3 Most Common Seat Height Options for Banquette Booth Seating, Dimensions
| | | |
| --- | --- | --- |
| Seating Type | Seat Height | Recommended Table Height |
| Dining Height | 18" Tall | 30" Tall |
| Counter Height | 24" to 26" Tall | 34" to 36" Tall |
| Bar Height | 30" Tall | 40" to 42" Tall |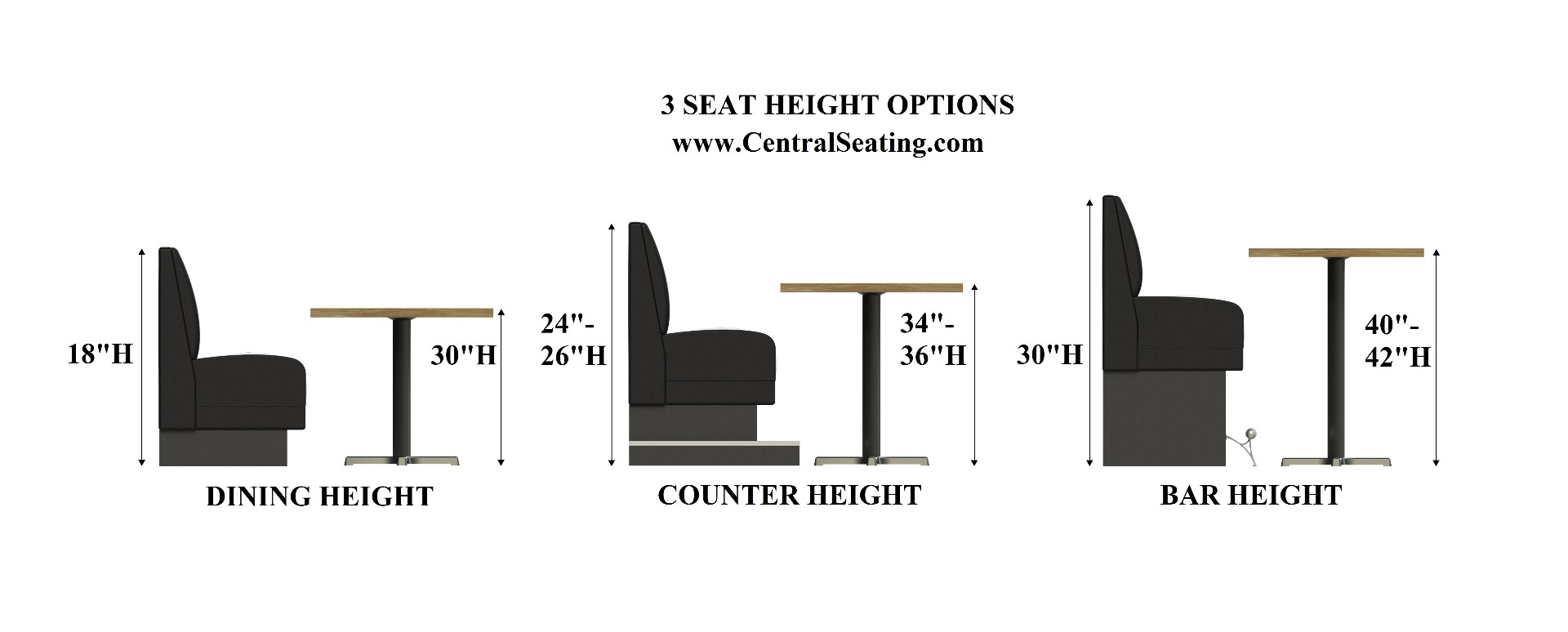 Depending on your goal, you can choose 18" Dining Height, 24" to 26" Counter Height, or 30" Bar Height for youre Banquette Booth Seating.
What is Standard Banquette Booth Height?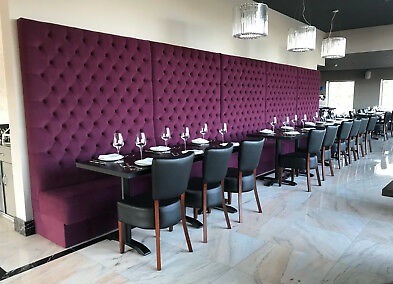 A banquette booth can be customized to any height depending on your preferences. The most common heights are 36", 42", 48", and 54" to 60" from floor to top of the booth.
Depending on the height of your wall, you can choose any of the standard heights or even cover the entire wall with the booth to make it a focal point of your interior design.
A 36" tall booth, when seated, will be around chest height. This shorter height creates an open and spacious feel in the restaurant and allows for decorations, special moldings, or even windows to be added to the wall.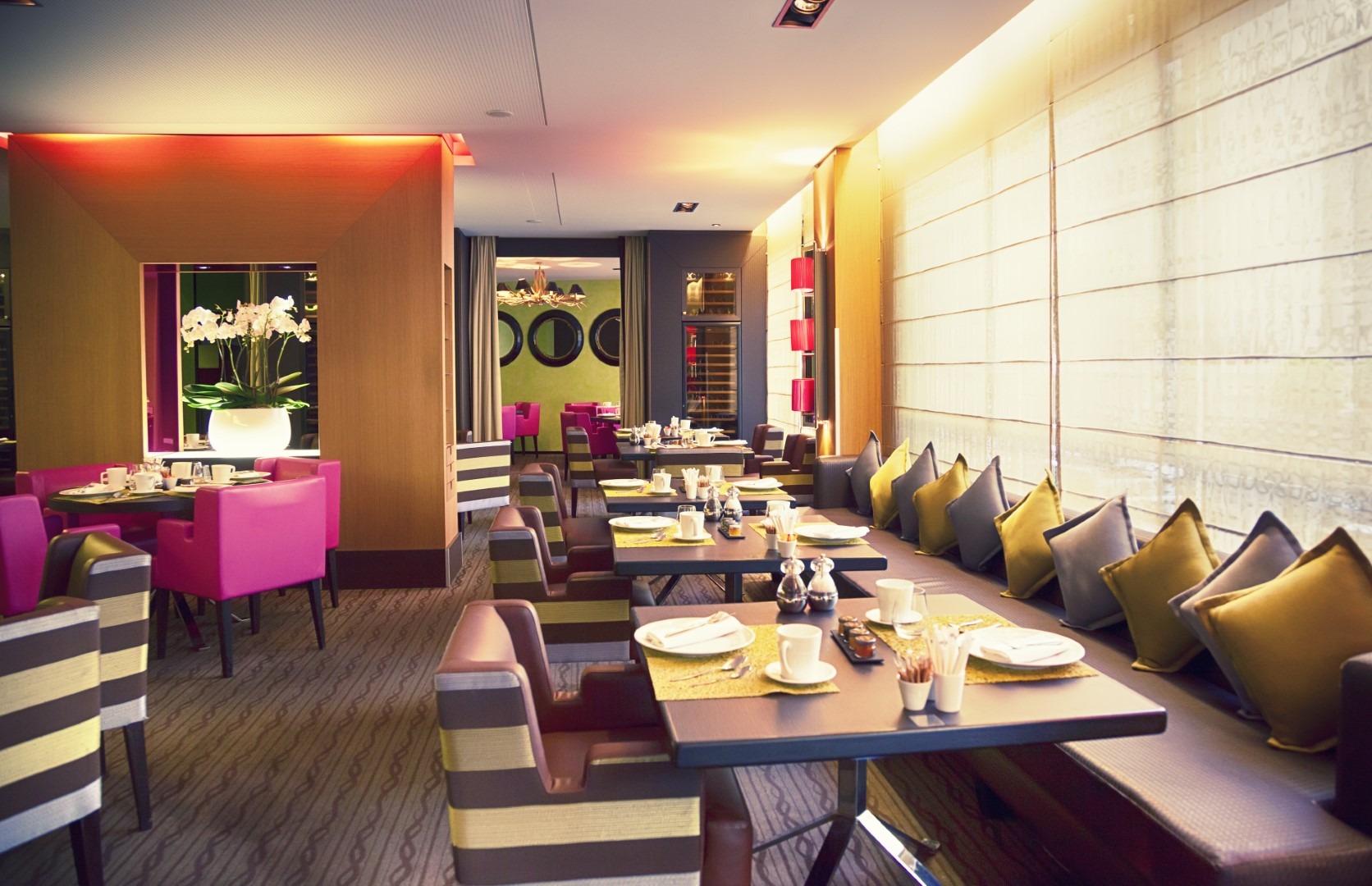 36" Tall
42" Tall booth if sitting will be around your chin area. This is the most common height and falls under standard pricing along with 36" Tall booths.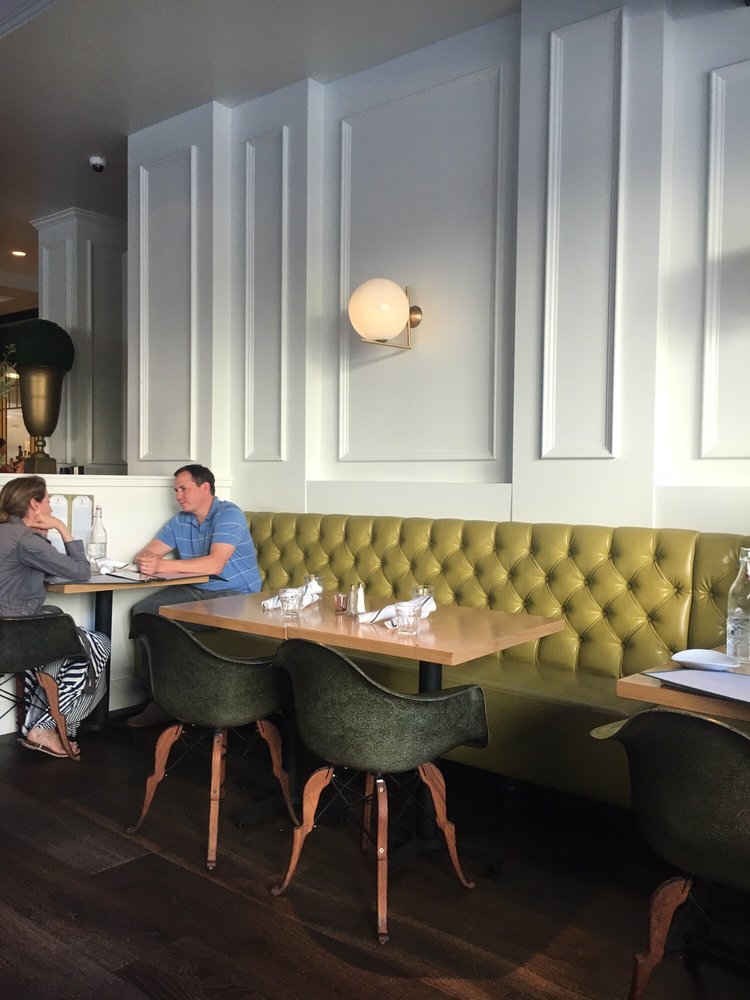 42" Tall
48" Tall booths if sitting will be around your ear area. This booth takes up more of your wall and will stand out more compared to the other 2 common height booths. This booth will have an increase in pricing due to height.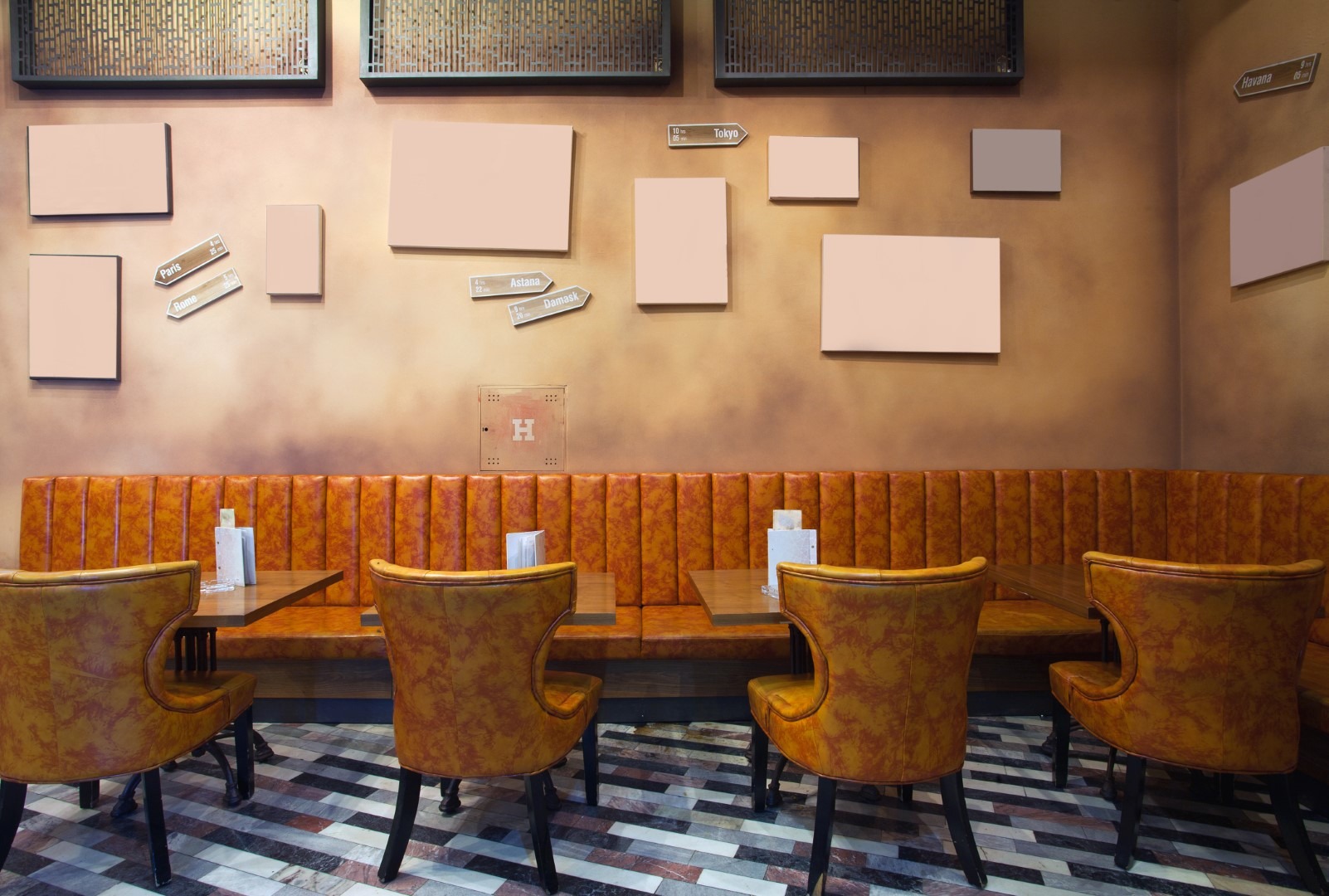 48" Tall
A 54" to 60" tall banquette booth will usually take up more than 50% of an interior wall with standard sealing height of 84". This type of booth stands out more and will make it so you don't have to add additional decorations to your wall.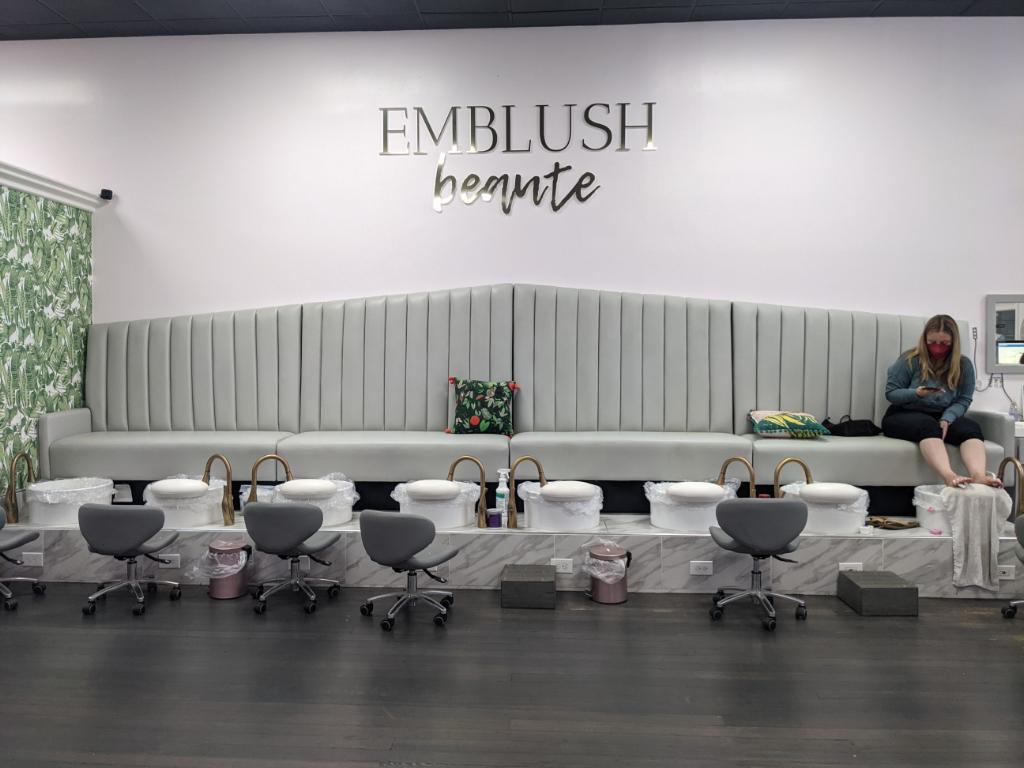 54" to 60" Tall
You can choose as tall as 84" from floor to top of booths, this style will come in 1 piece back and seat. Any taller than 84" and the back will sometimes be delivered in pieces for easy assemble.
Top 4 Most Popular Banquette Booth Upholstery Styles
The options for banquette booth styles are endless and can be customized to fit your desired aesthetic. One popular option is upholstered booths, which can come in a variety of styles including wood construction. Among the most popular styles are the Vertical Channel Back Booth model #B1004-6W, which features 6" wide vertical channels for a minimalist design and comfortable seating experience. The sturdy base supports the unique panel structure, resulting in a modern and elegant look that can withstand heavy use in commercial spaces.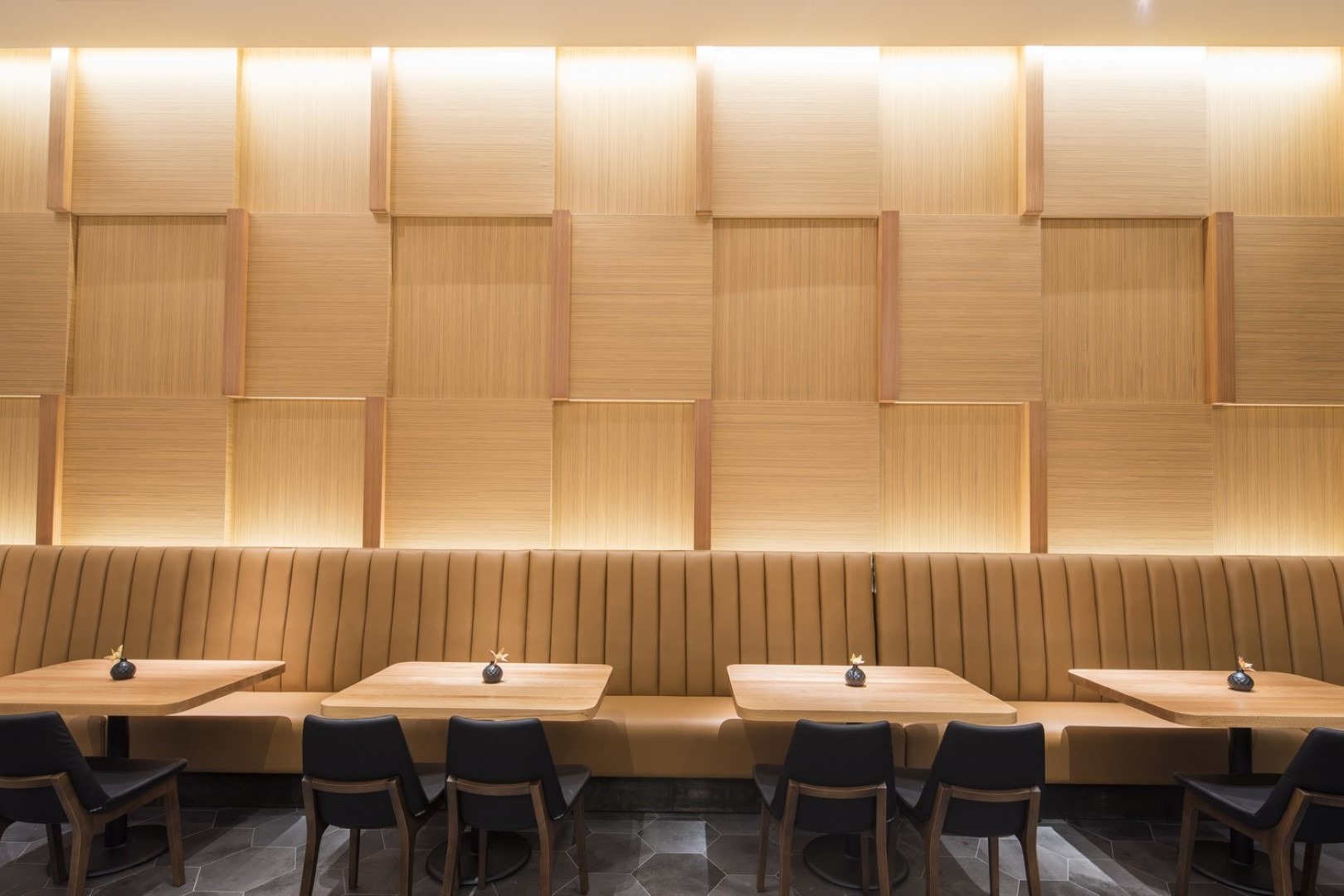 The B1012 model is a Diamond Tufted Banquette Restaurant Booth, which is a classic style that has remained popular in interior design for centuries. The reason for its continued popularity is that it looks amazing and provides great comfort. Our skilled craftsmen take great pride in creating beautiful furniture that is sure to put a smile on your face each time you sit down. This booth is constructed with a strong frame and comfortable cushions, making it a great choice for a wooden restaurant booth that can withstand constant use.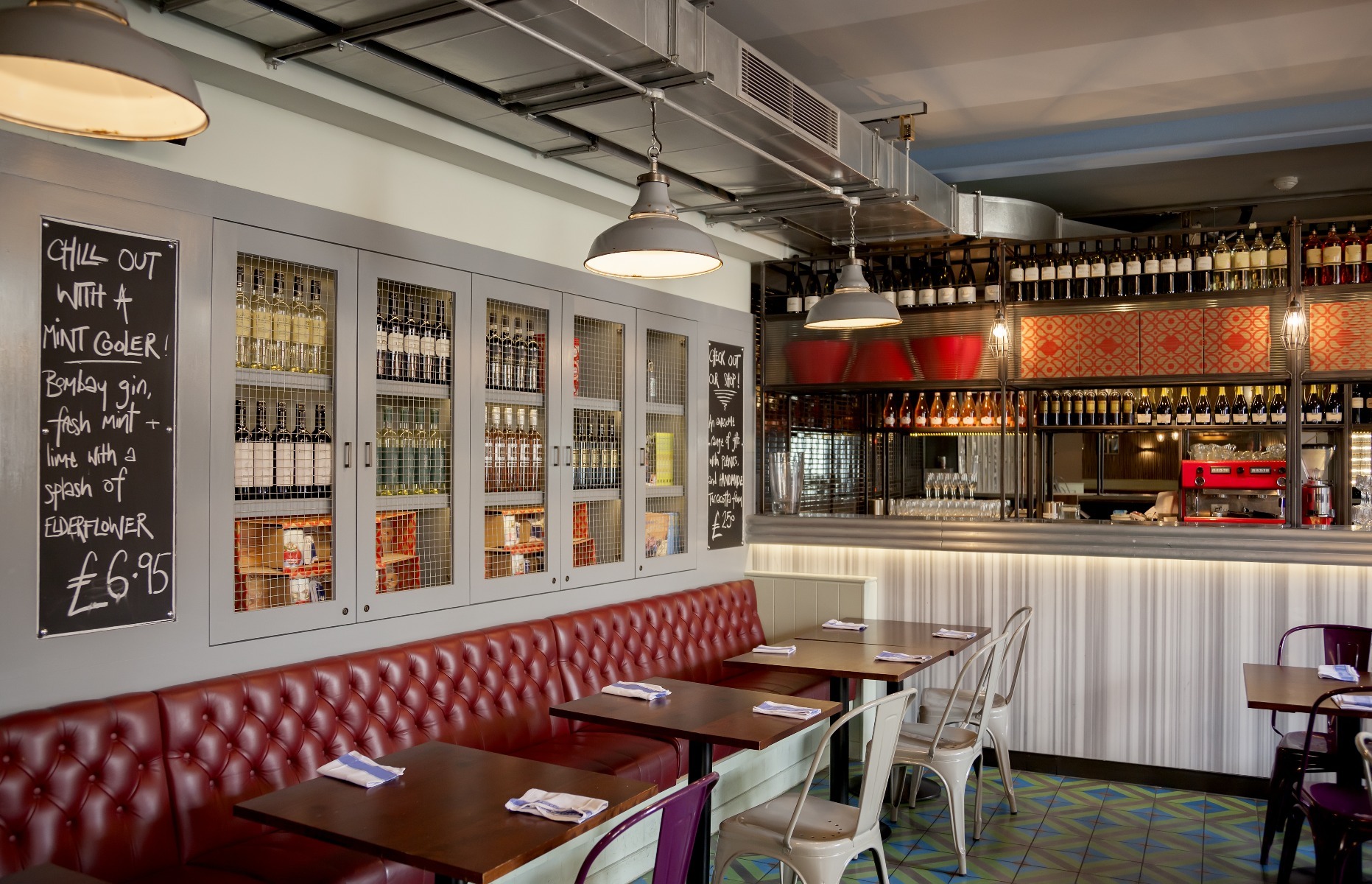 The push button back banquette restaurant booth is an excellent choice for commercial quality furniture that offers both comfort and style. Designed with a durable vinyl cover, this piece will maintain its elegant look for years, even with constant use. Its line-free design and tuft buttons create a blend of contemporary and classic elements that make it a standout piece of restaurant furniture. The foam cushions are also resilient, providing long-lasting comfort and easy maintenance.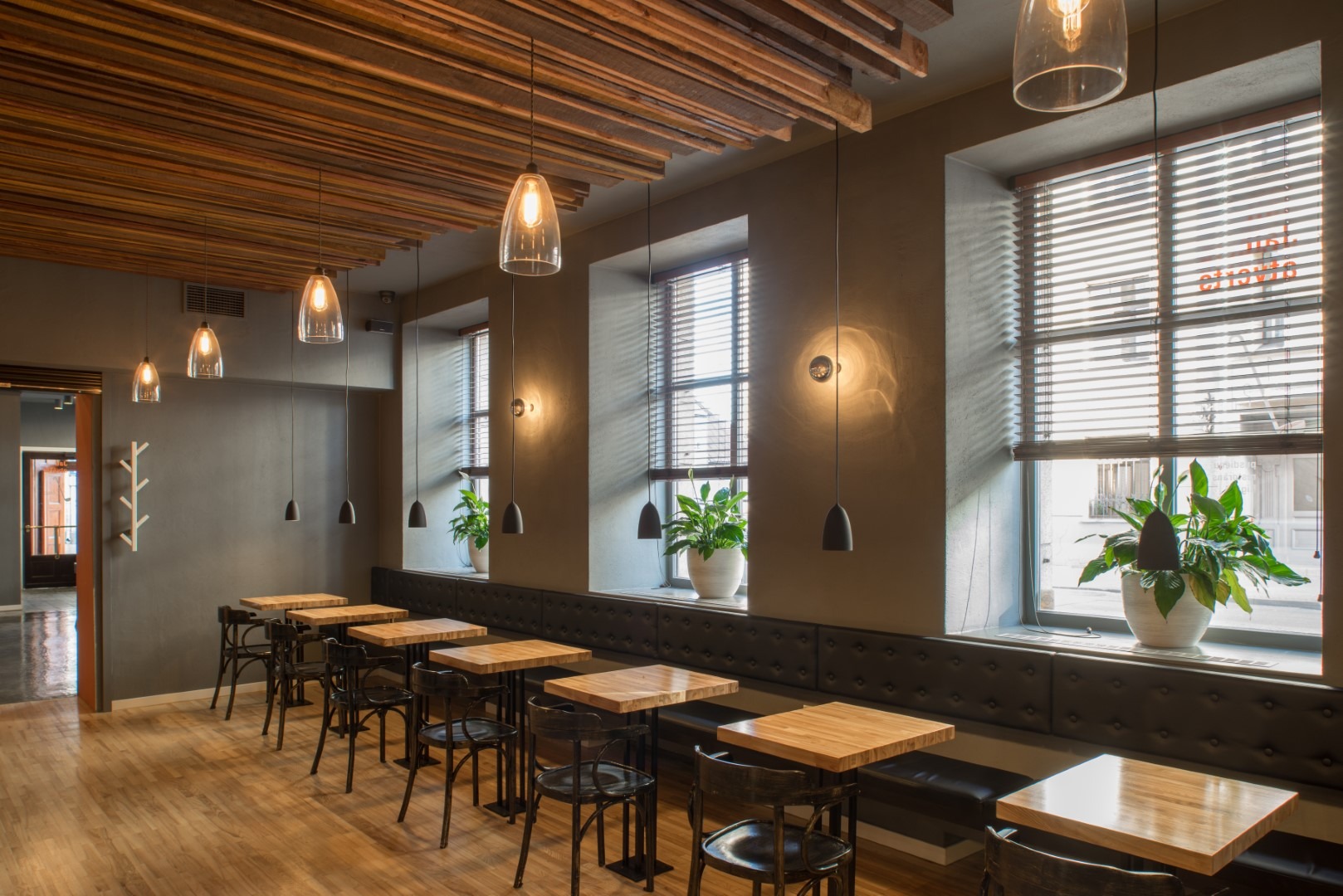 The B1007 model is a popular choice among customers as it features a plain back upholstered banquette booth design that creates a simple yet comfortable seating arrangement in any modern dining space or funky restaurant. The textured cover surface adds to its appeal, and you can choose from over 100 vinyl colors to match your interior decor. The booth can be easily bolted down for added safety, and the plain back design allows for patterns and designs on vinyl or fabric to stand out even more.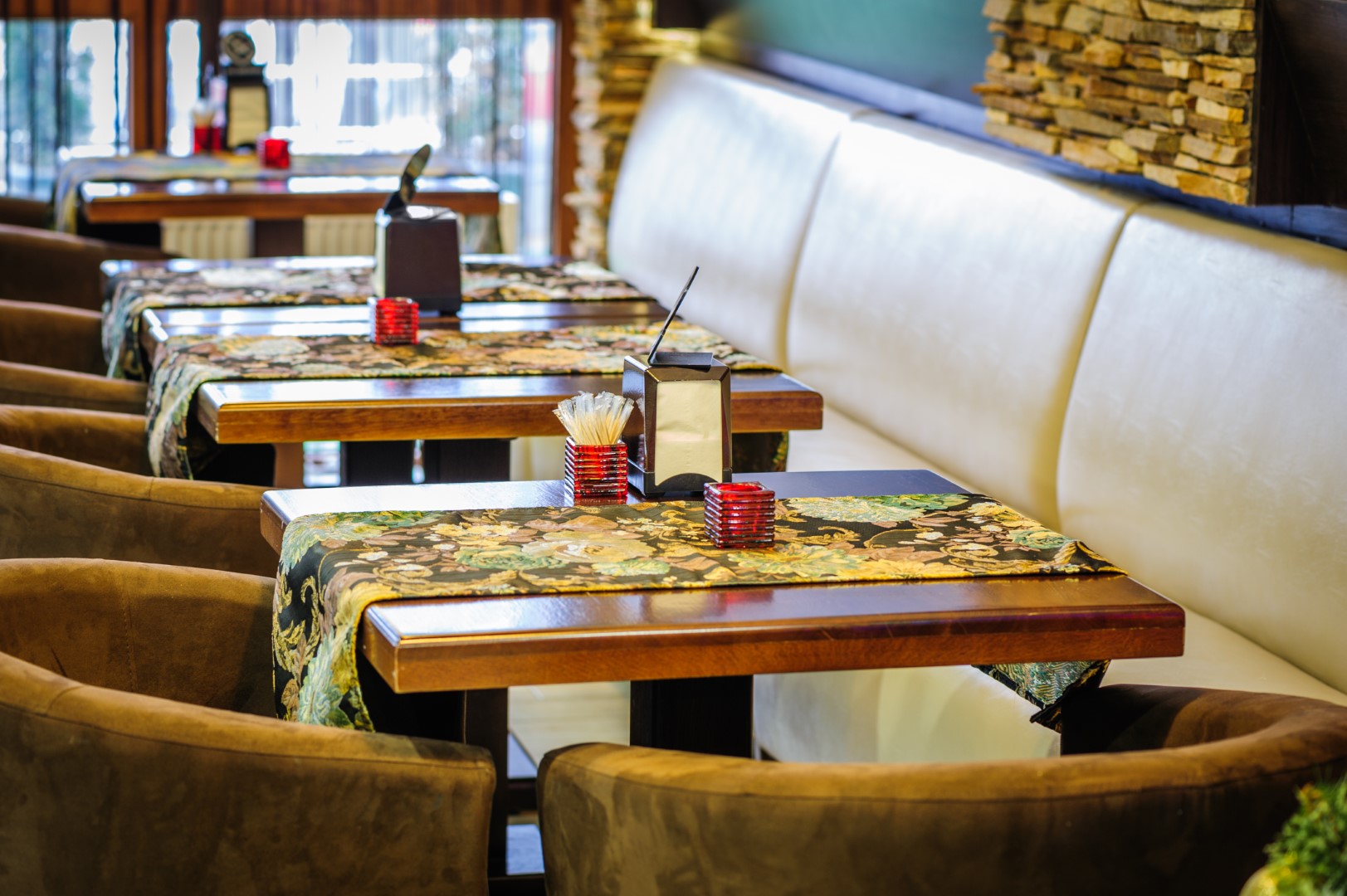 When are Back Covers necessary on Banquette Booths?
A banquette booth is a versatile and stylish seating option for any restaurant, bar or hospitality space. With its customizable height, design, and upholstery options, it can fit seamlessly into any decor and provide a comfortable and intimate dining experience for guests.
When choosing a banquette booth, consider the height and style that best suits your space and customers. Whether you opt for a shorter or taller banquette, an upholstered or wood construction, a vertical channel or diamond tufted back, or a plain or push-button back design, make sure it complements your restaurant's overall aesthetic and ambiance.
It's important to note that banquette booths are often placed against walls, which means the back of the booth is usually left uncovered to make assembly and maintenance easier. However, if you prefer a back cover for additional comfort and aesthetic appeal, it's possible to add one to your order.
Overall, a banquette booth is a fantastic investment for any restaurant or hospitality business looking to create a cozy and stylish seating option for their guests. Don't hesitate to reach out to furniture manufacturers or suppliers for more information on customization options and pricing.