Picture this: You walk into a restaurant, hungry and eager for a delightful dining experience. The aroma of delicious food fills the air, and the ambiance promises a memorable evening. As you're guided to your table, you suddenly realize the choice of seating can significantly influence your overall enjoyment. Now, let's explore how choosing upholstered restaurant booths can transform your dining experience into something extraordinary.
In the world of hospitality, every detail matters. The seating choice in a restaurant is no exception. It sets the stage for the entire dining experience, affecting everything from comfort to ambiance, privacy, and even the acoustics. In this blog post, we'll delve into the significance of this choice, with a particular focus on upholstered restaurant booths. Discover how these cozy and stylish seating options can elevate your restaurant's atmosphere and leave a lasting impression on your patrons.
How Upholstered Booths Enhance Patron Comfort: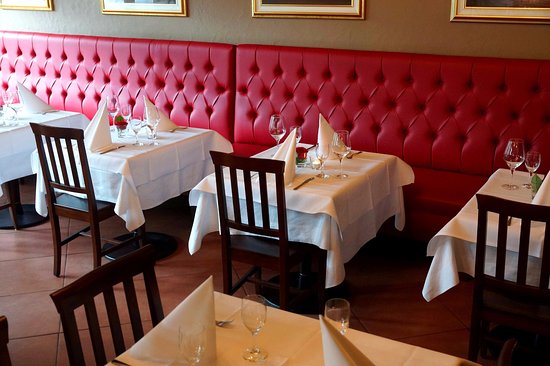 Retaurant: De Salvo Italian Restaurant
Location: Wurttemberg Germany
Upholstered restaurant booths are designed with one key element in mind: comfort. Here's how they achieve this and why it matters:
Plush Padding: Upholstered booths feature padded seats and backrests, ensuring that patrons can sink into comfortable and supportive cushioning. This plush padding helps distribute their weight evenly, reducing pressure points and discomfort during extended periods of sitting.

Ergonomic Design: Many upholstered booths are ergonomically designed to provide optimal lumbar support. This means that diners can enjoy their meal without feeling the strain on their backs, making it perfect for lengthy conversations or leisurely dining experiences.

Personal Space: The enclosed design of booths provides patrons with a sense of personal space. This privacy contributes to comfort as diners can relax without worrying about intrusion from neighboring tables.
The Contribution of Comfortable Seating to a Pleasant Dining Experience:
Comfortable seating plays a pivotal role in creating a memorable dining experience. Here's why:
Extended Stay: Comfortable patrons are likely to stay longer at your restaurant, leading to increased revenue per table. They are more likely to order dessert, coffee, or another round of drinks, boosting overall sales.

Positive Associations: Comfortable seating fosters positive associations with your restaurant. Patrons are more likely to recall their enjoyable experience, recommend your establishment to others, and become loyal customers.

Reduced Discomfort: Uncomfortable seating can lead to patrons feeling irritable or distracted. Comfortable seating ensures that diners can fully engage in the experience, savoring the food and enjoying the company of their companions.
The Role of Ambiance in Customer Satisfaction and Return Visits:
Ambiance, influenced by seating choices like upholstered booths, is a critical factor in customer satisfaction and the likelihood of return visits:
Aesthetic Appeal: The visual appeal of upholstered booths can significantly enhance the overall ambiance of your restaurant. Well-coordinated upholstery choices can complement your restaurant's theme or decor, creating a harmonious atmosphere.

Acoustic Comfort: The padding in upholstered booths also contributes to acoustic comfort. Reduced noise levels lead to more comfortable conversations, ensuring that patrons can enjoy their meals without straining to hear or be heard.

Memorable Experiences: The ambiance, which includes comfortable seating like booths, contributes to the overall experience diners have at your restaurant. A pleasant ambiance sets the stage for memorable moments, which patrons are likely to share and revisit for.
Space Efficiency with Upholstered Booths: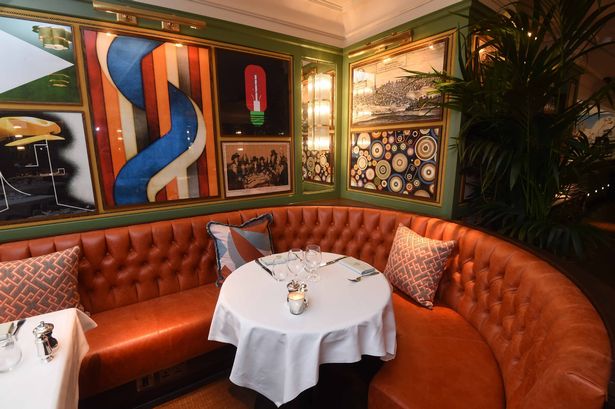 Restaurant: The Ivy
Location: London
Upholstered booths offer space-efficient seating solutions in restaurants. Here's why and how it matters:
Compact Seating: Booths can accommodate more patrons in a smaller footprint compared to individual chairs. Their design minimizes wasted space between tables.

Flexible Layouts: Restaurants can maximize floor space by customizing booth configurations to fit their layout precisely.
Advantages of Optimizing Floor Space:
Optimizing floor space in a restaurant provides several key advantages:
Increased Capacity: Efficient seating allows for more diners at peak times, leading to higher revenue potential.

Improved Flow: An organized layout enhances the flow of both customers and staff, reducing congestion and wait times.

Enhanced Ambiance: Well-arranged seating contributes to a comfortable and inviting atmosphere, improving overall customer satisfaction.
Statistics and Case Studies on Space-Saving with Booths:
Several studies and statistics support the space-saving benefits of upholstered booths:
Increased Capacity: A study by the National Restaurant Association found that restaurants can increase their capacity by up to 20% by incorporating booth seating into their floor plans.

Customer Preferences: According to a survey by Restaurant Business Magazine, 63% of diners prefer booth seating when given the choice, which can lead to higher customer satisfaction and retention.

Revenue Boost: In a case study conducted by a popular restaurant chain, the strategic implementation of upholstered booths resulted in a 15% increase in revenue within the first year.
Privacy and Acoustics Enhanced by Upholstered Booths: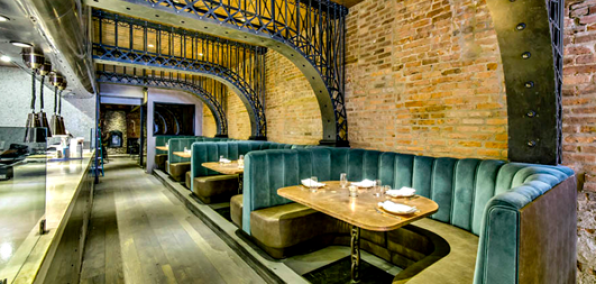 Restaurant: Cat & Theo
Location: New York, NY
1. Privacy for Diners:
Upholstered restaurant booths are designed to offer a unique sense of privacy to diners:
Enclosed Design: Booths feature high backrests and sides, creating a semi-private dining space that shields patrons from the bustle of the restaurant. This enclosure fosters a more intimate dining experience.

Reduced Visual Distractions: By limiting visibility to neighboring tables, upholstered booths allow diners to focus on their companions, conversation, and meals without the distractions often associated with open seating arrangements.
2. Noise Absorption and Quieter Atmosphere:
Upholstered surfaces in booths play a crucial role in reducing noise levels within a restaurant:
Sound Absorption: Upholstered materials, such as padded seats and fabric-covered walls, absorb sound effectively. This minimizes the reverberation of noise, preventing it from bouncing off hard surfaces like walls and floors.

Quieter Dining Environment: The combined effect of upholstery materials and booth design creates a quieter atmosphere. Patrons can converse comfortably without straining to be heard, leading to a more enjoyable dining experience.
Impact of Reduced Noise on Customer Conversations and Enjoyment:
Reducing noise levels through upholstered booths positively impacts both customer conversations and overall satisfaction:
Effortless Conversations: Lower noise levels make it easier for diners to engage in conversations with their companions, enhancing the social aspect of dining out.

Improved Concentration: Reduced background noise allows patrons to concentrate on the flavors and details of their meals, enhancing the gastronomic experience.

Enhanced Enjoyment: A quieter ambiance contributes to a more relaxed and enjoyable dining experience. Customers are more likely to return to restaurants where they can dine in comfort.
Durability of Well-Crafted Upholstered Booths: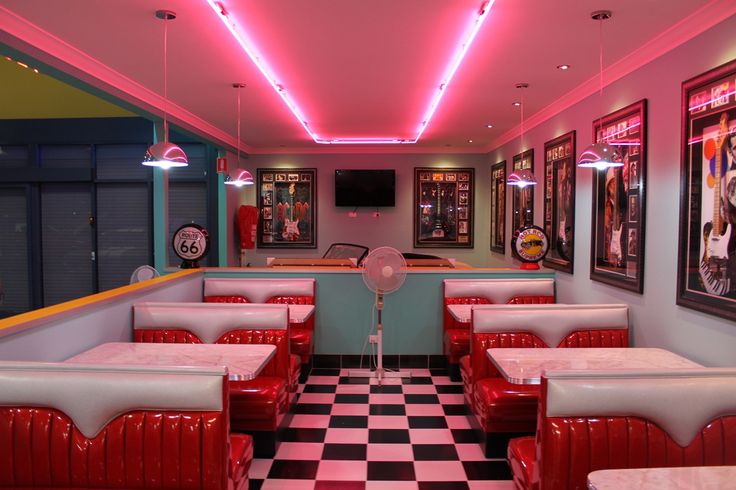 Upholstered restaurant booths are known for their robust durability due to the following factors:
Quality Materials: These booths are constructed using high-quality materials, from sturdy frames to resilient padding and upholstery fabrics that can withstand the test of time.

Solid Craftsmanship: Expert craftsmanship ensures that the booths are built to last, with reinforced seams and secure joints that can handle the everyday wear and tear of a busy restaurant.

Stain Resistance: Many upholstered booths are treated with stain-resistant coatings, offering protection against spills and stains, which are common in restaurant settings.
The Importance of Easy Maintenance for Long-Term Savings:
Efficient maintenance can result in significant long-term savings for restaurant owners:
Extended Lifespan: Regular cleaning and upkeep routines can extend the lifespan of upholstered booths, reducing the frequency of costly replacements.

Cost Efficiency: Routine maintenance is often more cost-effective than major repairs or booth replacements, minimizing expenses and avoiding disruptions in service.

Enhanced Reputation: A well-maintained restaurant with clean and inviting upholstered booths contributes to a positive reputation, encouraging repeat business and positive online reviews.
Cleaning and Upkeep Tips for Restaurant Owners:
Here are practical tips for cleaning and maintaining upholstered restaurant booths:
Establish a Cleaning Schedule: Implement a regular cleaning schedule that includes vacuuming and spot cleaning to promptly remove dirt, debris, and stains.

Professional Cleaning: Invest in professional upholstery cleaning services at least once a year to deep-clean and refresh the upholstery.

Swift Spill Response: Train staff to respond promptly to spills to prevent stains from setting. Use mild, non-abrasive cleaning solutions appropriate for the upholstery fabric.

Cushion Care: Rotate and flip seat and back cushions periodically to ensure even wear and extend their lifespan.

Damage Inspection: Regularly inspect booths for any signs of damage, such as loose screws or torn upholstery, and address issues promptly.

Consider Fabric Protection: Apply fabric protectors to help repel stains and spills, further extending the life of the upholstery.

Odor Management: If odors persist, use odor-neutralizing products or consult professionals for assistance.
Aesthetic Versatility of Upholstered Restaurant Booths: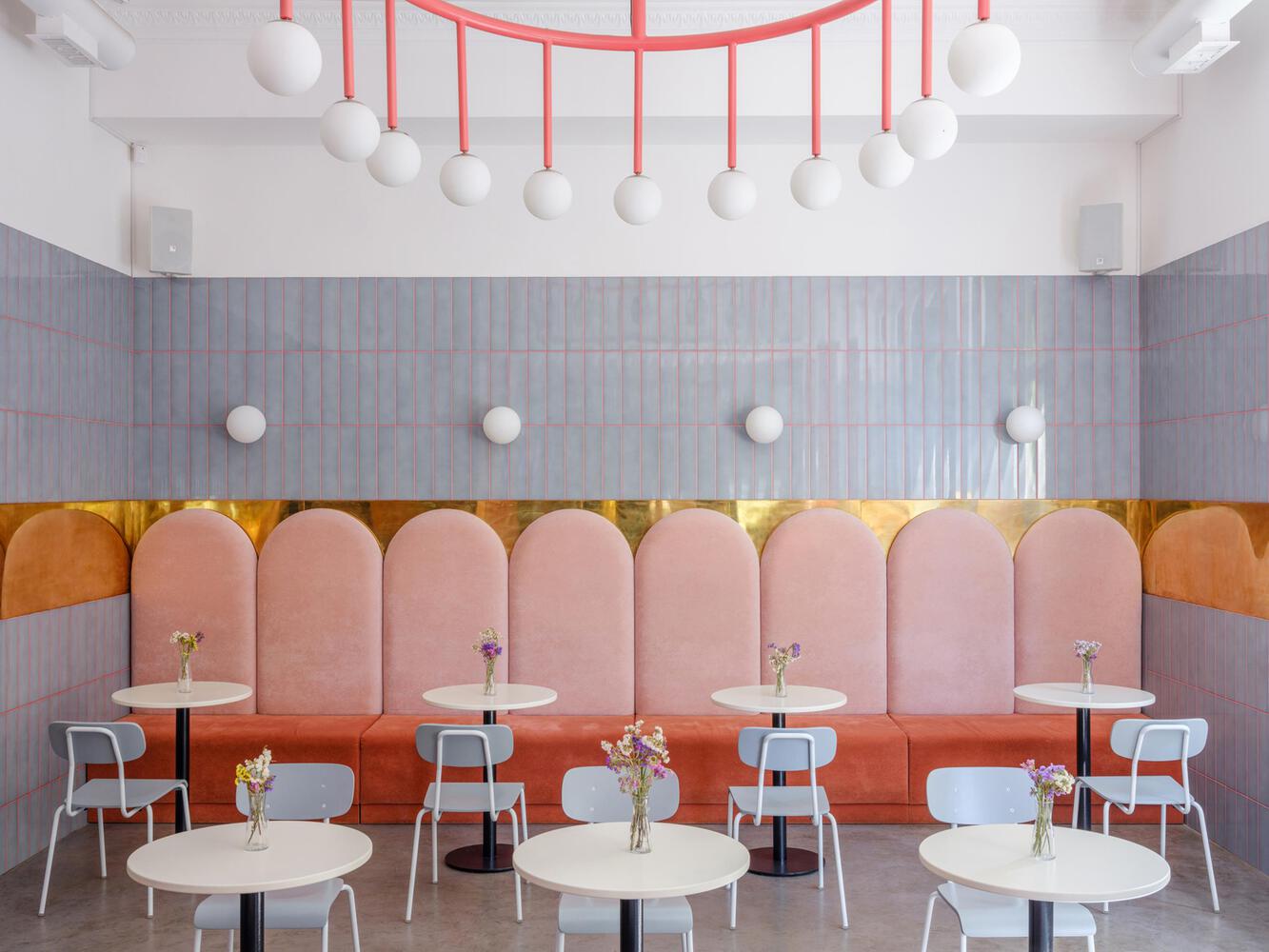 Restaurant: Breadway Bakery
Location: Odessa, Ukraine
1. Various Design Options:
Upholstered restaurant booths offer a wide array of design options, making them exceptionally versatile:
Fabrics and Textures: These booths come in various fabric options, ranging from classic leather to contemporary patterns and textures. This diversity allows restaurant owners to choose the perfect look and feel for their establishment.

Colors and Patterns: Upholstered booth seating is available in an extensive palette of colors and patterns. Whether a restaurant wants to convey a sense of sophistication with neutral tones or inject vibrancy with bold prints, there's a choice for every design preference.

Styles and Sizes: Upholstered booths are available in different styles, from sleek and modern to classic and timeless. Additionally, they come in various sizes, accommodating both intimate dining for couples and larger groups.
2. Customization to Match Restaurant's Theme or Decor:
One of the standout advantages of upholstered booths is their customizability to harmonize with a restaurant's theme or decor:
Tailored Upholstery: Restaurant owners can choose upholstery materials and colors that complement the overall aesthetic of their establishment. This tailored approach ensures that booths seamlessly blend with the decor, creating a cohesive ambiance.

Branding and Logo Integration: Upholstered booths can be customized to feature a restaurant's logo or branding elements. This personalization adds a unique touch and reinforces brand identity.

Coordinated Design: Booths can be integrated into the overall interior design plan, from coordinating upholstery with wall colors to matching them with table settings and lighting fixtures.
3. Showcase Different Upholstery Styles with Images:
Visual examples can illustrate the versatility of upholstered restaurant booths:
Image Gallery: A collection of images showcasing different upholstery styles, colors, and patterns can help restaurant owners envision the possibilities and choose designs that align with their vision.

Before-and-After Visuals: Providing before-and-after images of restaurant spaces with and without upholstered booths can emphasize the transformative effect of these seating options on ambiance and aesthetics.

Real-Life Examples: Sharing images of successful restaurant spaces that have effectively utilized upholstered booths can inspire and guide restaurant owners in their design choices.
Customer Reviews and Testimonials:
Customer Review 1:
"My dining experience at The Velvet Spoon was simply exceptional! The upholstered booths not only added a touch of elegance to the ambiance but also provided a cozy and private space for our family dinner. It felt like we were in our own little world, enjoying delicious food and uninterrupted conversations. We'll definitely be returning to this restaurant for more memorable moments."
Customer Review 2:
"As a regular diner at The Rustic Hearth, I've seen the transformation that the upholstered booths brought to this place. The noise levels have gone down significantly, thanks to the soft cushioning and fabric-covered walls. It's now my go-to spot for business meetings and date nights, as we can have conversations without raising our voices. The comfort and atmosphere are unmatched!"
Testimonial 1 (Restaurant Owner):
"Introducing upholstered booths to our restaurant was a game-changer. Our patrons love the cozy and intimate dining experience they offer. It's reflected in our reviews and repeat business. Plus, the booths' durability has saved us maintenance costs in the long run. I couldn't be happier with the choice!"
Emily Rodriguez, Owner of La Belle Cuisine
Testimonial 2 (Restaurant Owner):
"The decision to invest in upholstered booths for our restaurant was one of the best we ever made. It completely transformed the ambiance, making it warm and inviting. The positive feedback from our customers has been overwhelming. They appreciate the comfort and privacy these booths provide. They've not only increased our customer satisfaction but also our bottom line. We're thrilled with the results!"
James Anderson, Owner of The Cozy Nook Café
Conclusion: The Benefits of Upholstered Restaurant Booths
In conclusion, upholstered restaurant booths stand as a dynamic asset to any dining establishment, offering an array of benefits that significantly enhance the overall dining experience:
Comfort and Privacy: These booths provide a comfortable and private dining space, fostering a sense of intimacy and relaxation for patrons.

Aesthetic Versatility: With a myriad of design options and customizability, upholstered booths seamlessly blend with restaurant themes, adding an aesthetic touch.

Space Efficiency: Their space-efficient design optimizes floor space, accommodating more diners and maximizing revenue potential.

Acoustic Comfort: Upholstered materials absorb noise, creating a quieter ambiance where conversations can flourish.

Durability and Maintenance: Well-crafted booths are built to last and can be easily maintained, translating into long-term cost savings for restaurant owners.
We encourage restaurant owners to consider the addition of upholstered restaurant booths to their seating options. These booths not only elevate the dining experience but also have the potential to boost customer satisfaction, repeat business, and positive online reviews.
If you're a restaurant owner or manager looking to enhance your establishment's ambiance and customer experience, explore the world of upholstered restaurant booths today. Contact us today to discuss the customization options that best align with your restaurant's unique style and needs.
Thank you for taking the time to explore the benefits of upholstered restaurant booths with us. We wish you success in creating a dining environment that leaves a lasting impression on your patrons. Cheers to comfortable, stylish, and unforgettable dining experiences!