Transport Your Customers Across the Globe in Your Japanese Restaurant
Everyone loves sushi, and in big cities around the world, people have started to discover the pleasure of a small dish, Izakaya.
On the other hand, there is more to a Japanese restaurant than just the food, which is not common outside of Japan.
Over the years, tradition has influenced Japan's interior design aesthetics and architecture leading to cultural and serene interior design. Japanese styles developed around uncluttered and clean living, sticking to order, balance, love for natural beauty and ancient costumes.
When the ancient lifestyle and tea ceremonies of the Japanese are understood well, the culture becomes worth replicating and endearing in our daily lives.
Since Japanese interior design contains this relaxing decorating touch achieved, you'll want your Japanese restaurant to reflect it, too.
In this article, we're going to take you through a few ways to add a relaxing, Japanese-inspired, style into your restaurant.
Opening Your Restaurant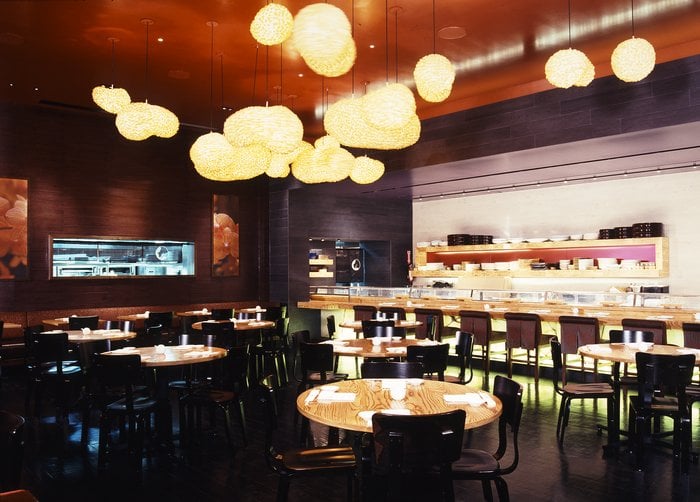 Like most businesses, opening a Japanese restaurant (and truly achieving the vibe of the culture) is quite challenging—while on the other hand, it is potentially rewarding.
Several factors have to be put into consideration before you start decorating or even open your Japanese restaurants, such as proximity and location to the competitors, market for Japanese cuisine, and availability of finances.
Before you sign anywhere, make sure you've devised a thorough marketing and business plan, discover how to hire experienced Japanese food and sushi chefs and acquire any necessary permits and licenses.
Location is everything.
Choose a location that is visible and highly accessible making sure it is not close to competing for Japanese restaurants.
Find a specialty distinguished in the Japanese industry that separates your restaurant from other competitors. Raise a market strategy to highlight that either from having a sushi chef who is well known for making the rarest Japanese traditional cuisine. Form a business plan and present it to an investor or bank for funding.
Now that you have your restaurant ready to Wok n' Roll, let's get to the design:
What makes a restaurant become a Japanese Restaurant?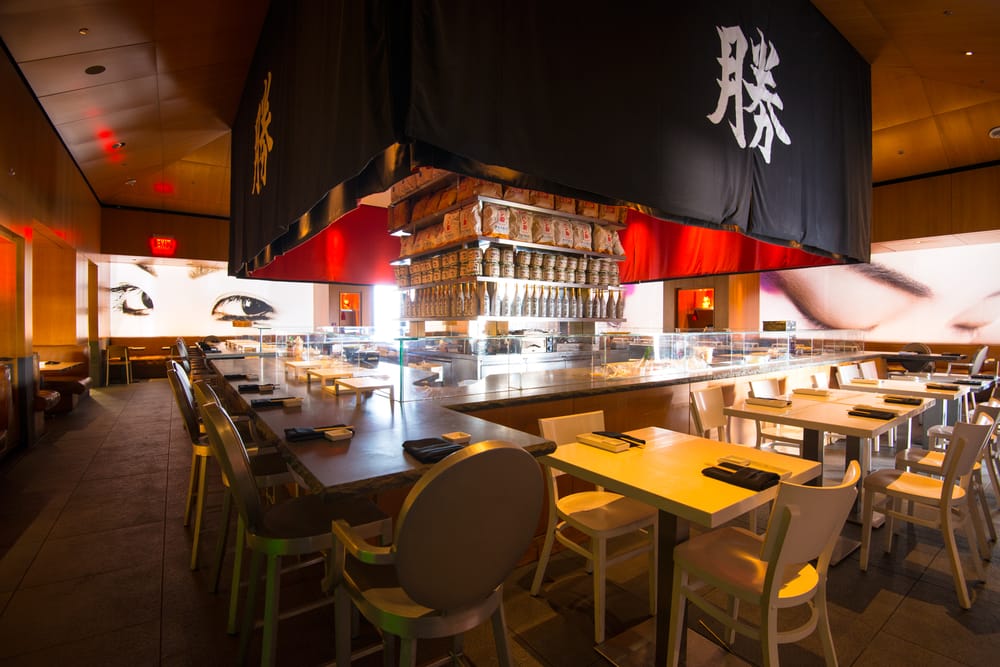 Distinguishing real Japanese restaurants from the fake ones is not so hard for true fans of Japanese food and culture. Another basic confusion is distinguishing a Japanese restaurant from another Asian culture.
To help you truly grasp the unique Japanese culture in your restaurant, there are so many different designing aspects that you can conquer.
Here are a few elements that you should pay attention to when designing your Japanese restaurant:
Elements of nature in Japanese style interiors with wood and bamboo
Japanese culture has profound respect and love for nature. Your restaurant should reflect this passion, too.
The best way to keep a solid connection with nature is by bringing outdoor nature indoors.
Adding Japanese traditional plants such as bamboo and bonsai, give a Japanese cultural touch. Any greenery addition will achieve a related style.
Use plants such as orchid and palm. Whatever plants you choose, ensure to make the place natural, green, and simple. Large windows in Japanese designs allow the view of nature from different angles.
A great way to harmonize nature is by adding natural wooden elements into your restaurant. It is also common for Japanese culture to use wooden elements whereby, bamboo is generally used for decorative reasons.
If you're worried about certain outdoor problems, like bugs or various scents, you can also opt to get fake plants.
Having soaking tubs are important in the Japanese Interior design with sliding doors or screens
Just as with the plants, water is important in Japanese restaurants because the sound of water bubbling has a calming effect and it fills your meditative ears. This sort of thing is in line with Japanese culture and will help you achieve the atmosphere you want.
An essential design element in Japanese restaurants is shoji, a Japanese screen.
Shoji slides back and forth and it saves up space that a door would normally occupy. It is essential to conserve every square inch in your restaurant and Shoji slides also don't block the natural light or nature views.
Therefore, replacing a large wall with a glass sliding door is a great way of incorporating Japanese design into your restaurant.
Authentic Japanese screens are generally made of fine translucent paper found inside a wooden grid. Alternatively, you can replace the large wall expanse with a glass-paneled sliding door to add a bit of style.
Japanese style entryway and furniture
"Entry" in Japanese is called genkan. This is also an important concept of Japanese culture where visitors are greeted and shoes are taken off and replaced with indoor slippers.
The entry has a shelf to stores shoes. It is simple and has wooden elements with natural light. Stone tile flooring is also common at the entryways and for you to mimic this—you have to copy simple and clean lines of Japanese design.
The entryway should be uncluttered. Japanese style does not separate furniture filled rooms. Japanese furniture is mostly low to the ground and sometimes floor cushions commonly relinquish furniture.
Mimicking the Japanese furniture design could bring an aesthetic feeling. Maybe it could even be more authentic if we use a low plank table and floor cushions to get a bona fide or even romantic dining.
You don't have to make your customers take off their shoes, though!
Minimalist Japanese design principles
Japanese style is minimalist and clean.
Your restaurant should also reflect that. Keep it uncluttered and simple.
When it comes to furniture, if you're trying to stick to the culture-inspired creativity, it should be made of natural wood, clean-lined and modern.
Angular and modern lighting are also great to imitate the Japanese lantern style. Everything should have a place and a purpose that is; nothing should miss its function or be out of order.
Natural lighting and open space in Japanese styles are the keys
Expansive and large windows and ceiling opening are good ways to add to the bright design into the restaurant. Do not use heavy drapes but rather use sheers or simple bamboo shade for natural light to be abundant in the space.
Common colors in Japanese design
Japanese colors are simple since they're inspired by natural beauty.
Major colors in the Japanese palate are various plant's shades of green and of brown like those related to wooden elements.
Floors have either grey stone tiles or wood and walls with screens that have opaque paper. Therefore, in your interior restaurant design, try to incorporate these elements.
What to include to complement a Japanese Eating Experience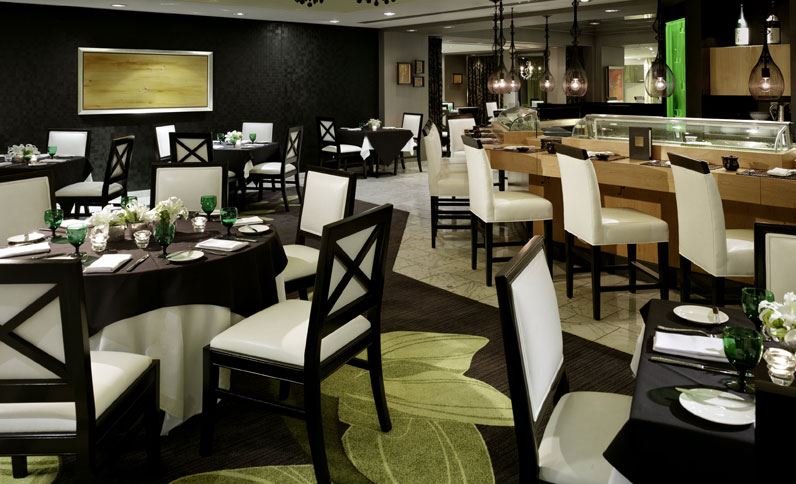 There are a lot of things to look into when decorating or setting up a Japanese eatery! To help you keep away from getting overwhelmed, we'll keep it simple (like the design of Japanese culture).
Here are important things to consider for a restaurant with a Japanese theme:
Japanese influenced décor
Today, many people visit a Japanese restaurant when they want to take a break from their work, want some leisure time with their families or just spend some peaceful time munching on their much-loved Sushi.
To give the right atmosphere, the perfect ambiance with delicious cuisine should be accessible at any Japanese restaurant.
What makes a Japanese restaurant attractive is the simplicity of the surroundings, not only given by the food but also by the interior design of the restaurants.
Avoid Clutter
Japanese restaurant environments are normally calm, soft, and minimalistic.
The good news here is that you can style the design of your restaurant with a small budget.
However, whether small or big, your restaurant should be uncluttered and provide a peaceful environment for the guest.
Choose a place that can be easily accessed and the cuisines prepared should be fresh and authentic.
Cooking and cutlery tools
Even the finest details can play a role in creating the full atmosphere of a Japanese restaurant.
Bear in mind that the cutlery you provide to the guests should complement the food they have been served. Therefore, add Japanese-like utensils like earthenware bowls and chopsticks to give your customers the opportunity to truly get into the culture.
You can also provide Japanese kitchen knives and other utensils to make the customer have the Japanese feel.
Light and design
Keep in mind that lighting your restaurant is a very important aspect.
As we mentioned earlier, soft lightening by installing paper lanterns to the restaurant in Japanese style is what you should provide in your restaurant.
Make use of the shoji screens to divide your cooking area from the serving and in addition to this, using wooden flooring give the restaurant a traditional Japanese look.
Add decorative elements
You can use bamboo plants and indoor waterfalls in your restaurant to give an elegant ambiance.
Depending on if you want your restaurant to be high class or casual, you'll have to have your interior design reflect that through decorative elements.
To achieve a comfortable and relaxing feel in the restaurant, play traditional Japanese music and lighten scented candles.
Furthermore, you can add origami sculptures and Japanese paintings to give a complete Japanese look. You should be able to find the perfect ambiance and authentic Japanese cuisines reflecting the Japanese culture.
The interior of your restaurant should be decorated using organic elements treasured by the culture of Japan. The elements of interior design are simple but classy making the restaurant space relaxing and inviting.
What goes into decorating a Japanese Restaurant?
When you have the best location for the restaurant, you can now start furnishing and decorating it in the way that customers will feel comfortable.
Designing and decorating your restaurant is not only about knowledge of architecture nor the good taste but also about marketing where you use the space to grow your restaurant through sells.
If you offer quality meals and your restaurant's interior design does not satisfy your guest's dining experience they may not like to come back nor recommend your restaurant to their families and friends.
The food isn't the only important aspect here.
The architecture of a restaurant can make a difference between enterprises with high profit and those that just get along.
Here are factors that are overlooked by entrepreneurs and managers while they can help boost your revenue, keep the guests coming, and save money:
Color: Psychologists said that color has a great impact on our brains. Color also has a huge impact on our bodies, emotions, and hunger cues. It also passes a different feeling to the brain, therefore, it has a significant factor to consider. The color you choose for your restaurant will create a psychological impact on the minds of the restaurant guests. Keep that in mind when choosing the color.
Décor: Although quality taste and appearance are important, the décor and design in your new restaurant can make all the difference. Do not make your restaurant a place where people flock in for a moment and when another café opens up they will forget about your restaurant and go to the new one. Make it unforgettable.
Lighting: You can't underestimate the importance—especially in public places such as restaurants—of your lighting. Attractive bright lighting can give passers-by a warm welcoming appearance and when they get in the interior lighting could warm their stomachs and minds too. Properly placed lights, especially at the tables, encourage easy conversation among customers. The success of interior design in a restaurant relies greatly on the lighting.
Music: Music has a major and essential effect on guests. Background music not only affects the customers—but also can make employees happier. As for the guests, the right music enhances their appetite, promote the atmosphere, and improve the image of the establishment. There is a connection between food and music, therefore, it is important to create a combination of the two in your restaurant.
Aroma: Aroma brings memories of experiences and sharpens anyone's appetite. A vital element in your beverage and food marketing plan is to take into consideration the sense of smell. Try and tune into the smells of cherry blossoms and other plants associated with the Japanese culture, which can help with the ambiance.
Layout: You need to plan a layout that maximizes profits and increases the products' value. Space management has a critical role in creating both physical and psychological relationships. There are those areas which are most observed by customers depending on the set up of chairs tables and equipment. Therefore, instead of place glasses or cutlery on such areas place wine bottles or sweets and a high chance of them to be purchased rather than when they are out of customers' sight. You can also tune into the Japanese culture with the layout, keeping things clean-cut and minimalistic.
Seating capacity: However, you can't forget that you want your restaurant to be able to hold a large number of parties and customers. Your restaurant's design should strike a balance between the number of seats and the creation of a welcoming atmosphere. As the owner, you want your customers to feel at ease, you want them to receive comfortably seated diners and still be able to make a profit. Do not make your restaurant be jammed with small tables close together they clock their hands when they want to stretch.
Kitchen Design: The kitchen layout is probably the largest investment in the design of a new restaurant. A kitchen layout should be spacious enough to allow staff to serve customers adequately and promptly because you will be losing great money if your kitchen layout slows down operations. You can also do a lot of unique things with the kitchen design—making it interactive with the customers.
What are the must-haves in the Japanese restaurant interior decoration?
The tables and dishes of the Japanese restaurant match the interior design layout.
Yearly, people fall in love with Japanese Cuisine because of their original menu and the special atmosphere, which is in the restaurants.
Years ago, people did not care about things like Japanese interior design but with fashion and time, everything changes. Therefore, today we have Japanese restaurants filling our cities occupy all aspects of the restaurant business.
Over a long time, the Japanese interior design of a restaurant has been dominated over by minimalism in conjunction with profound philosophical opinions of the Japanese.
As we mentioned before, you want to keep it as minimalistic as possible.
Avoid cluttering items in the interior—which can help hone in on simplicity and conciseness. This can truly reshape the aesthetic design of a Japanese restaurant.
Minimalism in Japanese is branded by elegance and simplicity of architectural lines because of the inaccessibility of land, which made the Japanese organize the lives in a limited place, one room serving as a bedroom, dining room, and living room.
The main place is the floor and therefore low tables and cushions are used for sitting because the same place is used for meals and a place to sleep at the same time.
The main materials they use for construction are silk cane, bamboo, and paper. These materials can also be in your restaurant. They are often used in the interior and partition slides between rooms the Japanese floors are always kept clean.
Japanese interiors are decorated with elegant patterns on paintings and walls. The Japanese use the shade made of rice paper called the lamp sunder for lighting, and most are decorated with a Japanese character or cherry pattern.
Japanese restaurant design is important and each detail matters. Getting an aesthetic pleasure from the surrounding during a meal to Japanese is very important. Therefore, here are specific features to the interior design of the Japanese restaurant:
Everything from cuisine to interior designing has a philosophical meaning and it resembles a finished composition.
Foods served in Japan have such a perfect and elaborate design that it could be considered a work of art.
The use of chopsticks with several small plates with different colors is a special tradition.
In a Japanese restaurant, everything suggests that taking your meals is an enjoyable and slow process
Among the main stages of meal having in Japan, is admiring it before you try it.
Therefore, the emergence of decorating interior designs and windows of Japanese restaurants with fake food dishes gained credit. Displaying fake food makes you see it in detail, learn design, size, and select the best one to take.one important element of traditional restaurants in Japan is window dressing with food replicas.
To come up with an authentic Japanese restaurant an all-inclusive approach to understand the Japanese culture subtitles.
Conclusion
The Japanese restaurant is defined by its calm, uncluttered and soft environment. You style your Japanese restaurant whether you have a large or small budget.
You only need a highly accessible place, a reasonable and just give it a Japanese look. The food should have a quality Japanese taste to qualify as an industrial restaurant.
When you design your restaurant to be a charming place, it will be a profitable business. In addition to Japanese like utensils such as earthenware bowls add table cutlery and crockery in to let the customers enjoy their Japanese food. Additionally, add kitchen utensils like kitchen carver, a Japanese vegetable knife.
Other than cooking tools, Japanese restaurant requires to lighten up the place with different shapes of paper lanterns, shoji screens to partition the serving area from the cooking area. Among the rows of tables, add mesh screens to provide a sense of privacy to your customers when enjoying their meals.
Floors made from wood gives the restaurant a perfect Japanese look more so if there are decorative pebbles and slate on the floor.
You can use elements from Japan, such as indoor waterfalls and bamboo plants to decorate your restaurant and let your guests feel comfortable and relaxed while in your restaurant. If your restaurant space is large, enough you can make a small garden with Japanese plants for the restaurant to get that authentic feel.
If you need help with your interior design and furnishing details, Central Seating, Inc. has got your back! Let us help you achieve that Japanese authentic look and feel.
From the Japanese paintings, murals, to artworks, you can complete the authenticity and the look of your Japanese restaurant.
For more furnishing ideas visit the Central Seating Inc. company's offices or their website.