Capturing the Sabores in your Mexican Restaurant Design
The ultimate goal of any Mexican restaurant is to bring the fiesta not only with your menu of food and drinks but also your atmosphere.
And how do you tap into that cultured atmosphere? You create a restaurant with an authentic design to suit not only your diners' expectations but the bar that's set high for dining out—especially at a Mexican restaurant.
Even though it all may look good, we want to help you with the design—which means that we have to get into the science of it all to truly get you to comprendé.
We want you to give your diners the design they've been looking for. To help you achieve that look and feel in your own Mexican restaurant while capturing the essence of the country.
Mexican style is well associated with traditional models that are appetite-stimulating creating atmospheres of pleasures, warmth and comfortable setting and most people admire such tranquillity. This is the best environment wished by many customers when partaking their meals or during night outs.
The Making of a Mexican-themed restaurant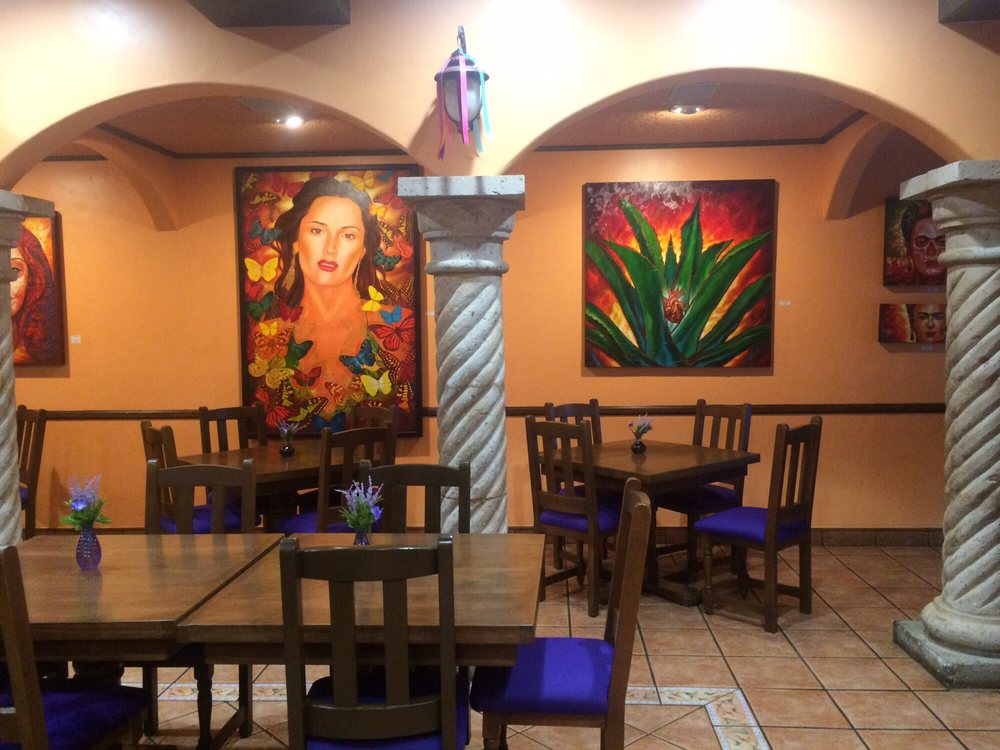 For the passion and love for Native American outlook, valiant colors and rustic furniture, you might opt for a Mexican design.
 The Mexican-themed restaurant look encompasses the best feeling made by mixing rustic wood and hammered iron furnishings with bright exciting colors over the top side.
 The atmospheric outlook employs elements from Spanish missionaries and early visitors who visited North America added with traces of native tribes living in Mexico-present day. These tribes include the Mayans and Aztecs.
 The colorful nature of Mexican-themed restaurants is brought about by the blend of Spanish architecture and that of the native tribes. This is a more attractive décor that can be found anywhere in this world.
Color and Texture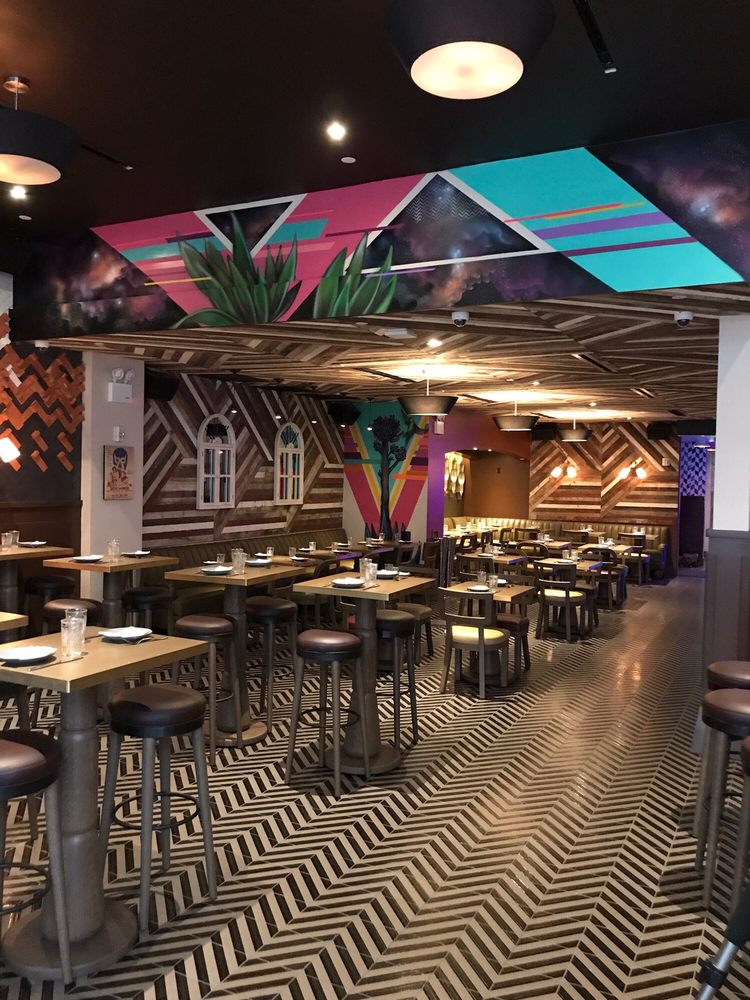 Decorating a Mexican restaurant may require the use of woven textures and colors associated with the ancient pieces such as pottery, that you would like to portray to enhance the simplicity of the background of the restaurant.
Wall Paint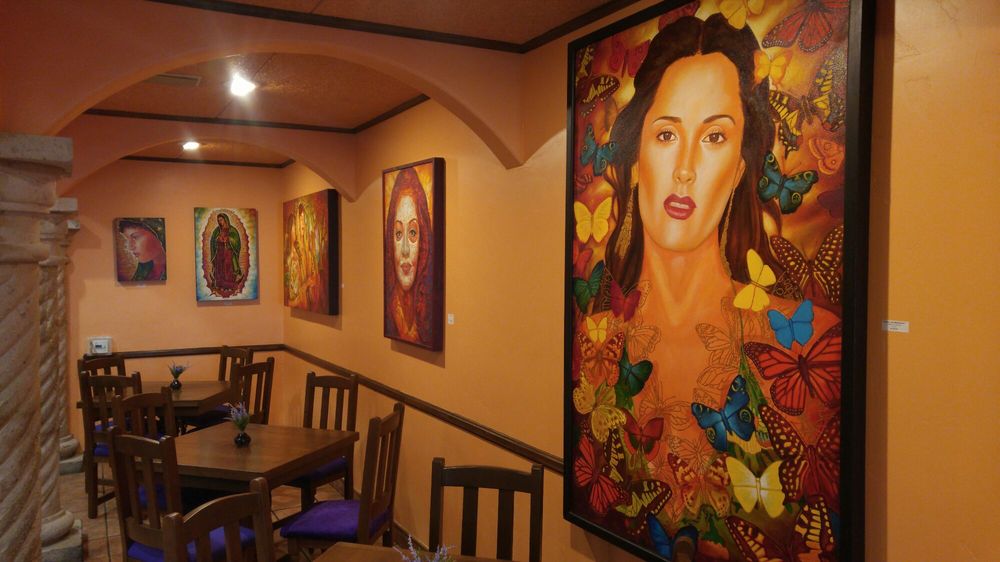 Spray your walls using a warm color that will display the theme of Mexican origin. Choose interior paint in a rich tone like that of earthly clay or redbrick to give it a bold look. This can help your customers feel comfortable and give that warm, homey feeling to your restaurant that'll make it feel like mama's Cucina.
 You can also employ a warmer neutral earth tone like sand. A faux technique preferably would look like stucco.
Accents and Fabric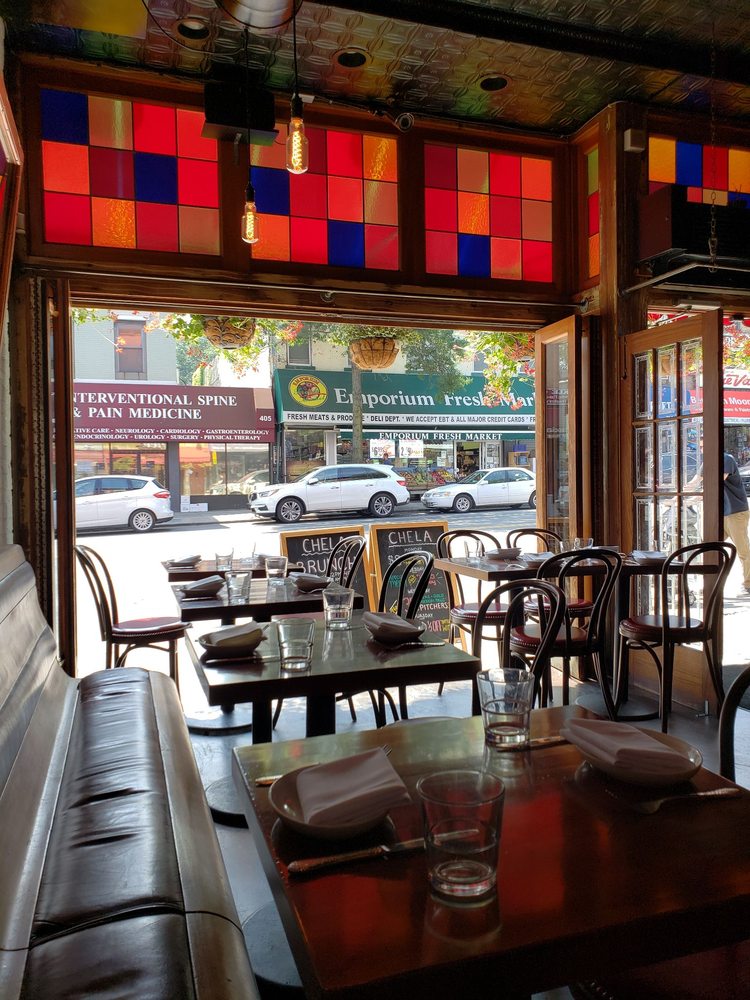 For such you can opt for rich colors like deep blue, golden yellow and lush green as accents in your restaurants. Take woven textures from primitive or native prints and patterns for the decorator
  fabrics.
 The smallest of details can truly make all the difference when it comes to getting the Mexican vibe just right in your restaurant.
Mexican Furniture
The Mexican design of furniture has the appearance of rustiness.
Commonly constructed from pine, reclaimed wood and hammered and shaped iron.
 This type of furniture can be more categorized into sub designs that include: Santa Fe, Tuscan, Spanish Colonial, and Texas Ranch.
Mexican Décor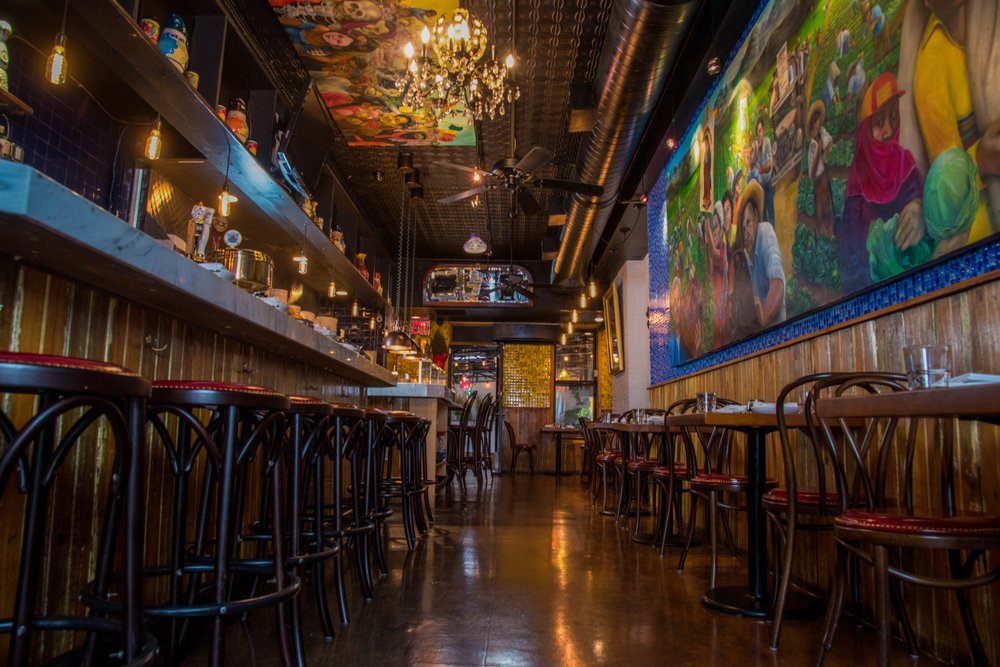 To truly be able to convey the Mexican design and dive right into that rich culture, you can opt to get traditional in décor.
 An example of a common Mexican rich style is the Talavera pottery believed to be made in the city of Puebla and a few neighborhoods in Mexico.
 The region contains high quality of Talavera pottery and this is where it originates from. This type of Mexican model has colorful designs, many of which are influenced by the indigenous culture and the environment of Mexico. Talavera poetry has silverware, tiles, trays, wall art, and other colorful accents.
 Mata Ortiz pottery is also another model form of Mexican ceramics. This type of pottery originated from the town of Mata Ortiz in the northern part of Mexico. The pottery is made from clay found in the Casas Grandees region of Mexico. The design and style of this pottery was the creation of master potter, Juan Quezada of Mexican history.
Mexican Design Elements
Colorful decorating tiles are classic Mexican-themed restaurant accents that can be used as decoration, table or countertops and also employed as colorful decorative frames around mirrors. Talavera tiles are commonly used for the fireplace or murals, to varnish sinks, around mirrors, windows or doorways washrooms within the restaurant.
 Doorways that are arched, accents of iron and mostly painted walls in earth tones are a common look of the Mexican restaurant, combined with bright accents in shades of orange, yellow and red.
Mexican Home Accents
Added splashes of color and interest throughout your restaurant especially involving traditional Mexican folk art and pottery.
Pottery
Talavera pottery is a Mexican model of ceramic that is usually painted with colorful motifs or those that indicate mosaic patterns. This same type of ceramic has been used to make flower pots and candle holders necessary for restaurant decorations.
Folk Art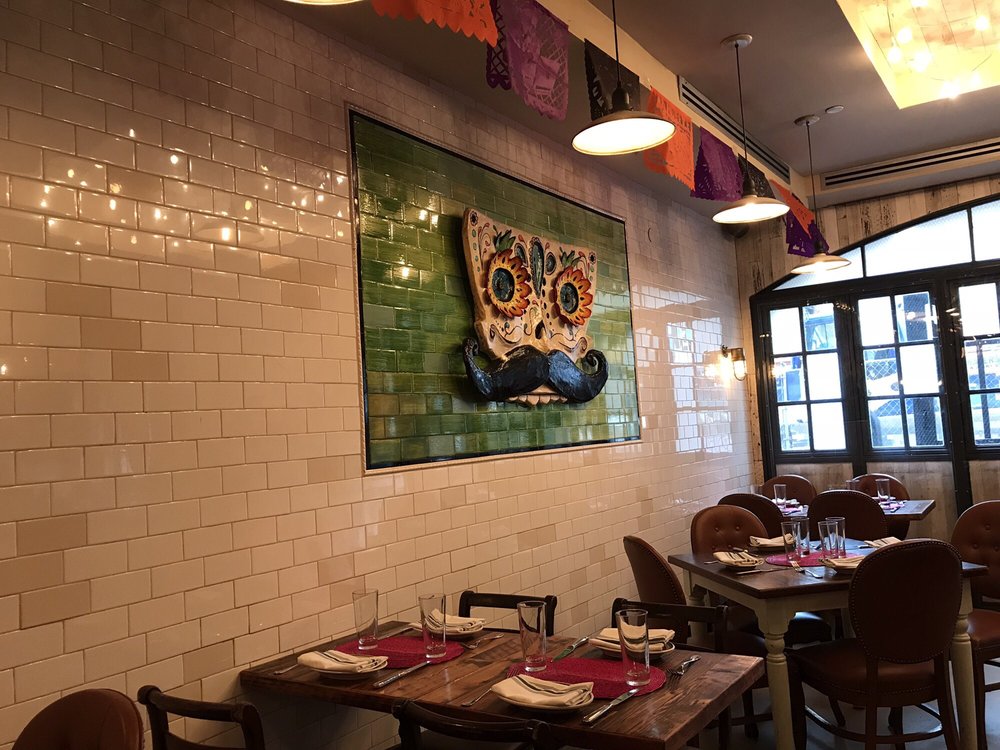 For folk art, the traditional Mexican theme includes art like wooden carvings, religious art, and other various hand-crafted ornaments.
Wall Art
Walls are a great place to show the beauty of traditional Mexican arts, crafts and other ornaments which may consist of:
 

Wall hangings such as metal tins or copper.

Mexican art prints and paintings from artists.
South of the Border Influence
Southwestern design is heavily influenced by Mexican art and culture. To really capture it, you don't have to go south of the border to get inspiration.
 Interior design styles found in Texas, New Mexico, Arizona, California, and Nevada have elements of the different areas mixed in them. However, Mexican influences have reached far beyond the southwestern United States. The warm and exotic look of Mexican interior design can be found anywhere someone has a passion for it.
What to include to complement a Mexican Eating Experience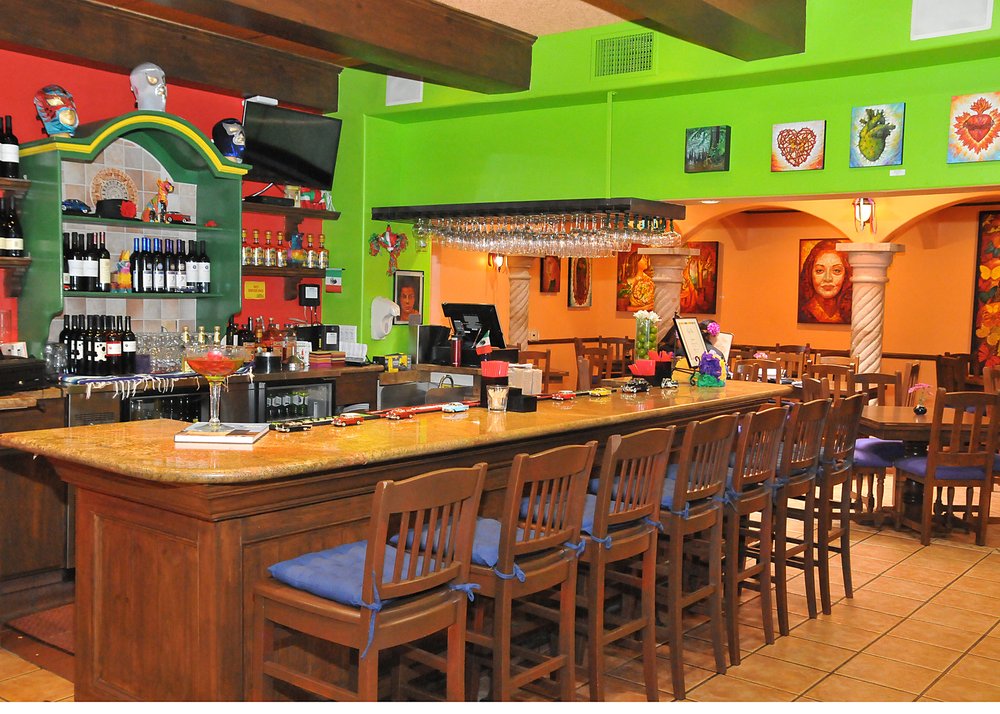 Mexico is a big country and varies as you move from one part of the country to the other, restaurants vary from place to place.
 Many people who live in America have a different taste of opinion on Mexican food.
 On the requirements to complement a colorful Mexican eating experience, you may include shredded cheese, queso Oaxaca which has the look of squeezed cheese or melted Velveeta, refried beans which can seem chunky and burrito also called quesadilla.
 These names vary just like the different people and the vast nature of Mexico.
 The names for Mexican food, for example, Pureed beans and moist cheese means Taco Bell to a Californian.
Further Decorations for a Mexican Restaurant
For proper designing of the restaurant, one should focus on the best theme that includes iconic colors and motifs plus the right type of commercial varnish-like models.
 This is done to enhance the cohesiveness you would love within the environment of a Mexican restaurant.
Color Spray in Mexican Restaurants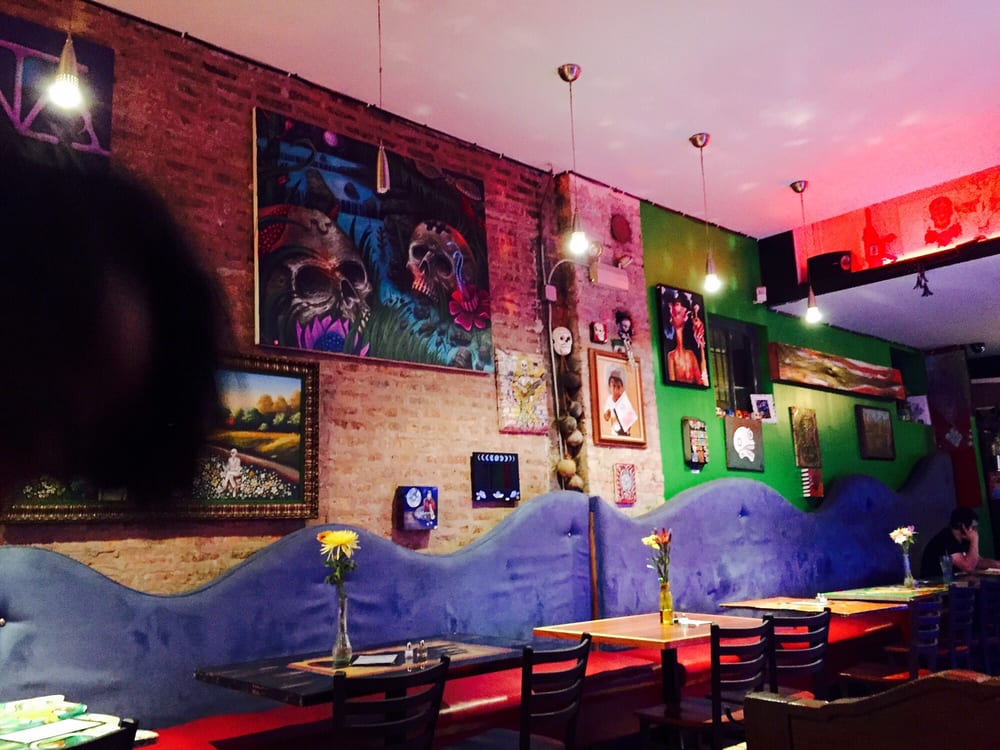 Before the onset of colorful décor and furnishes one should select the best color scheme for the Mexican-themed restaurant.
 This is widely used by most interior designers today. Color depicts the beauty of the restaurant.  
 Psychological Responses by People to Colors Related to Food
Certain colors can call on certain emotions or can stir something up inside—subconsciously. Using this psychology to your benefit can be as easy as picking one of these powerful colors and decorating your restaurant with it.
 Here are some colors and their associated emotions:
Those associated with appetite increase include: red, orange, green and red-orange
Those of pleasure include: yellow and yellow-orange
Colors which have a little appetite appeal are purple, yellow-green, mustard colors and grey
Blue is associated with tranquillity and often used for background color.
Warmth and safety feelings are brought by brown colors
Color Schemes in a Restaurant
Most of the praised reason as why Mexican restaurants do well is the colors associated with traditional décor which bring pleasure, appetite, and surety of safety, thus providing comfort and tranquillity.
 All of this positive kind of environment is important during meals.
Best color choices also include:
Red chili peppers are associated with Mexican food and can range of muted red to brilliant red. This is so colorful.
 Orange is associated with the setting sun. Oranges and colorful tiles are just some of the images this color blends and are desirable.
 Orange-yellow: The color of nacho cheese is one that most color that people associate it with Mexican cuisine and is a favorite option for a wall color.
 Yellow has the color of the sun as well as different hues such as gold for sunflowers.
 Green is the color of yucca, cacti and pepper plants, which are prominent fit in most Mexican interiors.
 Medium blue is the ideal color to use to offset some of the psychological intensity of the warm colors that bring about appetites. Blue also is a popular color that can be used in decorating tiles and pottery designs.
 Chocolate is a common image and the color brown is an emotional response to the human mind.
Sample Color Schemes
From the color schemes which you have taken, select three colors for the important main color palette. For example, red works best with yellow, orange and green.
Yellow and red go with red accent colors. The colors you will use will follow you to the rest of the color scheme. The paints you use are for commercial purposes.
Ceiling Designs
The entry point of the restaurant should have lower ceiling heights than the interior. This is according to the most preferred designs.
 This allows for a transition from being more outdoor to coming into a further smaller space then again moving into a larger space.
 Several types of ceiling would suit a Mexican-themed restaurant. Ceiling tiles made of tin can form the best design compared to that plain ceiling that shows Mexico. Faux tiles can be painted with the desired color.
Walls and Architectural Features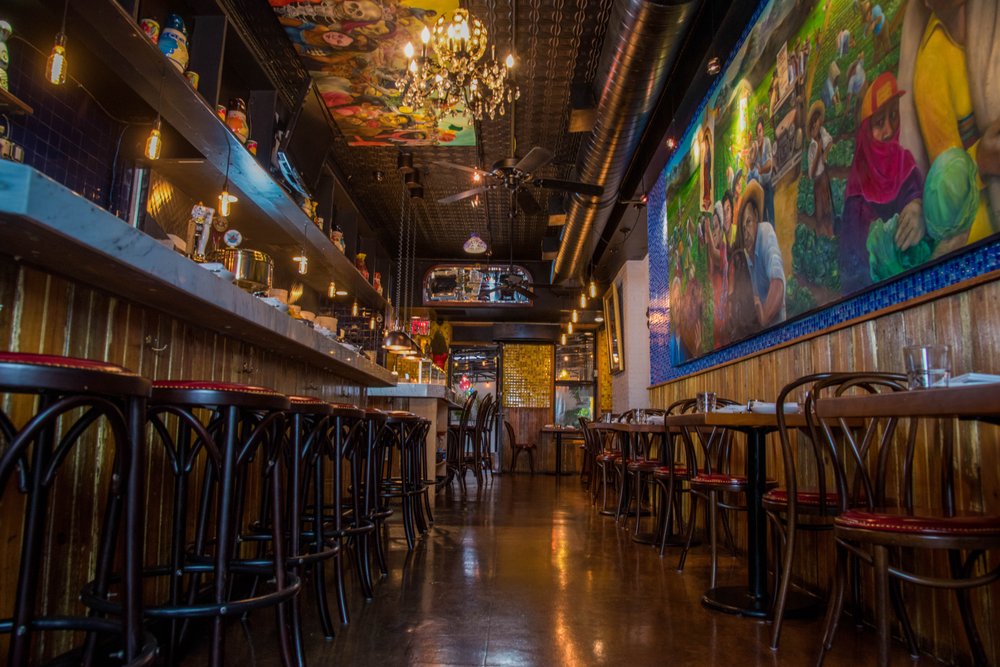 To meet the required local standards, the wall will be finished according to the wall location.
 Once you complete the wall you should think about attractive architectural features that can decorate your Mexican-themed décor scheme.
Stucco Adobe Walls
Mexican restaurant requires the best stucco adobe finish for a colorful restaurant. You can use orange-yellow or yellow colors. Tile moldings and trims can be used on the walls.
 Most restaurants hate the use of wallpapers and wall coverings, so preferably you can limit your choices.
Architectural Designs
Different architectural designs can be to change the outlook of your given restaurant.
 Archways is a Mexican design element that can be used in doorways and windows in restaurants. If your restaurant has a bar area, you can set it apart with an archway. Use wooden corbels to hold up display shelves giving a colorful view.
 Ironwork can stretch to a variety of architectural features as well as doorways. For example, the doors leading into the wine and beverage area or frontal entrance add ambiance to your design.
 You may also opt for a solid wooden door with rustic metal hinges and doorknobs. The washroom doors also need the best designs.
Floor Outlook
The floor of a Mexican restaurant must be made specifically for commercial use. The options include:
Concrete should be stained in a brown color.
Carpeting your color scheme or use a stripe that reflects a Mexican blanket design.
Cement tiles should be stained to look like Mexican tiles.
Ceramic terra cotta tiles colored to look like the walls and ceiling tiles.
Solid wood or made wood floors with a rustic finish.
There are pros and cons to each of the choices you make.
 Aesthetics, maintenance, and safety are some of the determining factors for which type of material you select. To achieve an authentic look, the terra cotta decorative is a better choice than the acoustics.
Mexican Restaurant Furniture Choices
For most restaurants, they use one design of seating all through the restaurant. It is arranged in a way that the booth is placed along the outer walls with chairs and dining tables arranged in the center part of the room.
Booths
The good colors for Mexican décor seating are red, gold, green and orange. The most commonly used fabric is the vinyl for booth seats since it assists sliding in and out and makes it easier to clean and maintain.
 Moreover, you can choose a solid-colored vinyl square for the seat and an upholstery back which is patterned. The Mexican Chile or a colorful stripe can be used for a pattern for your booths or the chairs.
 For the case of booth table tops either rectangle, round or square and the table, use bases as there are many options to this. You can use a black metal base either a butterfly design or a pedestal one. The tabletops and bases should match with the overall design of the room. That should bring the best outlook.
The Make of Authentic Tables and Chairs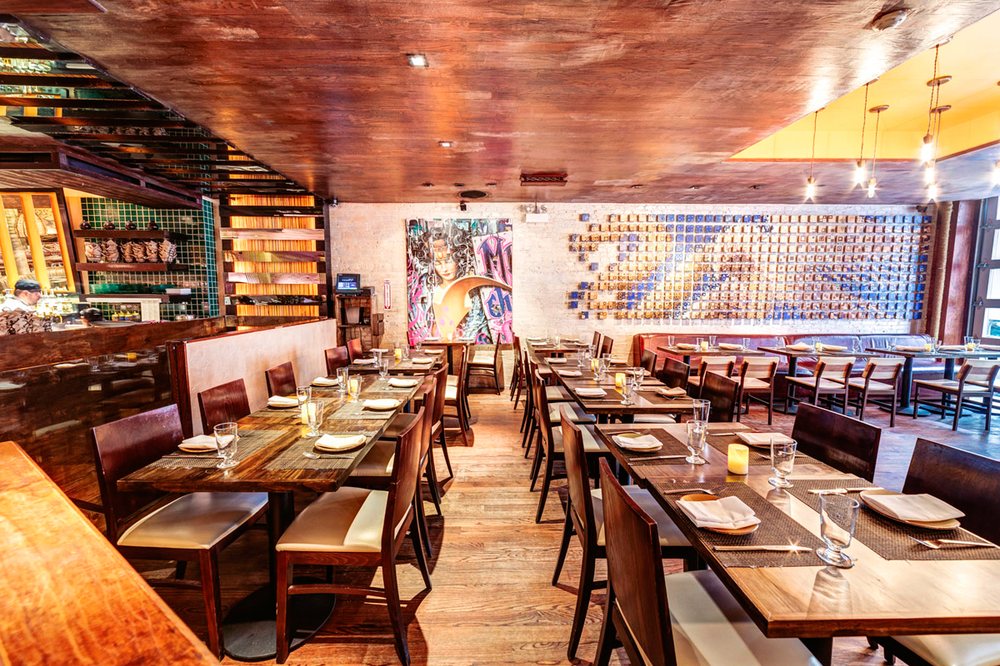 Mexican furniture style finds its authentic look from rustic wood tables and chairs. The use of all shapes and sizes for customers is the best considerate approach. Mostly, solid wood furniture gives an attraction to a wide range of customers.
 The other alternatives may include:
 For easy maintenance for heat and spills, you can use copper table tops, Jordan chairs with hacienda-style tables give excellent choices for the eating bay.
 You can also use a different design of colors for the set of tables and chairs.
Table Linens and Centerpieces
The solid color of the table linens placed on the top gives a colorful overall design of your restaurant.
 On this, use the main colors of your color pallet in the pattern. Traditional colored table cloths, vinyl and striped table cloth paired with solid colored napkins.
 Additional counter pieces and decorations include:
 Sugar skulls, hurricane lamps, and chili canisters can be used as counter pieces.
 Including candles or lamps on the tables helps enhance the ambiance as well as appropriate lighting of the place.
Lighting Fixtures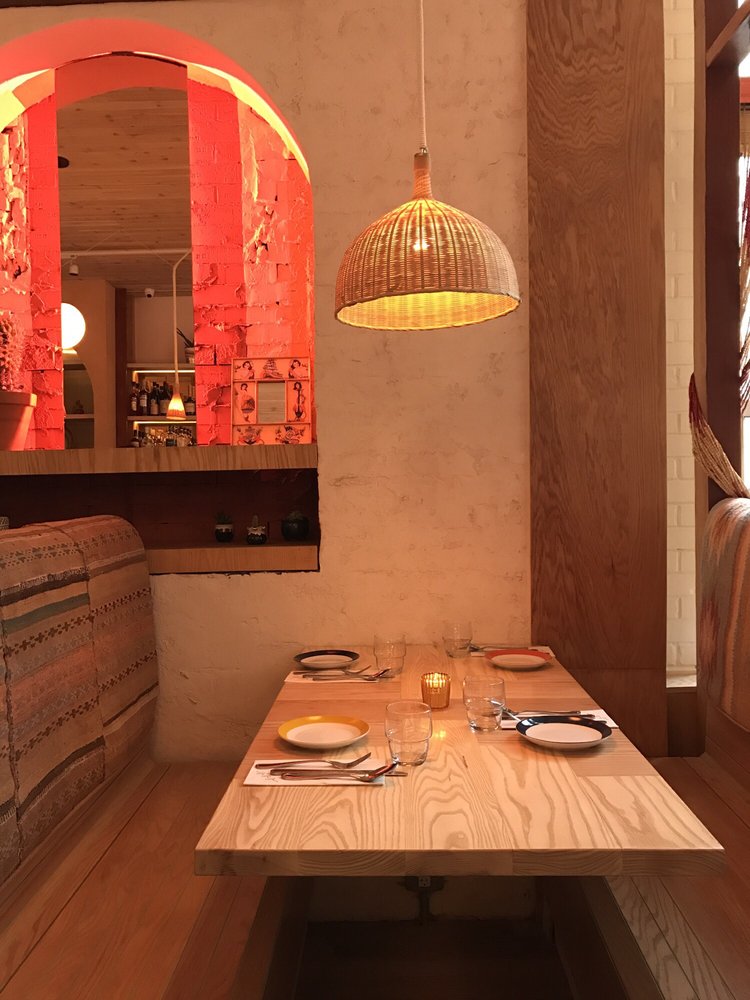 Lighting gives a comfortable surety to the customers which include the use of wrought iron style, ideal all-around your Mexican-themed restaurant.
 Examples include smaller down lighting for tables and booths, iron scrolled chandeliers and wall sconces. To add to your decent lighting, you can:
 Add LED candles or real candles placed on tables or shelves or diffused lighting made from punched luminaries. Furthermore, you can have a suspension of metal tin star lights from the ceiling in a cluster. You can use chili pepper string lights placed along the wall and windows.
Wall Decorations
Framed paintings of Mexican landscapes and oil paintings are good choices for artwork on the walls. You can display ceramics, such as the popular Talavera potteries and Mata Ortiz handcrafted work.
 Other decorations of the walls that can be added include:
Hung chili peppers on the walls of booths for a special touch.
Door ornament painted on the wall.
Photos of Mexican landscapes can be added to the wall.
Mexican blankets can be displayed on walls in groupings or individually.
The Use of Window Treatments
The type of treatment selected for windows is an important decision for your Mexican-themed restaurant. You can use alternatively any kind of treatment as there are no specifics for the different kinds of customers.
Blinds give a Simple Solution: If the sun glare gives a problem for the customers then commercial blinds should be selected that can be adjusted through either lowering or raising it. This is can happen to window sitting customers. Ensure it also goes with the overall design of the restaurant to ensure continuity.
 The Drapery Make: Solid color or multi-colored stripe that repeats the three main colors in your Mexican restaurant's color scheme can be used in the drapery decision. They are not usually preferred in a restaurant model due to being a fire risk but you can find those which are fire-resistant fabrics.
 You can maintain a very open and clean look to your design by not using a drapery. This is mostly used in cases of using arched windows or a wood shaped design of a window. By using this technique, it can leave natural light entering the restaurant which enhances the colorful nature of the environment.
Selection of Items for Commercial Use
When selecting products for a restaurant business, you must select products designated specifically for commercial use. For example, carpets and tiles are required to meet specific fire restrictions and regulations and other required standards.
 Fire regulations are a high code upholder by authorities and to the safety of the customers. One can liaise with the local building code information at the inspector's office and also websites.
 Making Decisions for Mexican Restaurant Décor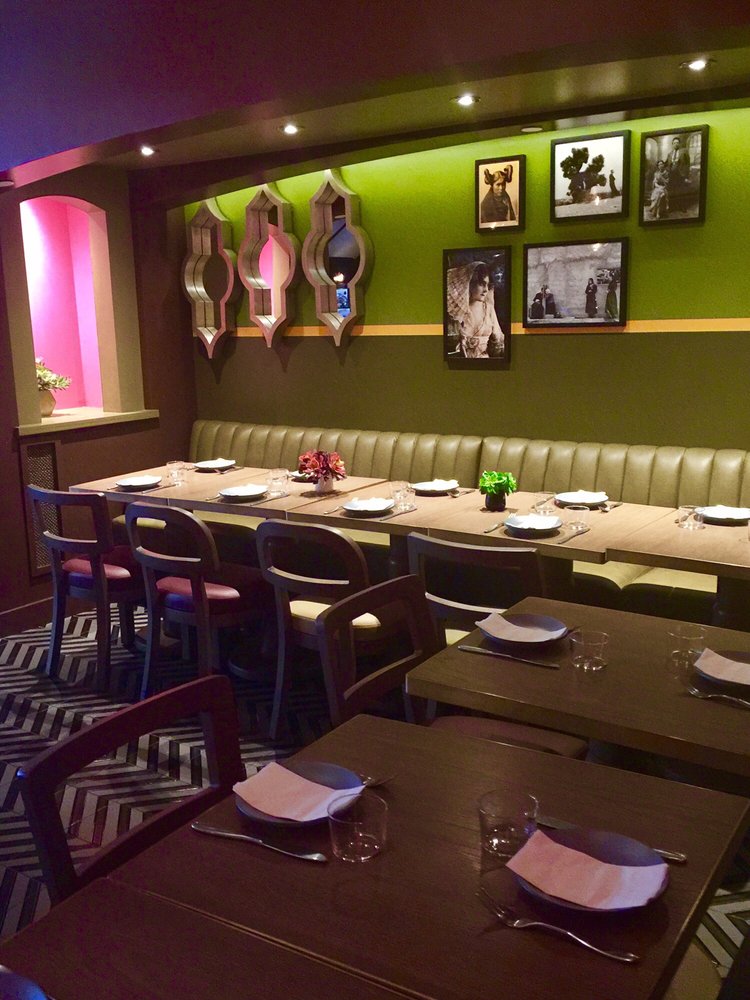 Wonderful and colorful attractive furnishings and accessories for a Mexican décor are easy to find.
 There are several commercial items to fill any size of the required restaurant of your choice for an exciting design that customers will love and flock in large numbers.
Conclusion
Mexican-themed restaurants are vaster with deep rich Native American and Spanish culture which give an attractive and the best look to customers all through the globe.
 When a guest walks into a restaurant, they want to not only get a rich taste of that zingy food but appreciate the beauty that Mexican culture upholds. What do you want every time your customer walks out of your restaurant? For them to come back!
 We hope this blog article gives you a standard experience to feel the extraordinary ambiance of the restaurant. For all of your design and furniture needs, Central Seating. Inc can help you bring your vision to life—and bring the fiesta right to your restaurant's front door.
 We want to help you and your Mexican restaurant achieve the perfect combination of furniture, color, texture, accents, wall decors and any other interior designing you may need—to give your guests the experience they've been looking for.