Reshape Vietnam With Your Interior Design
Vietnamese restaurants are becoming increasingly popular in many towns and cities across the world. Although less well-known compared to other far eastern cuisines such as Thai or Japanese food, Vietnamese restaurants are opportunities to present customers with a glimpse of Vietnamese culture.
 The key to making the interior design of a Vietnamese restaurant authentic is to make it feel like a classic Vietnamese home so that customers feel welcome and ready to enjoy a proper Vietnamese culinary experience.
 By exploring all design elements, this article outlines what a Vietnamese restaurant should look like to give it the best authentic look and feel.
 Like all restaurants, the food is the most important element as to whether a customer will enjoy the experience. But, creating a great ambiance where the customer feels welcome and can have a visual glimpse of Vietnamese culture inside the restaurant, is key to increasing the chances of return customers and recommendations to others.
What makes a restaurant become a Vietnamese Restaurant?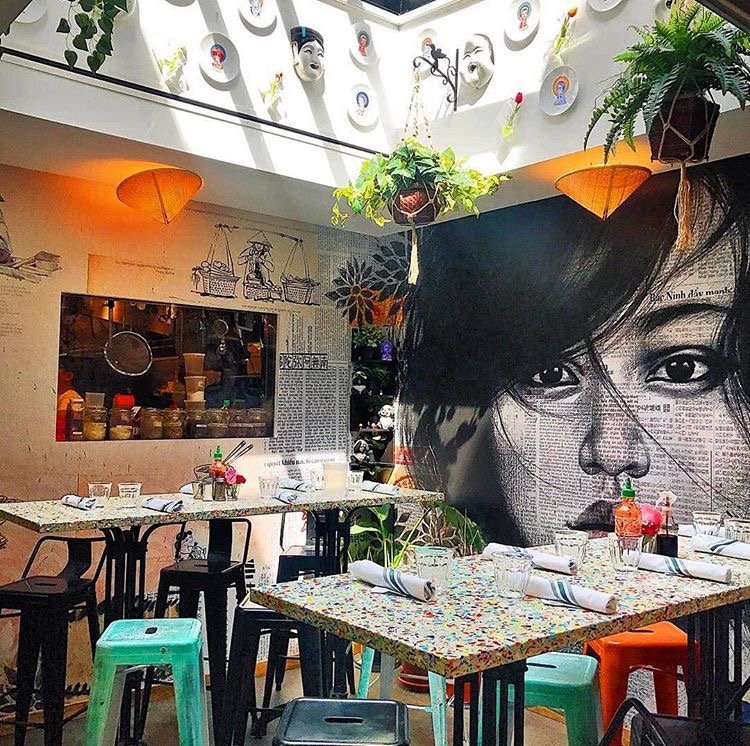 Although your Vietnamese restaurant is likely to be located in an area with a different climate to Vietnam, it is important to appreciate that many Vietnam houses and restaurants are designed to cope with the hot and humid climate. Restaurants tend to be open-plan with high ceilings and easy access to outside areas.
 Customers want to go to your restaurant not only for its food but also for its atmosphere. Although the taste of your cuisine may transport your customers automatically to Vietnam with its flavors, the atmosphere around them contributes fully to the experience.
 Investing in the atmosphere and the actual experience can help create that ambiance you've been looking for to turn first-timers into regulars.
 The majority of restaurants in Vietnam try to be south-facing to get the optimal amount of sunlight in winter and are ideally surrounded by tall trees.
 It's no issue if you do not have any trees surrounding the restaurant. But what is crucial to get is the open-plan spacious interior design to the restaurant to make it feel like a classic Vietnamese home or restaurant.
 One of the main draws of Vietnam for tourists is the beautiful sweeping green landscape which is staggered with many mountains in the countryside. In rural areas of the country, the majority of houses incorporate natural elements into the design. To celebrate these natural elements, it would be a good idea to include some of them as either ornament, art or key features in the interior space of a Vietnamese restaurant.
These natural elements include:
Brick
Wood-framed windows and doors
Dark-colored floor tiles
Hand-carved wood
Large pillars
Garden features
 The furniture of a Vietnamese restaurant tends to follow in the style of Chinese pieces. As Vietnamese restaurants are not so common, following design trends in Chinese restaurants may be a good place to get some inspiration. Classic Chinese / Vietnamese style would include a large number of heavy carved wooden pieces.
When designing a Vietnamese restaurant, not all of these elements have to be included. Using a few will create that added authenticity and attention-to-detail that so many customers appreciate when rating the overall experience of a restaurant.
Making it your own
In truth, the Vietnamese style is a collection of a variety of influences both internal and external over many years of history. While Vietnamese homes and restaurants have certain design elements, it is difficult to identify clear unique trends for 'Vietnamese style'.
While some may see this as problematic, it gives a greater degree of freedom when designing the interior of a Vietnamese restaurant. Vietnamese restaurants can be styled in all manner of ways from modern to more rustic. Designers should try to include elements of Vietnamese style without going overboard to ensure that customers get an authentic experience without being overwhelmed by culture.
The hot and humid conditions are not dissimilar to those found in Queensland or Sydney, Australia. Examining the architecture and interior design spaces in these regions can also be a good source of information when seeking to design a Vietnamese restaurant. The main themes being large airy spaces with outdoor access.
If you are struggling for ideas, hiring a professional interior designer or decorator could be a good step as they will more than likely have a deeper knowledge of design styles that match the Vietnamese brief.
What to include to complement a Vietnamese Eating Experience
To understand Vietnamese design, an appreciation of Vietnamese history is necessary to ensure that all the relevant influences are incorporated into the character of the restaurant space.
Vietnam has been subject to foreign rule for many centuries, each leaving their design concepts when it comes to buildings and interior spaces.
The country was first taken over by the Chinese who had a significant influence over architecture and design. Huge numbers of Chinese pagodas and temples popped up in Vietnam during this period and have lasted through to today. Check out some of these Chinese style buildings in Vietnam for potential interior design ideas.
The French took over Vietnam in the mid-1800s which saw a very different approach to architecture in the country. As well as introducing elements of French cuisine such as baguettes, the French introduced a regal Colonial style to the many Vietnamese cities such as Hanoi.
Many of the French buildings were used for government departments or businesses, however, the colonial influence was strong enough to see some houses start to mimic the colonial style. Although these buildings were similar to the classic European colonial style, the French-inspired buildings in Vietnam were adapted to suit the humid Vietnamese climate.
The most interesting design elements of the French colonial period in Vietnam was the addition of new building materials such as concrete and steel which replaced the more traditional bamboo and rattan design.
Some ideas here: https://mindfuldesignconsulting.com/contemporary-restaurant-interior-design-suggests-good-fortune/
What goes into decorating a Vietnamese restaurant
Overall Concept
A Vietnamese restaurant should follow the theme of being light, refined and soulful. Making use of a spacious area, some of the best Vietnamese restaurants focus on simplicity and relaxation, to ensure their guests enjoy great food in a comfortable setting.
Wood Design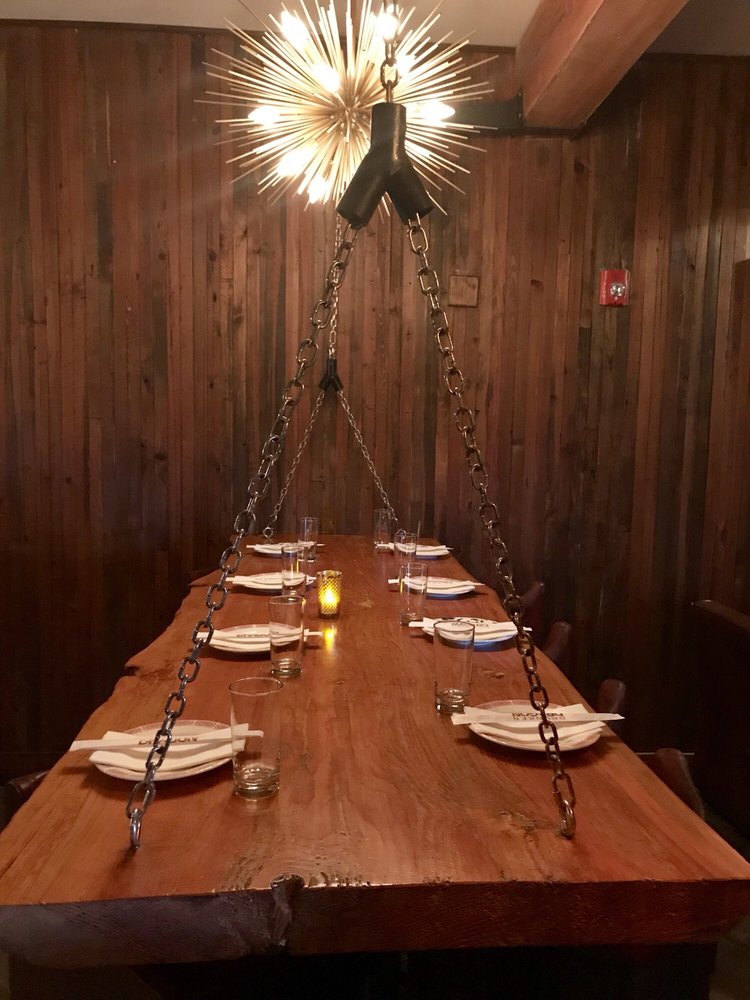 Crucial to many Vietnamese style restaurants is the use of wood. The light an airy construction of the space should have lovely smooth wood to add a warming presence. Space should have a controlled geometric shape where angles are sharp and lines are straight. When creating these shapes with wood, space appears sleek and modern but also soft thanks to the homely tones of the wood.
Seating Styles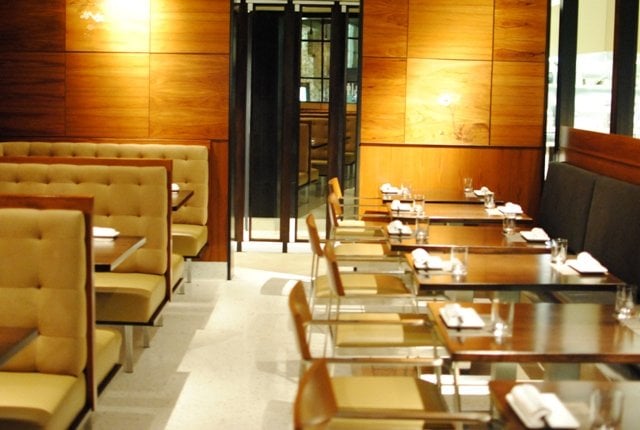 Many Vietnamese restaurants go for a variety of seating arrangements within the space to give customers a range of options to choose from. Creating booths which are divided by wood can be a good option to create that sense of intimacy that is ideal for couples or families wanting their own space. Although intimate, the hollow wooden dividers ensure that customers are not closed off from the action in the restaurant.
For those less interested in intimacy, areas with long upholstered benches with comfortable wooden chairs sat opposite, provided a good space to socialize with others and feel at the heart of the restaurant. This design adds to the classic feel of the space.
Other tables and seating arrangements include round tables with wooden stools. These spaces could be ideal for lunchtime or those wanting a quick casual dining experience. While being less comfortable, they offer an authentic feel of having food in a restaurant in Vietnam.
Pillows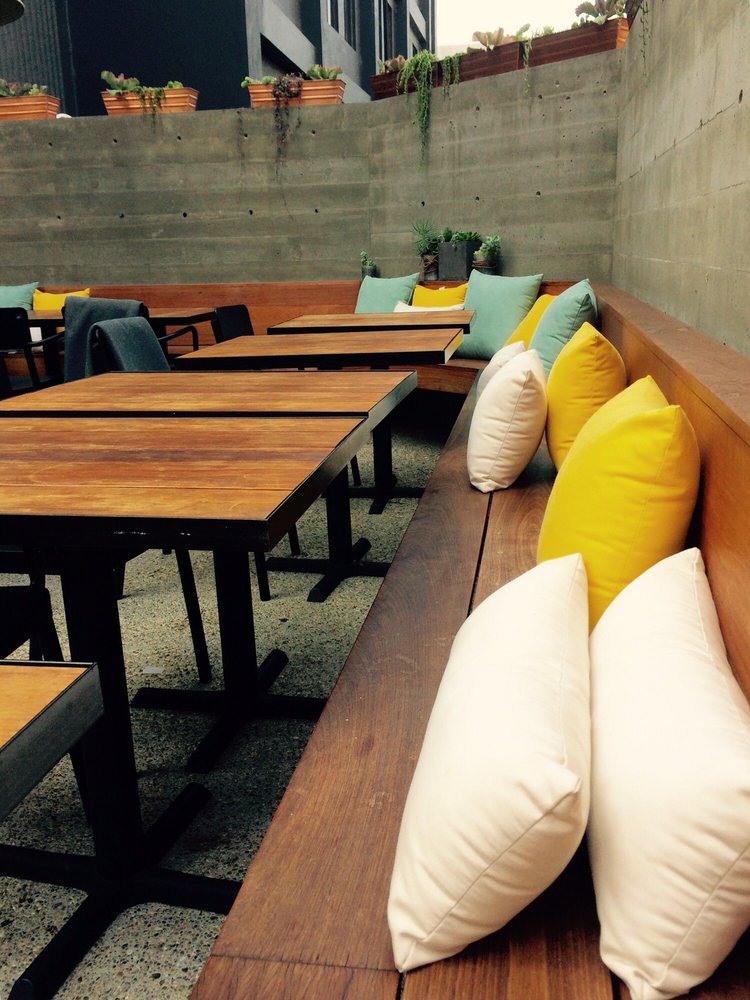 The use of pillows in the interior design of a restaurant is crucial for providing texture and most crucially, the sense of being at home. If you have a plain colored wall, a good option is to select pillows that have a contrasting color to the wall that they are leaned against. This makes the space more attractive to the eye while giving that feeling of domestic comfort.
Wood Geometry
The bar areas of a Vietnamese restaurant are good places to show off the geometric style. Using wood dividers to create geometric shapes is an opportunity for artistic license to add to the authentic feel.
Bar stools can take the tradition curved shape to offer great balance and familiarity for those who have visited Vietnam.
Furniture
The furniture inside a Vietnamese restaurant can take a minimalist vibe. Choose two or three colors that upholstery can follow, these colors should be mild in tone to not over dominate the space. Simple colors, such as soft greys, are ideal for enhancing the natural wood shapes in the restaurant. The wood should be the key element to draw customer eyes, while the furniture should be minimalist.
Lighting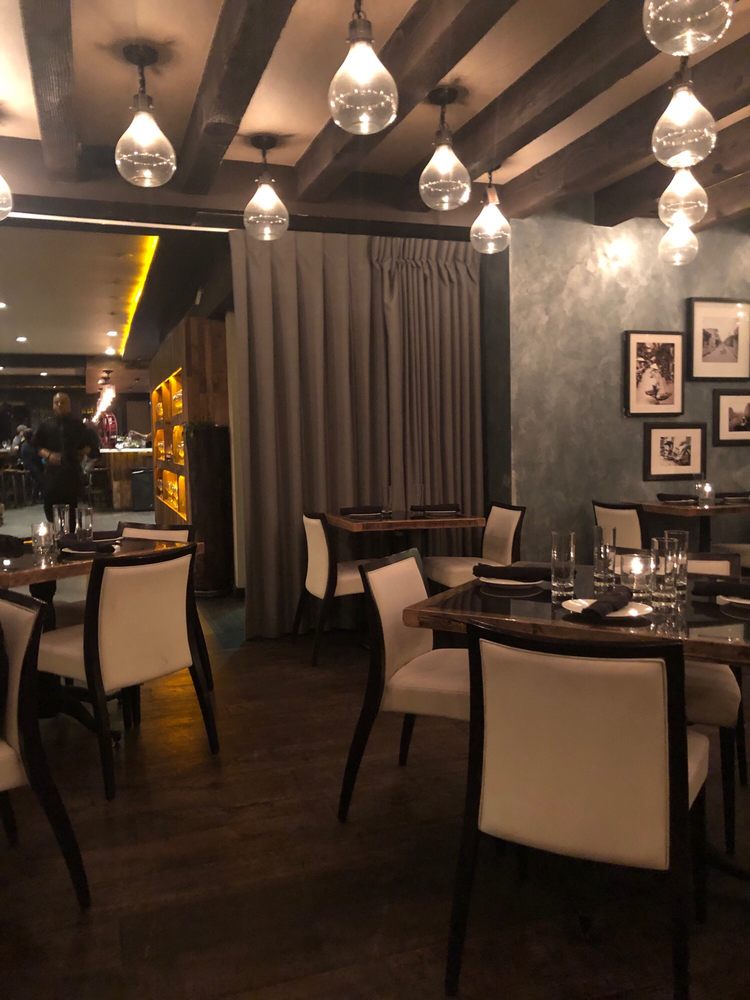 The lighting of a Vietnamese restaurant should also follow the minimalist vibe. Straight forward white lights place on the walls should be sufficient and not pre-dominating to enhance the natural tones of the wood.
In the booth areas, having single hanging lights from the ceiling is a great design idea to ensure sufficient lighting for the whole booth and create that feeling of being in a home dining room.
Wall Art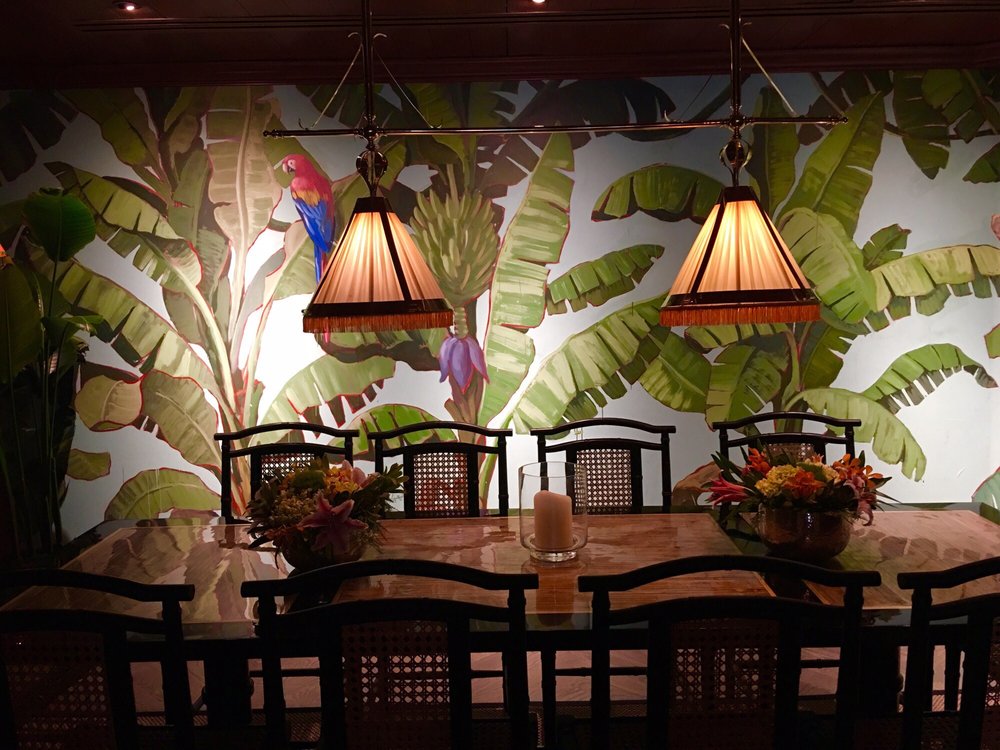 As previously discussed, Vietnamese restaurants have a relatively free design concept. Wall art does not have to be 'traditional' as what may be found in Indian or Chinese restaurants. Depending on the location of the restaurant, you may wish to include some local art provided it fits with the minimalist and wooden theme. Art that induces reflection and contemplation are good choices for Vietnamese restaurants to add to the relaxed and modern atmosphere.
Menu Design
When a customer comes in, sits down at a table, and picks up a menu (or is handed one) that menu is your restaurant's second impression. The first impression was your restaurant's decor and interior design—which can help make that first impact on what your customers will think about your restaurant.
However, let's get down to business—the customer is here for the food.
So, the initial aspect or thing that will show them or tell them about the food (other than the waiter or the waitress) will also give them another initial impression of what your restaurant will be offering them.
In other words—the menu design is one of the most important aspects of your restaurants that many people don't even realize.
The design of the menu is often over-looked by interior designers of restaurants. They are a great opportunity for guests to experience subtle elements of Vietnamese culture. Whether it be including phrases or images of Vietnamese culture, you can easily create a sense of fascination for customers to be immediately intrigued by.
What are the must-haves in Vietnamese restaurant interior decorations
Especially if you're going to be hosting some customers that may have already experienced original Vietnam—or have been to another Vietnamese restaurant before—you definitely have your work cut out for you with what their initial impressions will be like.
 To help you nail that first look or feel or visit, here are some must-haves for Vietnamese restaurants despite the relatively free design concept. They are listed and explained below.
High Ceiling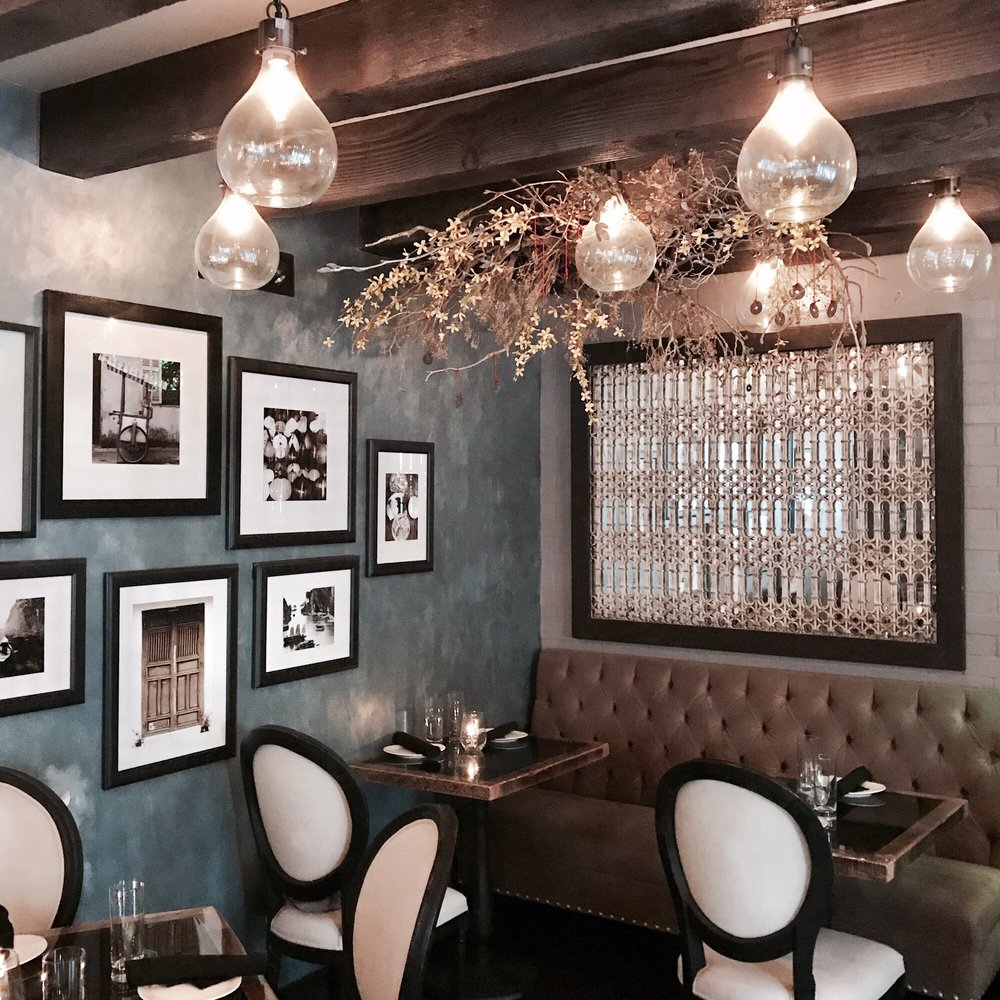 If you are yet to choose the space for a Vietnamese restaurant, one of the essential aspects to ensure high levels of authenticity is having a high ceiling.
 As mentioned earlier, the majority of Vietnamese buildings and homes have high ceilings to cope with the high humidity. A Vietnamese restaurant with a high ceiling is immediately familiar and if based in a hot location, will be ideal for guests who prefer an airy restaurant space.
 Hopefully, you'll also have a ton of customers coming in, which may mean that it's very likely that your restaurant will feel crowded with a lot of people. High ceilings are a simple part of your restaurant's structure that can make a huge, visual and felt difference that can open up space and make your customers feel like they can breathe—and enjoy your eatery.
Spacious Restaurant Area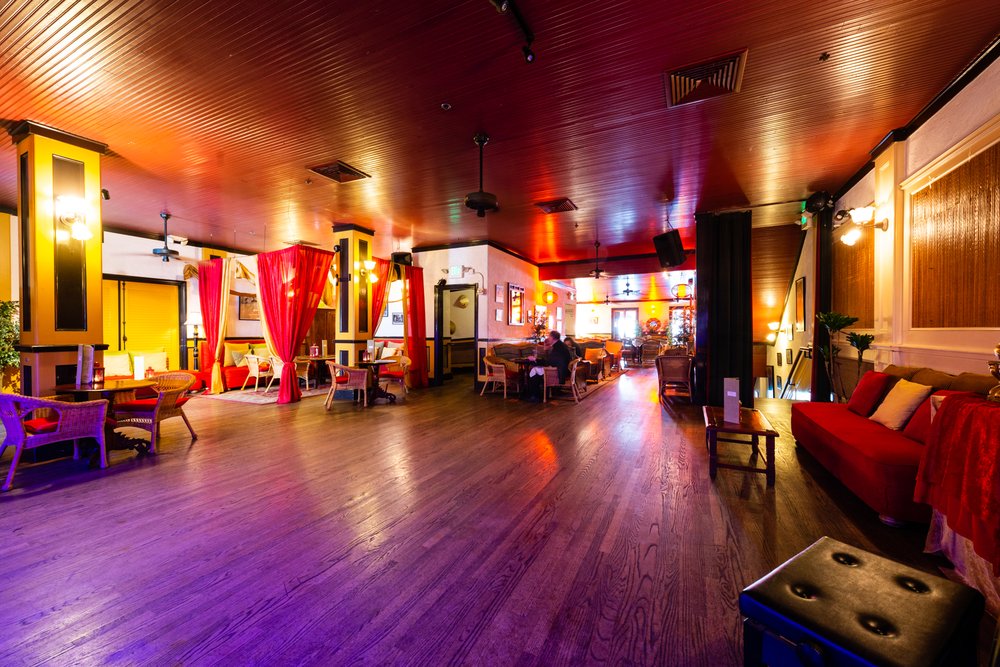 Any Vietnamese restaurant design concept has to be spacious.
 As we just mentioned, there should be lots of different areas for customers to explore and walk around. This adds to the breathability of the space, allowing customers to relax and unwind.
Varied Seating Options
A Vietnamese restaurant should not have one choice when it comes to seating options.
 Especially since you'll be getting a variety of different parties coming to eat, you'll need the space and the options to be available.
 There should be at least two or three types of seating to cater for the different needs of customers. Whether it be individuals, couples or families coming for lunch or dinner, the seating options should reflect customer's dining needs.
Bar Area
Most Vietnamese restaurants are characterized by a seated bar area for customers to enjoy a drink either before or after their meal. If the restaurant is busy, having an open bar area is important for customers to feel welcome and if they have to wait a while for a table, it can be important in getting the customer to agree to wait.
Open Plan
A Vietnamese restaurant has to be open plan. Minimize the number of walls used and use wooden dividers where necessary. A good idea may be to have an open kitchen area where customers can see their food being prepared. This adds an extra theatre to the dining experience, as customers do tend to be intrigued at how foreign cuisines prepare and cook food.
Natural Wood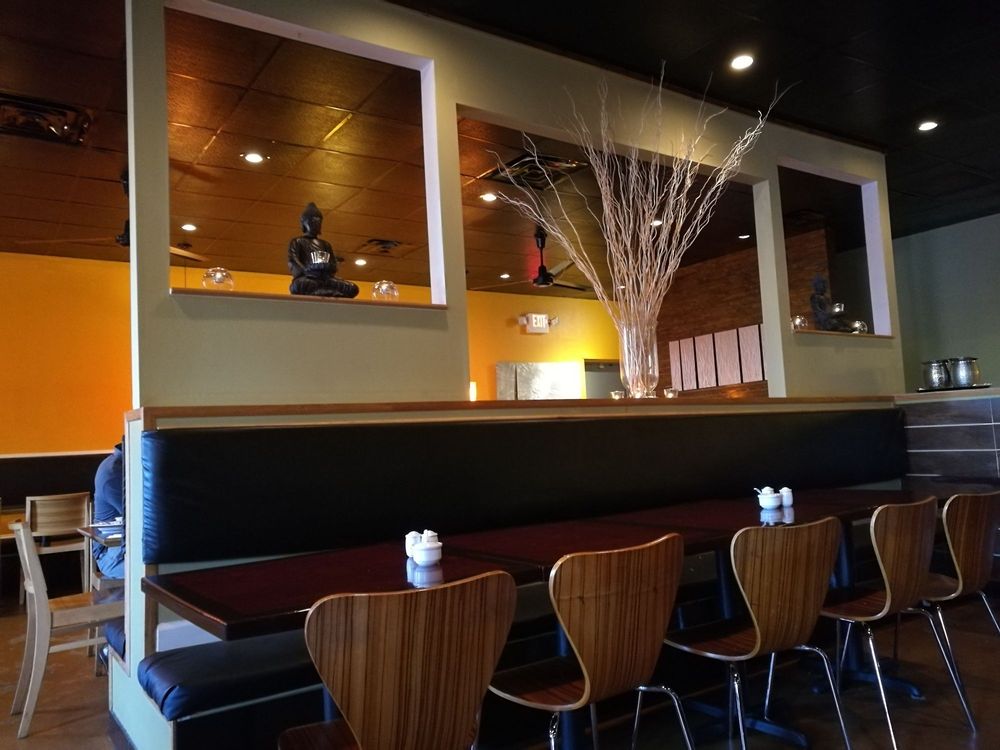 The use of natural wood is essential to the design concept of a Vietnamese restaurant. Wherever possible, wood should be used throughout the restaurant. Whether it be artistic wall dividers or for seating, using natural wood creates the rustic feel that is very authentic to Vietnamese dining culture.
Minimalist Style
A trend among Vietnamese restaurants is to have a minimalist style interior design to the restaurant space. This differs from other far eastern cuisines but certainly makes Vietnamese restaurants stand out and fit into the modern design concepts.
The minimalist style follows the mantra that less is more. Try to avoid cluttering your restaurant with overly vibrant colors, or too much wall art and seating. A good visual idea of minimalist design in practice is at the So 9 Vietnamese restaurant.
Mild Color Scheme
To fit with the minimalist style, the color scheme of a Vietnamese restaurant should be restrained to not dominate the space. Creamy and soft grey colors should be used to blend in nicely with the overall design concept.
How to transform a restaurant space into a Vietnamese bistro in three months
It is possible to transform an existing restaurant space into a Vietnamese restaurant inside three months.
 Taken from ArchiLovers, this account shows what is possible:
 "The previous restaurant was a hot dog shop and with the help of a designer, we managed to transform into a Vietnamese restaurant. First, we had to get a demolition permit.
 While the demolition took place the designer submitted a variety of drawings for space. After all building permits were granted, construction of the new space took approximately two months. We selected a creamy Chai and Vanilla color scheme to promote appetites and consequently, sales!
 The lighting we chose was halogen lights and soft LED lights to ensure space was softly lit to create a casual atmosphere. We followed a simple and clean design concept to give customers a homely and welcoming Vietnamese bistro at the heart of the community."
Conclusion
Hopefully, this blog article has given you all the essential information and guidance for designing the perfect Vietnamese restaurant space. An important factor to understand is that the majority of Vietnamese restaurants follow a free design and vary differently from the more traditional styles of Chinese and Indian cuisine. This ideal for those who like contemporary design, as Vietnamese style restaurants should follow minimalist design concepts.
 The most important feature of a Vietnamese restaurant is that it is open-plan, has high ceilings and is very spacious. These factors are really important in creating the authentic feel of being inside a Vietnamese home and or building. The use of natural wood in the interior design is also very significant in creating the rustic modern effect. For any lover of Vietnamese culture and food, having strong wooden décor is essential to be authentic.
 If you are designing a Vietnamese restaurant space, avoid getting too caught up in being 'true to Vietnam'. In truth, Vietnamese culture and design are influenced by a variety of different styles. You have the scope to be modern and innovative.
 Ultimately the design concept has to follow the vision of the food. The first step is to identify the vision for your Vietnamese restaurant and then tailor the design concept around the vision.
 Be creative, be innovative and you will be more likely to attract customers to the restaurant.
 As Vietnamese food is not the most heard of or talked about cuisine, having an interesting and modern interior design is crucial to attracting new customers to the wonders of Vietnamese cuisine. Your restaurant may be that person's first—and possibly, only—experience or contact with Vietnamese food. Make it worth it and make them remember what it's like!
 You can have not only a positive impact on your customers' lives with your food and the environment of your restaurant, you can help sway people to the Vietnamese culture and food—which can help not only boost the economy inside your restaurant but also the Vietnamese economy! Everything is connected.
 To help you with any interior design for a Vietnamese restaurant, Central Seating, Inc is perfectly placed to help with any design and furnishing ideas.
 Whether it be for booth seating, patio or bar areas, Central Seating has it covered and can certainly help you with design concepts if you need help in shaping the vision of the restaurant.
 With interior design, it is always better to ask for professional guidance before investing significant sums of money into the restaurant interior.