If you're selecting restaurant booths, you're making some important decisions about your business. But if you're like me, too many choices can become overwhelming. Too much detail makes my eyes glaze over.
So, this article is to clear some of the clutter. I've selected the 10 top-sellers from our range of restaurant booths, listed what's standard to all of them (and why) and then picked out just a few key features for each one. Hopefully this will make it easier for you to know what to look for, and then you can have a quick browse through all the other diningbooths to see if there's something that suits you better. And, of course we manufacture all our furniture right on our premises, so we can customize to meet exactly what you need.
Quick navigation:
Why select a booth for your restaurant?
Standard features for our restaurant booths (and some common upgrades)
Structure

Sizes

Shapes

Upholstery

Upholstery materials

Finishes
Our 10 best-selling restaurant booths in 2018
Conclusion and summary
WHY SELECT A BOOTH FOR YOUR RESTAURANT?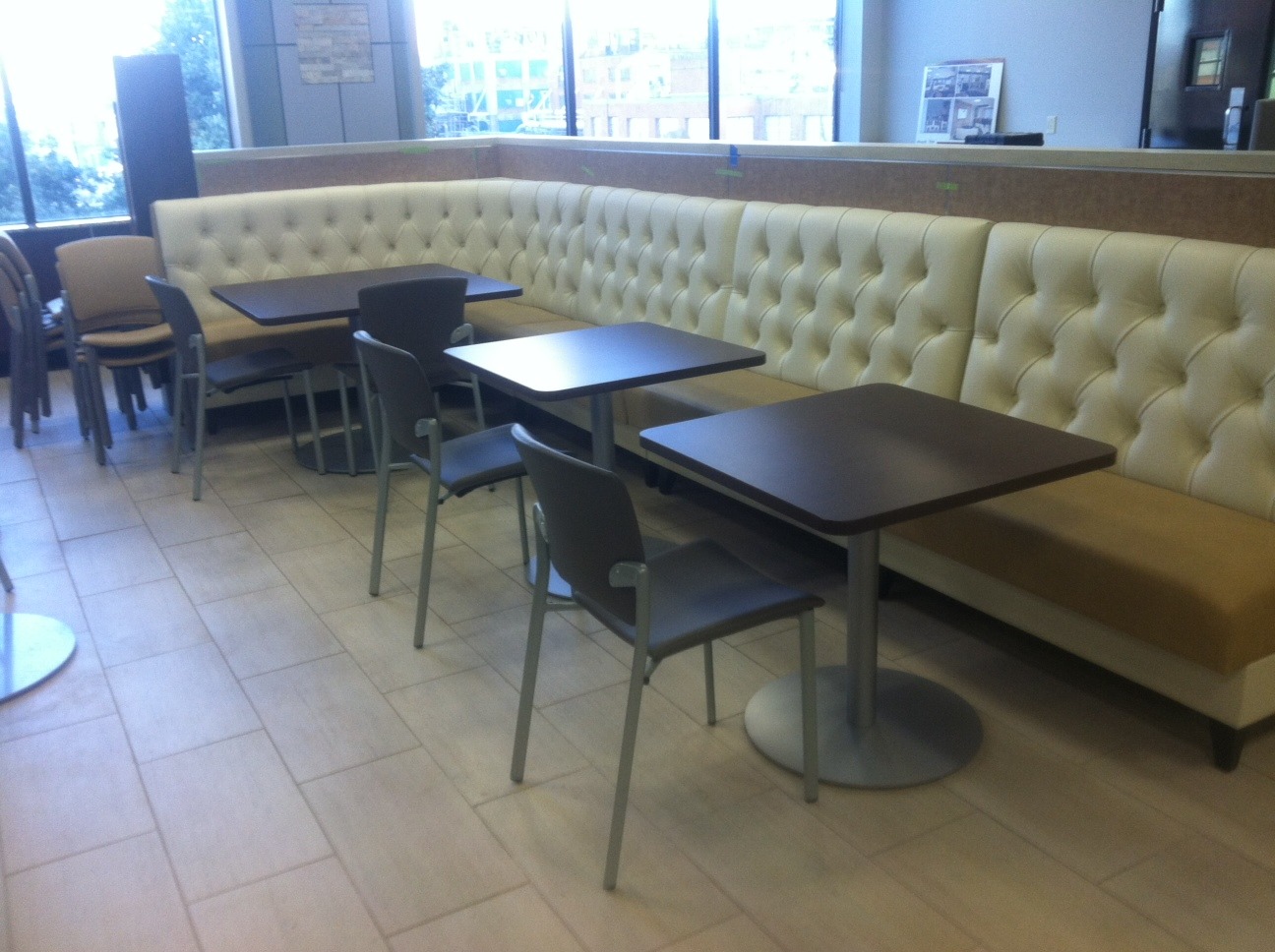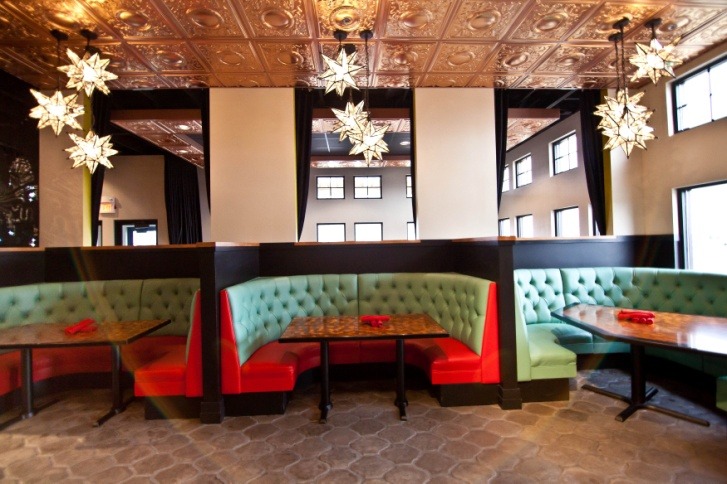 Combining corner units and banquette style

It used to be that you only saw restaurant booths in diners and pubs. Now they're everywhere – from fine dining establishments to casual coffee shops.
And there are good reasons for this.
Design is key. You can make a booth fit any theme. And you can make your booths the star of the show with bright colors, beautiful patterns and carefully selected detail. The fabric chosen can range from fabric to suede, leather or vinyl – all of it tells a story about your restaurant.
Space efficiency: If you're pushed for space, booths maximize your seating, especially if you place them back-to-back. On the other hand, if your space is large, booths provide an element of coziness and privacy.
Versatility: Booths come in such a variety of shapes and sizes – corner units, L-shapes, U-shapes, doubles and singles, high backs, low backs, no backs. You can design them and design around them with ease. They don't have to be enclosed – booth seating down a wall with free standing restaurant tables and chairs opposite them – banquette style - creates a wonderful focal point.
Group seating: Booths are the number 1 pick for large groups wanting to talk to each easily. They're really family-friendly too. Children can even have a lie-down or a sleep if they need to.
Security: Booths are great for handbags and packages. You can put them at your feet or on the seat, and they are much less exposed than at a stand-alone table.
Privacy: If you don't want to be disturbed, choose a booth with one side to a wall, and only one open side. This way you don't have other customers walking around you, and even the waiters serve from only one side. The more private you want to be, the higher the back you should choose.
Of course, there are also some design cautions: Booths are fixed, so you can't change the layout of your restaurant as easily as you can with free-standing tables and chairs. They will take more cleaning than plain chairs. There is a risk of tears and stains – and this can be expensive to fix. However, Central Seating specializes in restaurant booth seating, and will help you avoid the pitfalls.
STANDARD FEATURES FOR OUR RESTAURANT BOOTHS (AND SOME COMMON UPGRADES)
This is some of the technical stuff – so you know what's underneath the material.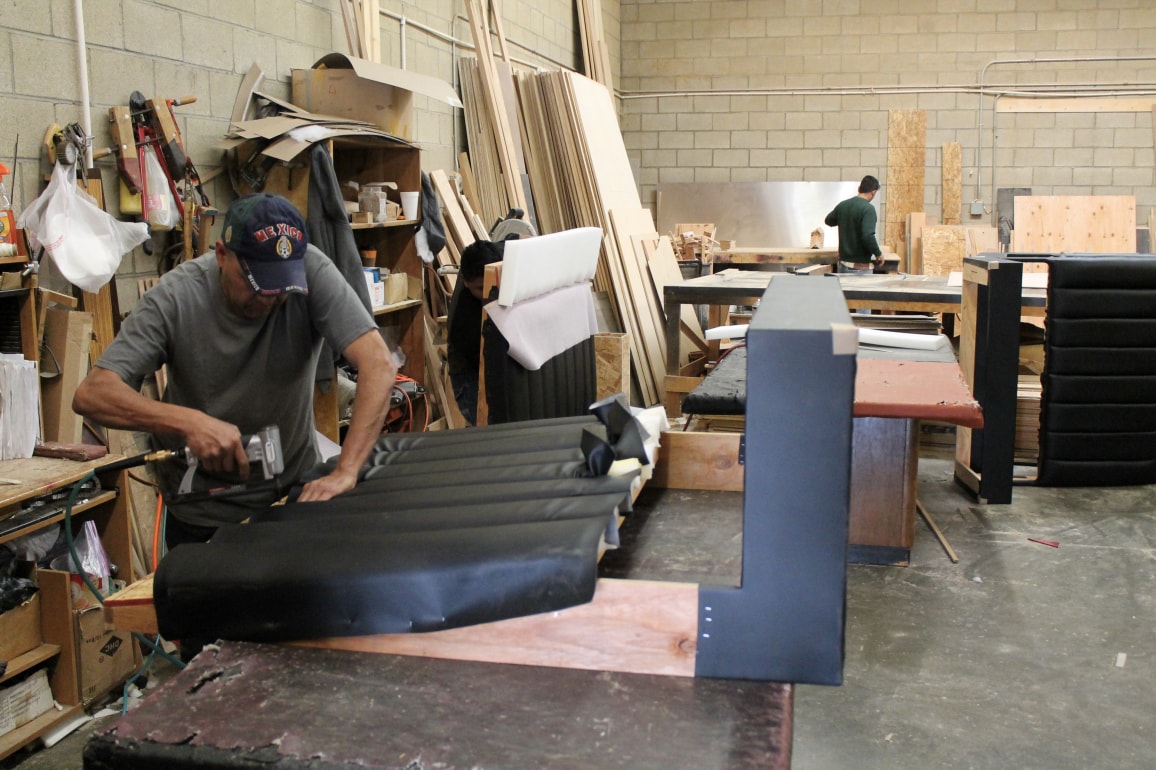 All manufacture is right on our premises. Production of your order in 2-4 weeks.
1. STRUCTURE:
a. 3/4" thick, kiln dry, high grade plywood and solid wood block frame construction

The frame is made from solid wood and plywood – so no cheap particleboard. Plywood is multiple thin layers of lumber glued together under high pressure. It can be very strong and stable for frames – in fact some engineers say that high-grade plywood is as structurally sound as solid wood.
Drying the wood in a kiln removes 90-95% of the moisture in the wood so it won't warp and bow.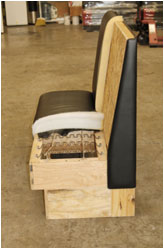 b. Stabilizing Bracing Corners (Anti-Wobble Bracing)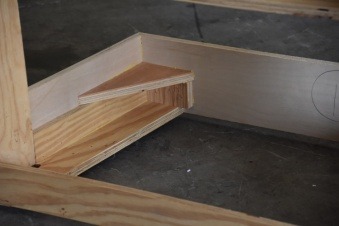 These braces keep the structure strong and durable, and stop seats from wobbling.
2. SIZES:
Although you can customize, here are the standard sizes, covered in the standard quote:
Height: 36" to 42"

Seat height: 18"

Depth: 24" (including seat and back)

Seat depth: 18"

Bottom base: 6" tall with 2" toe kick

Back incline: 2" at top to 6" at bottom
Total height can be customized up to 72" and seats can be counter and bar height. Some models have legs and do not have a bottom base. The back incline can be adjusted – less incline if you are short of space; more incline if you want a "lounge" feeling.
3. SHAPES:
These diagrams show the standard shapes available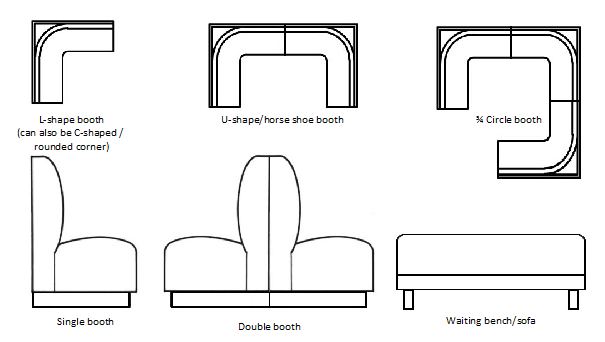 4. UPHOLSTERY:
There are 4 important layers that go under the material upholstery:
a. Deck padding goes straight onto the frame to protect the foam.
b. High resiliency foam. This makes sure that the cushion "bounces back" even after high usage. It provides firm seating.
c. Dacron or polyester fibers added on top of the foam. This ensures that the top covering is smooth, and doesn't sag or wrinkle.
d. Heavy duty cardboard protective corners prevent the covering from tearing or wrinkling at the corners.
Optional Upgrade:
5. UPHOLSTERY MATERIALS: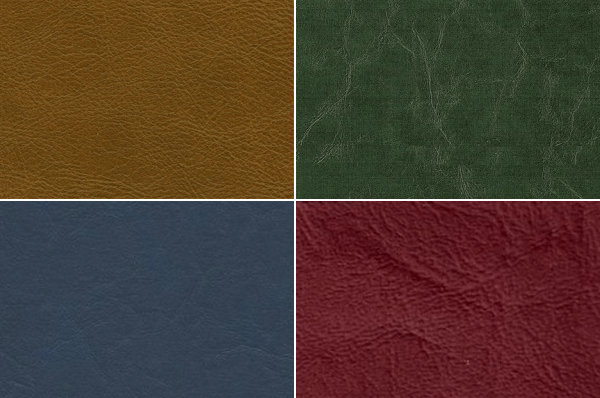 There are so many materials and about a hundred colors to choose from!
Options
There are three main options: A, B and C.
Option A is standard. This means that the standard quoted price is for an Option A choice of material. All Option A materials are vinyl, in solid colors.

Options B and C come at an additional cost. They include fabric, suede, leather and vinyl material with special designs, textures and colors.
It's important to note that Option A vinyls are the same quality as most others. They are cheaper than Options B and C because they are the most popular, and therefore we can purchase rolls from the suppliers, and pass on the discounted roll pricing to our customers.
Features
Standard features on all vinyl options include:
Abrasion resistance: The so-called Wyzenbeek-standard for extra heavy duty commercial use is 30,000 double-rubs. The 100,000 double-rubs on our vinyl options means, in theory, that people can slide in and out of your booth 100,000 times, before the vinyl will show signs of wear.

UV protection: The color pigments are stabilized to take up to 200 hours of direct sunlight

CA 117 certification: CA117 is the standard for California for flammability of upholstered furniture. It means that your furniture can withstand certain levels of open flame and smoldering. In fact, our vinyl options also meet the safety requirements for motor vehicles - Safety Standard 302

Cold crack resistance: This means that it won't crack in the folds, even if the temperature gets very cold.

Heat sealability: You can mend small tears in the vinyl with a small patch and a heat gun.

Oil and sulfide resistance means that it won't stain easily.

Health standards: The vinyl is specially treated to resist mildew (both front and back of the material). It also has anti-bacterial and anti-microbial properties, so one customer doesn't pass on germs to the next.
6. FINISHES: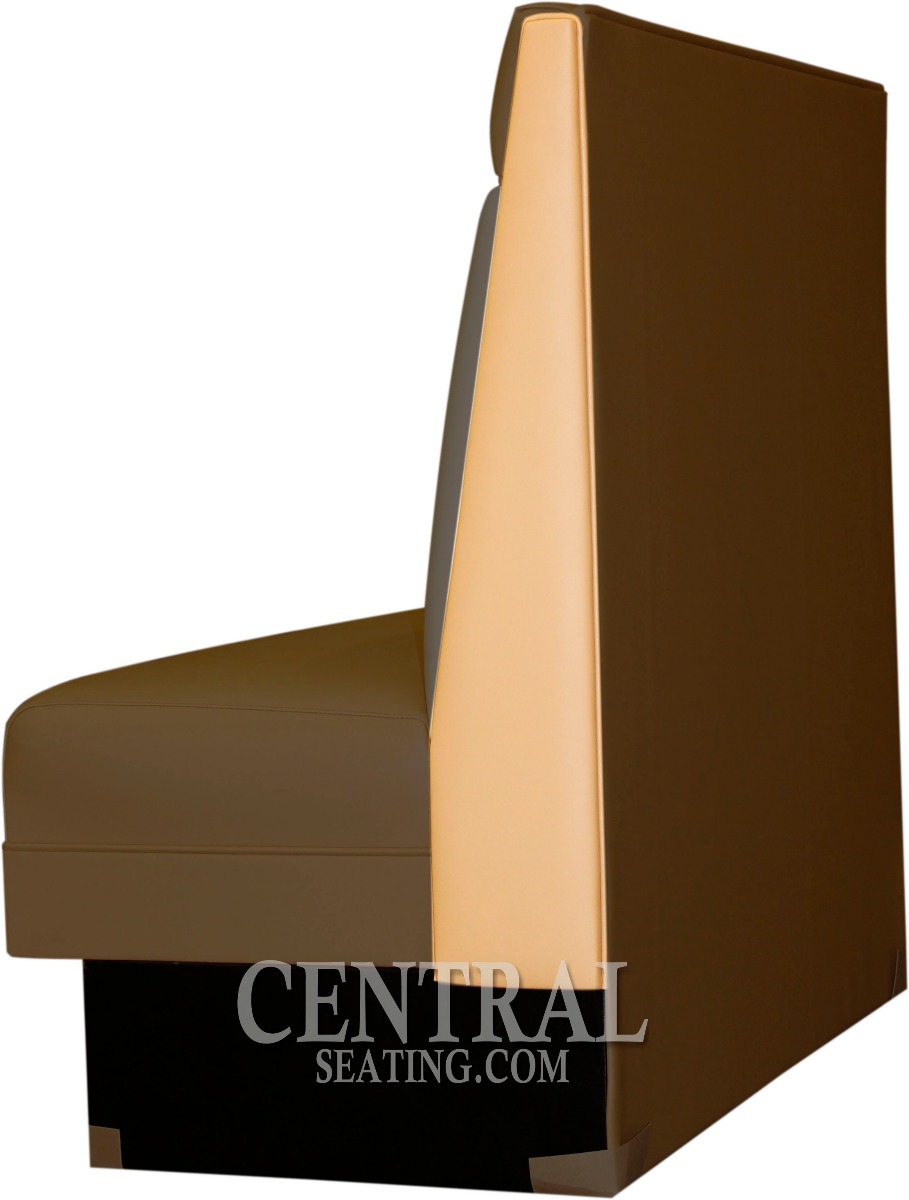 a. Side panels: A side panel is needed for the side of the booth that is visible. If a booth is against a wall it needs only one side panel. This is what comes with the standard quote. If both sides are going to be visible, with a booth placed in an open space, then a second panel will be required.
b. Back panels: The rear of the booth is not visible because it is against the wall in corner units or banquette styles; or booths may be back-to-back. So, the standard is that the rear is not upholstered. Upholstery of back panels for booths placed in open spaces will be an additional charge.

My goodness, from someone who doesn't like detail, that's an awful lot of detail!
Now let's look at our best sellers, and highlight some of their distinctive features.
10 best-selling restaurant booths in 2018
At last we get to the look of the booths – although we're glad to know all that technical stuff is also being taken care of!
#1: Classic Tufted Back With Wood Legs - B1048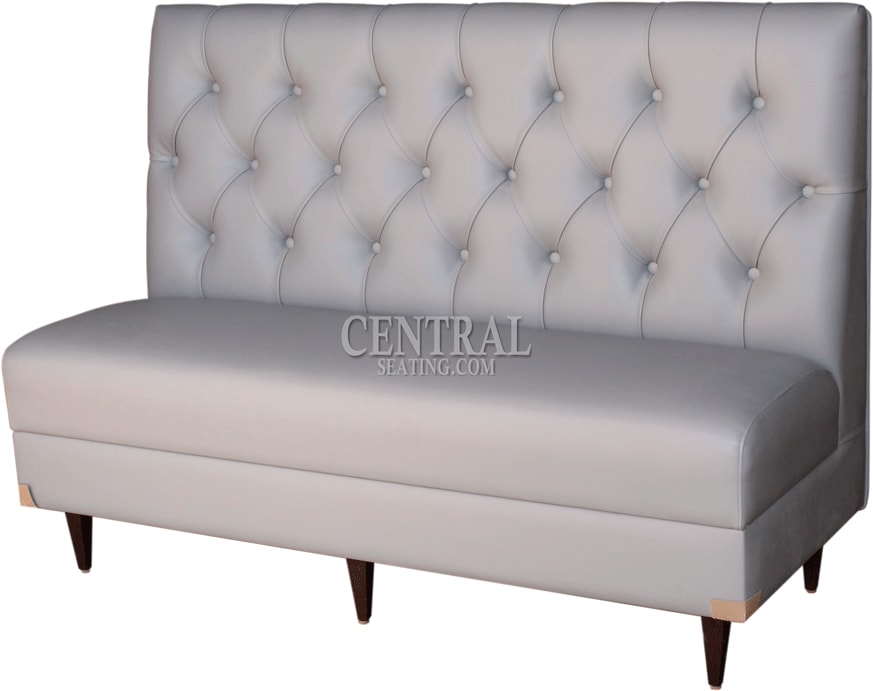 This was our number one best seller for 2018.
What makes this model unique is the diamond tufted back, the 5" tall walnut wood legs and upholstered sides.
It is one of the oldest and best-known booth designs, considered to be a classic. Tufting is an ancient needlework technique, involving pulling treads through a fabric at regular intervals to pull it together, making depressions and patterns as you go. The centres of these depressions often have buttons to hold them, as has been done in this tufted booth. The buttons are professionally upholstered with the same vinyl as the booth, giving it a clean look. This is the standard version. You may choose to have metal buttons, in copper, gold, chrome or silver.
This model has no side panels as the upholstery goes all the way round to the back.
It has a place in high-end restaurants, clothing and retail stores, hair salons and offices.
#2: Plain Back With Head Roll - B1006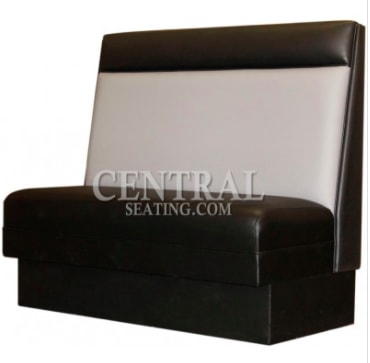 What makes this model unique is the plain back with a 6" head roll.
Welt designs make this booth distinctive. Welt is sometimes called piping. It is upholstered cord on the edge between panels. One welt separates the seat cushion and the bottom box, highlighting the classic, simple design. There are further welts along the top and sides of all the other panels of the booth.
This is a simple, yet elegant booth that will not detract from your other design features.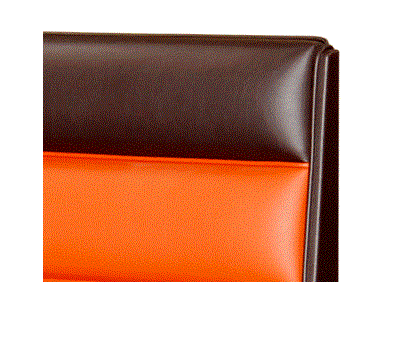 #3: Plain Back With Classic Welt On Seat - B1007
What makes this model unique is the completely plain back, together with the classic welt on the bottom of the seat and along the other panels of the booth.
It is very similar to the previous model, but with no head roll.
This is the cheapest of the ten models, and can be applied to almost any décor. It's easy to imagine how well it would fit into your restaurant when you start to pair it with the colors that are available.
can see how different this Camel Color version looks from the black one above.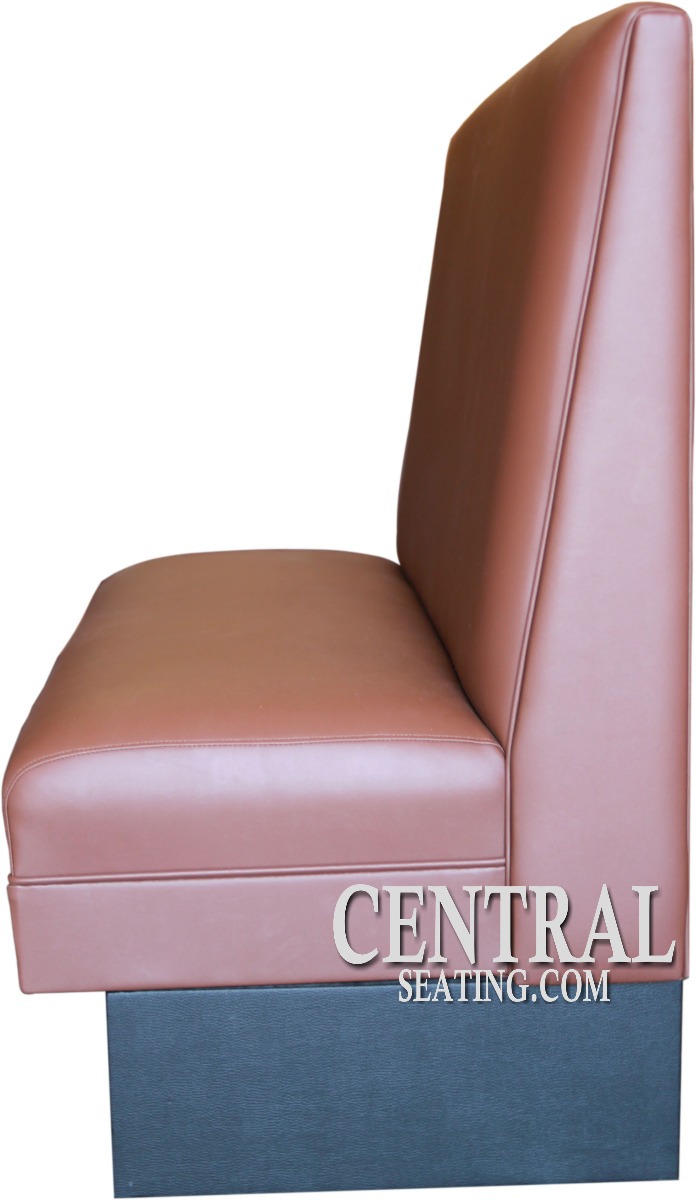 #4: Hour Glass Design - B1020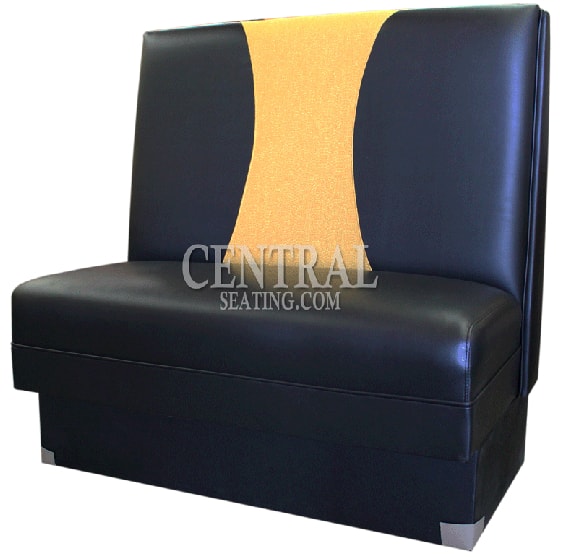 What makes this model unique is the hour glass panel, together with double stitch detail.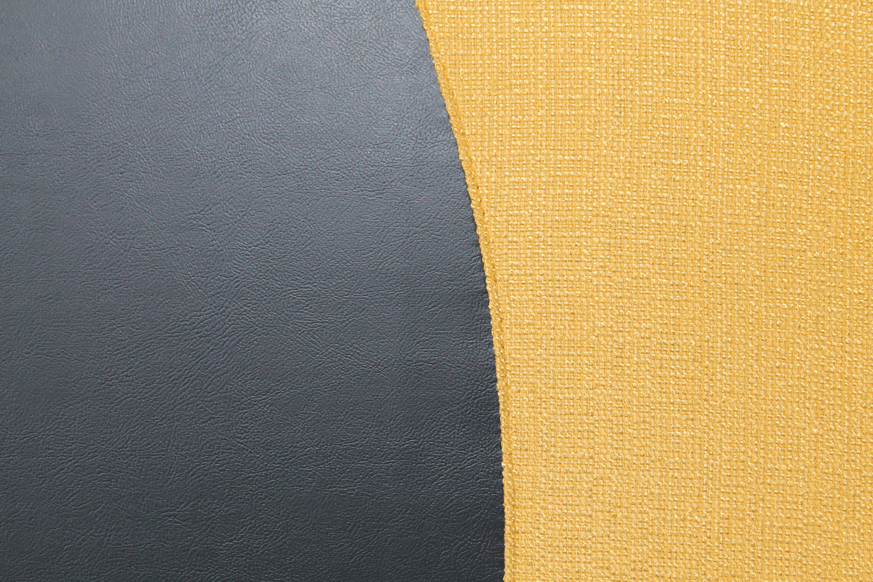 The stitching detail can be seen here.
You can really let your design flair show with this model. Up to 3 different colors can be combined for the standard price. Like the earlier models, welting defines the different parts of the booth. Using the same color as the hour glass panel for the welt detail may be a great way to pick up colors to match your décor.
#5: Classic Channel Back - B1004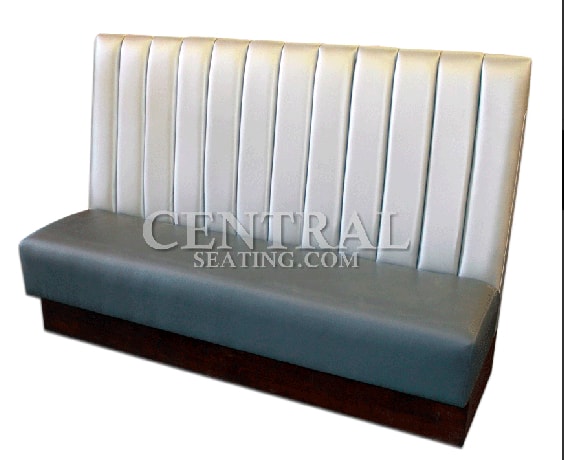 What makes this model unique is the vertical channel design.
This elegant design has been around for a long time, and has earned its reputation as a classic. The channels in the illustration are 6" wide, but they can be as narrow as 3" and as wide as 10". Like the other models, welt detail gives a clean finish to this booth.
Playing a bit with the colors will give you the look you want. You can see how different this model looks if the channels are in the same color as the rest of the booth. I'd like to see this model in a pastel colour with candy stripes – perfect for a Hollywood retro booth, or an ice cream shop!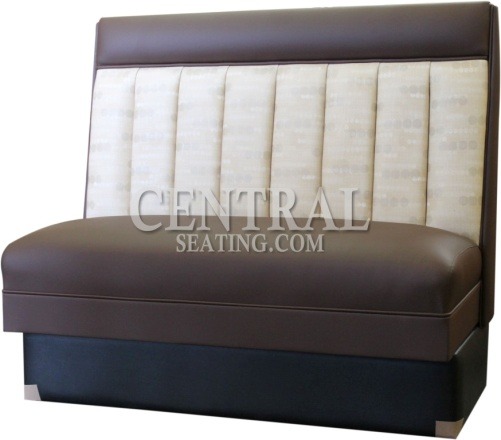 #6: Classic channel back with head roll – B1002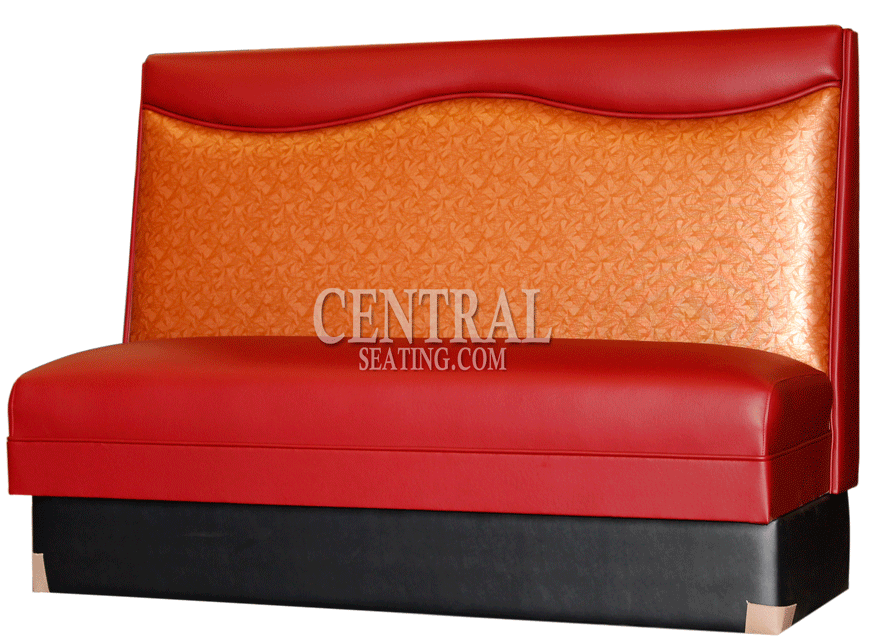 What makes this model unique is the combination of vertical channels and 6" head roll.
This model is a good example of how you can customize booths. It is a combination of the previous model (#5 – Classic Channel) and #2 – Plain back with head roll.
Professional upholstery, welt detail and classic lines. No wonder this is one of the favorite models in the range.
#7: PlAIN BACK WITH MUSTACHE HEAD ROLL – B1036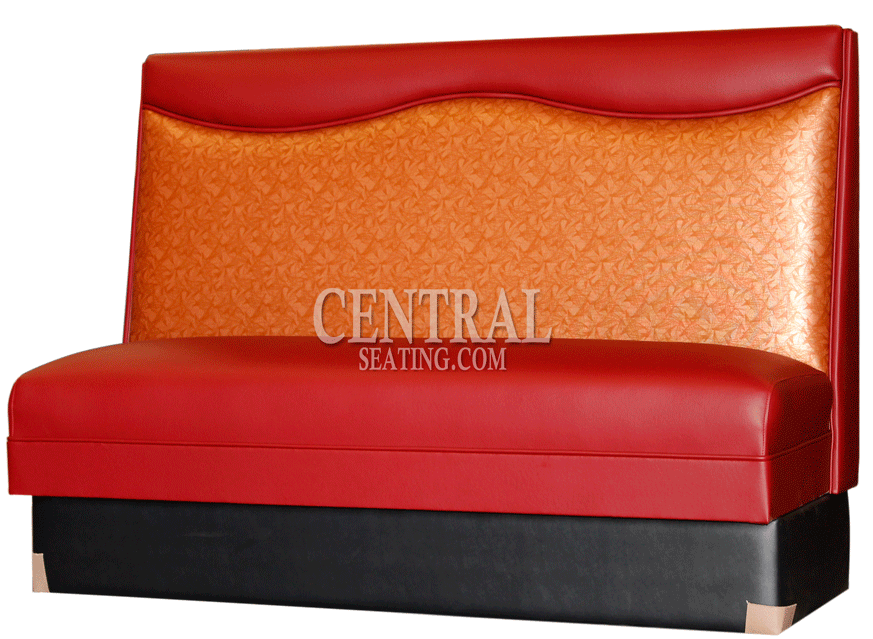 What makes this model unique is the mustache shaped head roll. It can be fitted with a laminate back panel.
This model is very similar to #2 – Plain back with 6" head roll – but with the curved head roll.
Again, this model lends itself to experimenting with colors and fabrics. The version in the example combines some improbable colors – but somehow it works. I also like the funky appeal of the colour combinations below – and the backs are certainly not plain: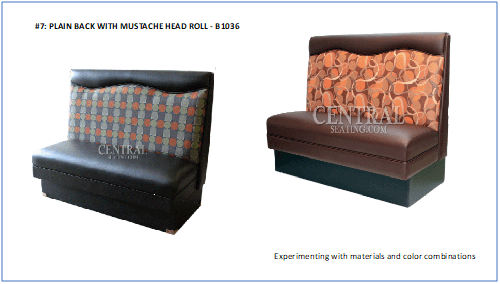 #8: Wide Channel Back With Metal Legs - B1068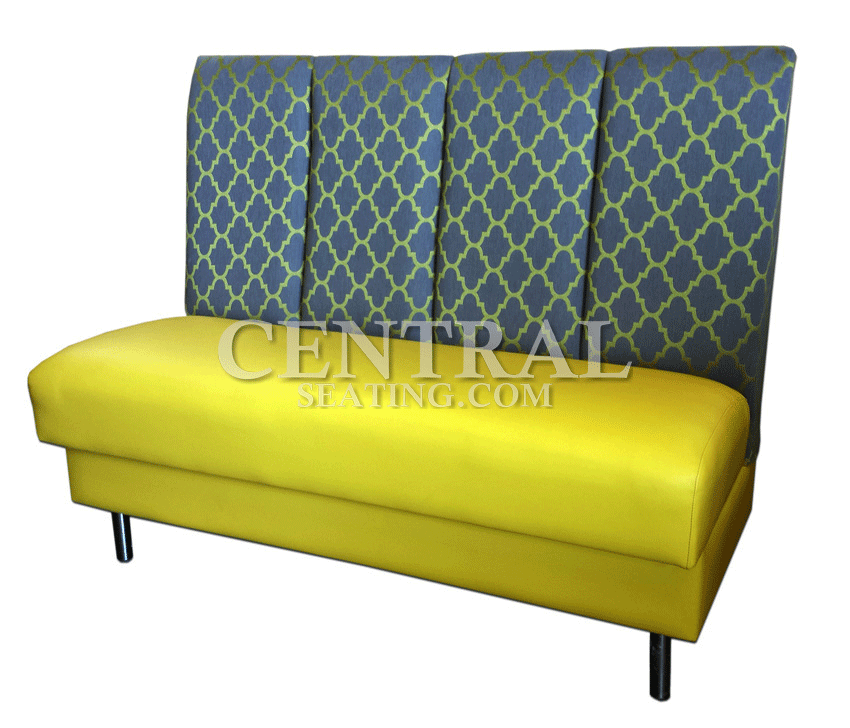 What makes this model unique are the wide vertical channel back and the metal legs. It also has upholstered sides.
This is a great model to be free standing or as a feature down a wall for banquette style seating. You could match it with metal tables and chairs. Or pick up the back patterned fabric for upholstered free-standing chairs. The lines are clean and modern, with 5" round metal legs.
This model could make a statement in a hotel lobby or a top-class spa. It could even be fitted into a corner of your house for a beautiful dining area.
#9: Modern Horizontal channel back – B1008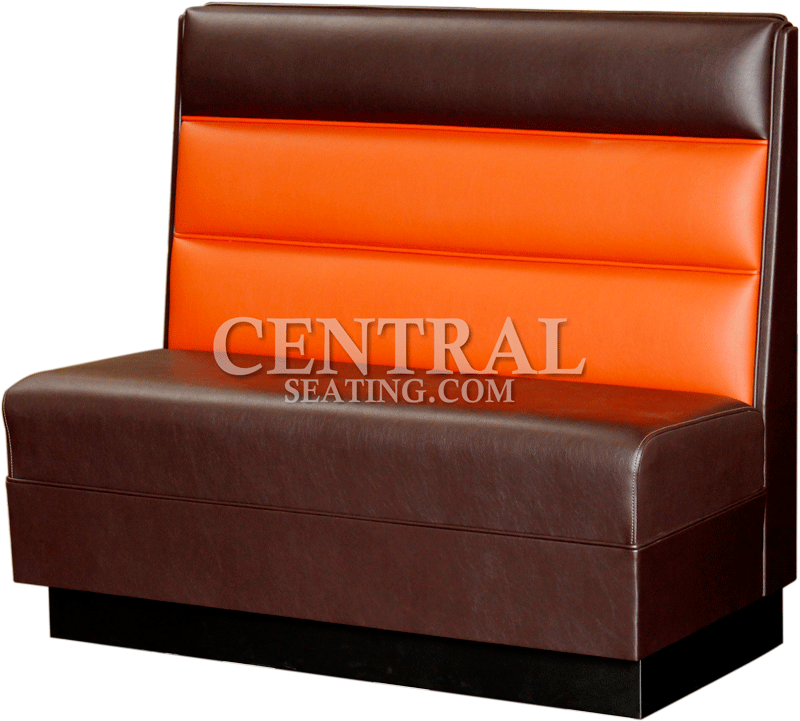 What makes this model unique is the horizontal channel back, together with a head roll.
This is a modern take on the traditional vertical channels as seen in #5 (model B1004) and #6 (model B1002). The number of horizontal channels will depend on the height of the back. This is a model that lends itself to alternate colors, leading to a horizontal striped look, drawing the eye along and giving an impression of length and distance. Each panel is separated and finished by welt detail.
#10: 2-Horizontal-Channel Back With Metal Legs - B1042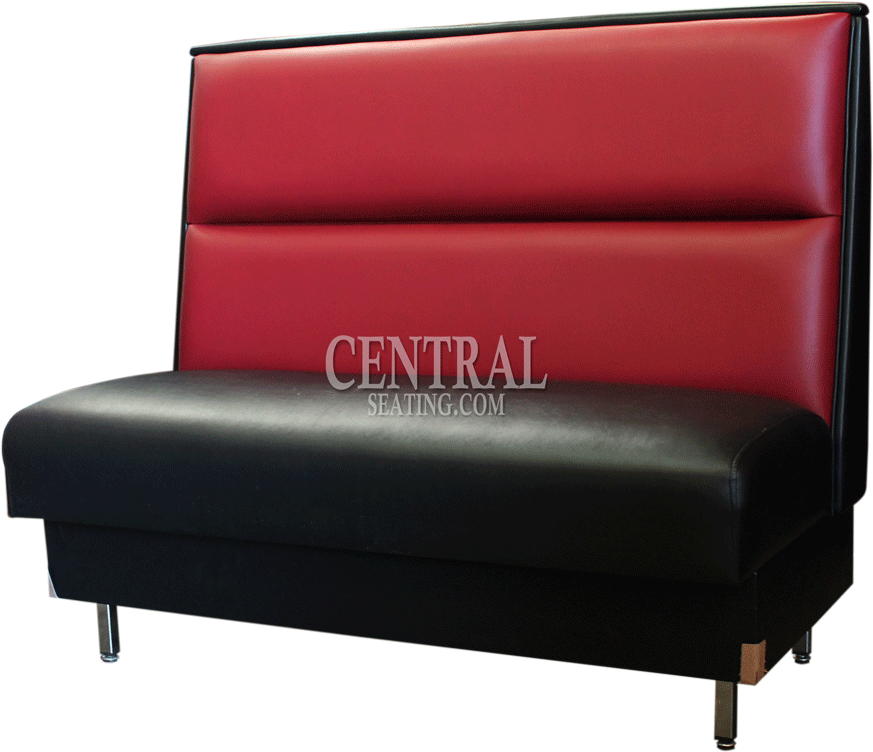 What makes this model unique are the 2-horizontal-channel back and the square chrome legs.
This model would be equally at home in traditional or modern décor. The two-channel design makes a bold statement, balanced by the lighter look of the square chrome legs.
The colors in the illustration have a strong masculine appeal – perfect for clubs, barber shops, men's clothing stores.
Yet if you were to select different colors from our library of more than a hundred colors and multiple materials, you could customize an ultra-feminine version!
Conclusion and summary
Whatever you are looking for – rustic restaurant booths, retro restaurant booths, cool or traditional – we can provide a customized solution for you. Our top 10 all started with the competitive edge of our top quality standard features – then added their unique personalities to become the winners.
Here's a quick summary:
Table 1: Top 10 best sellers for 2018