Making an Indian-themed Restaurant as Colorful as the Food
Indian cuisine is renowned worldwide for its array of sights, spices, and smells.
Whether you're in India yourself or if you've craved the food in a different part of the world, Indian restaurants are very common no matter where you travel and you are likely to have visited an Indian restaurant at someplace, somewhere in the world.
With any restaurant or the food-selling establishment, the quality and taste of the food is, of course, king.
However, for restaurants looking to welcome new clientele beyond the regulars, the decoration of the restaurant itself is crucial in creating the perfect atmosphere to match the food that is being served. Once a customer—especially a first-timer—comes in to experience what the restaurant has to offer, you have a very limited amount of time to impress them.
Fortunately, especially if this is your first time owning a restaurant (Indian themed, at least), we can help you make that first impression that'll make your customers remember more than just the naan.
This article discusses what interior designs define an Indian restaurant and how current Indian restaurants can be enhanced to give customers an authentic taste and feel of Mother India.
Even if you've already designed your restaurant, you can still make a difference—long after the design has taken place and settled. You can always remodel!
What makes a restaurant become an Indian Restaurant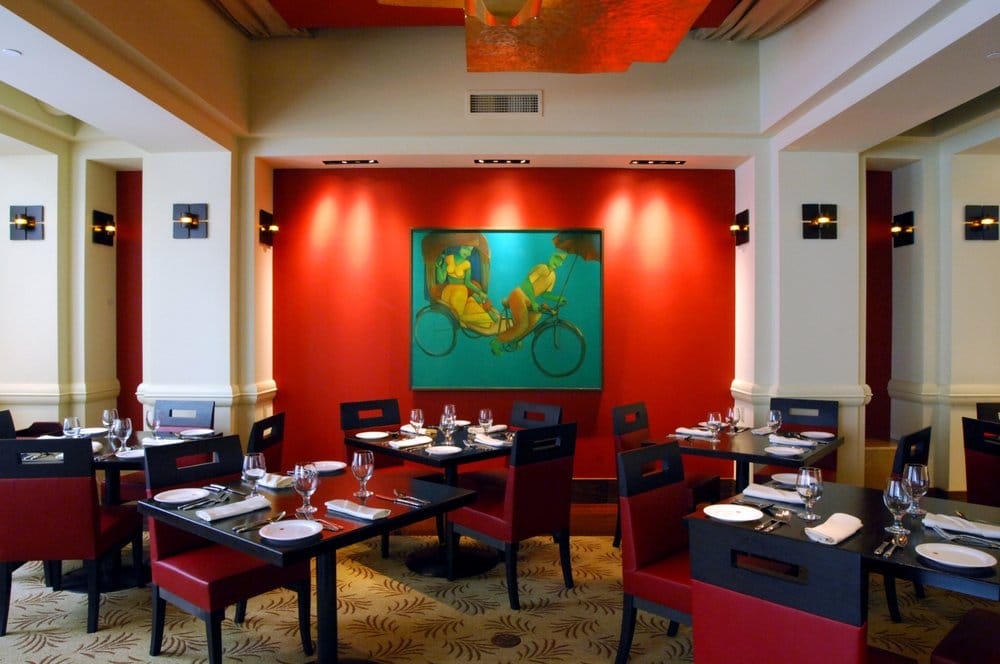 Indian restaurants should have a certain set of elements included in the interior design to ensure the authentic feel. If an Indian restaurant does not have any of the following features, it should certainly be marked down in the authenticity and vibrancy scale.
Whether it's a customer's first time in an Indian restaurant or their fiftieth, a loyal (or potentially) the loyal customer is going to be having expectations that will want to be met when it comes to not only the food but also the atmosphere of the restaurant.
Which is where you come in: to create the perfect setting for a dining experience.
You as the owner or in charge of decorating have the opportunity to truly make their experience at your eating establishment a memorable one. If they're a returning customer—wow them with the smaller details they don't remember from the first time. If they're a first-timer, make their visit something out of India, itself.
Welcome Area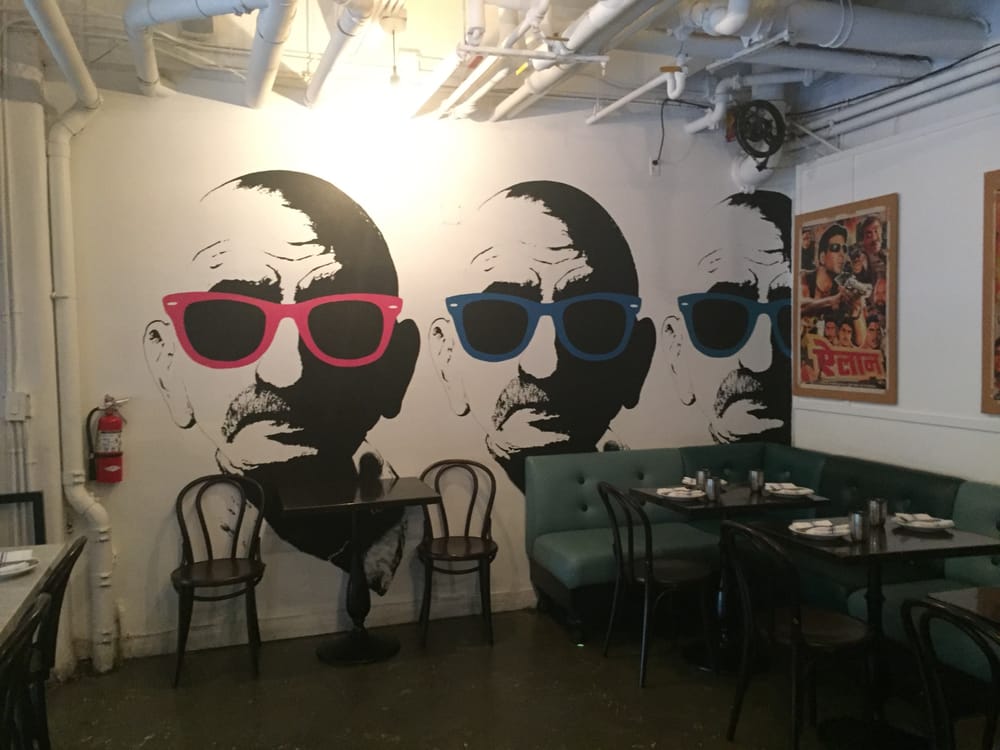 One of the most crucial, and often under-prioritized aspects of interior design for an Indian restaurant is the welcome area.
From the first step into your restaurant, you want to set the tone.
From the moment a customer walks into the restaurant, they need to be hit (not literally) with a barrage of Indian sights, textures, and sounds, to make them fully aware of the journey they about to embark on.
Ideally, welcome areas in Indian restaurants are spacious, equipped with extra seating for customers to wait during busy periods and also can have the restaurant in full view. If waiting customers can catch a glimpse of some of the dishes, they will no doubt be willing to wait a few extra minutes if the restaurant is fully packed.
Set the Mood With Color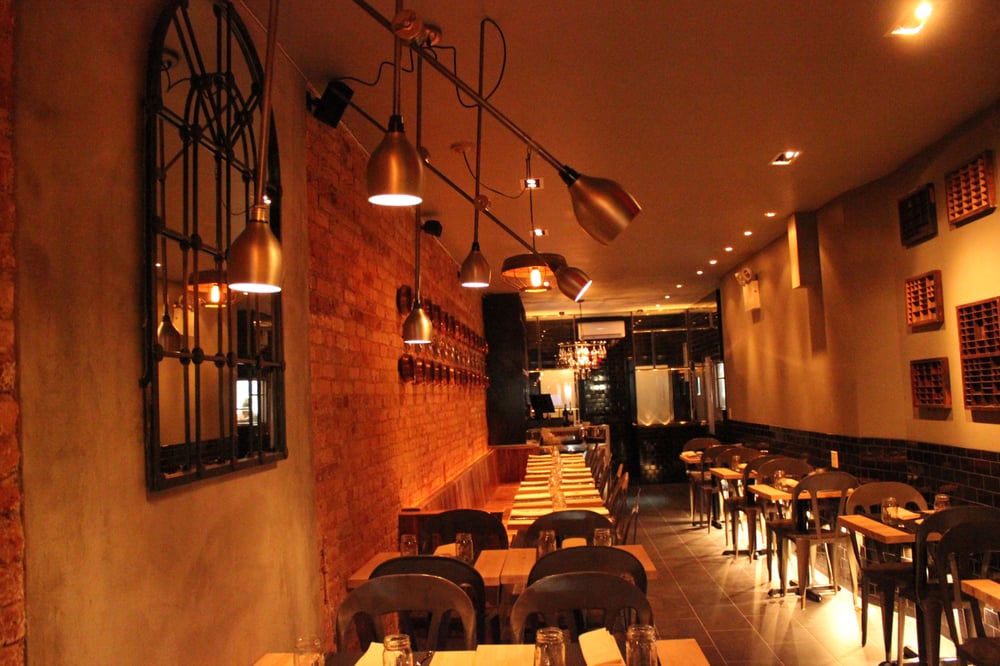 You don't want your customers being overwhelmed in a rainbow the first time they step foot into your restaurant. However, you also don't want the colors to just blur and be bland on a background.
Make it pop!
One of the best-known aspects of the interior decoration of an Indian restaurant is color.
Especially if you are planning on making a great first impression with your decor, you can't forget how unsubtle your colors should be. They should be loud!
The classic style includes bright jewel colors that are mixed with earthy tones to create a fiery and unforgettable visual sensation. Imagine the colors of the Diwali festival or a line of Indian spices and try to replicate those vibrant colors in the interior of the Indian restaurant.
A common approach would be to cover the walls in burnt orange or crimson color to get that true Indian feel. There is also subversive meaning to those colors as red is known for stimulating appetite whereas orange is known for improving conversation which is important in generating that lively atmosphere inside the restaurant.
However, don't go too crazy!
You also do not want to overwhelm customers or create the visual style of a children's play area.
Mixing the vibrant colors with white streaks or even having neutral colored walls with vibrant borders, are ways in which you can incorporate Indian vibrancy in a classy way.
Color Wash Walls
If you prefer the red or orange wall style and cannot decide which color to choose, a common design option is to mix both colors. The first color that should be applied to the walls is orange and then the red can be applied. Before applying the red it has to be mixed with a glaze before color washing the wall.
Doing this approach creates pretty neat effects, known as a faux texture. This adds depth to the color and makes it considerably more interesting to look at. When you color washes the wall, you can use either a paintbrush, cloth or sea sponge depending on what you have available.
Jewel and Metallic Tones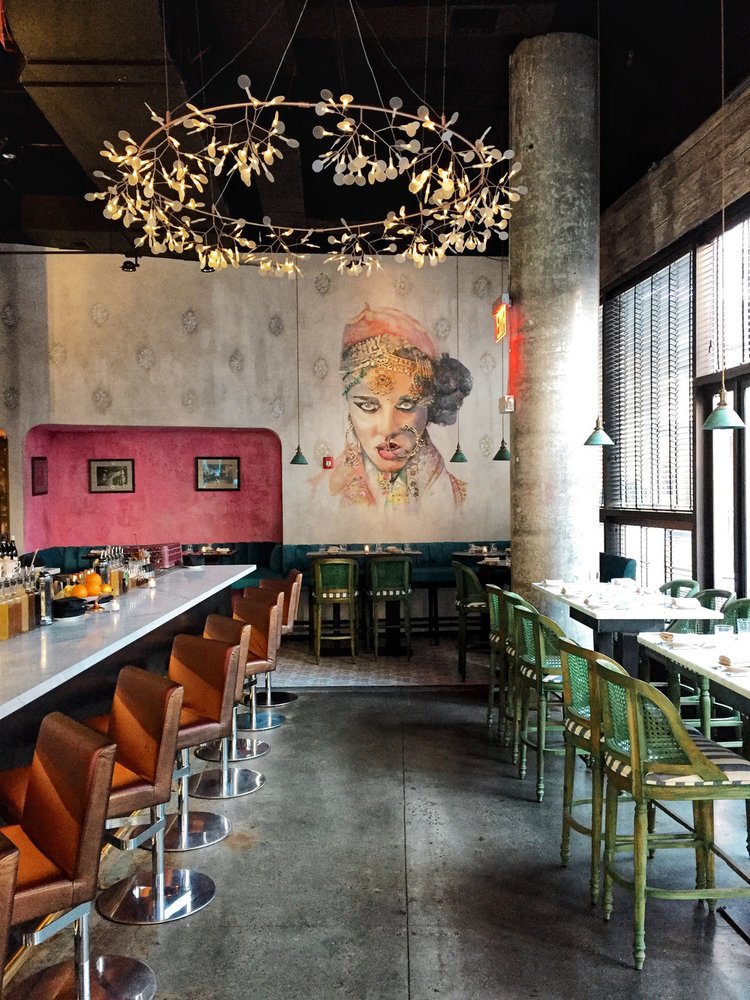 Having created your vibrant wall color, it is essential to add metallic and jewel tones to create a truly Indian restaurant color scheme. Jewel colors refer to variants of blue, green and violet. These can come in the form of fabric or glass accents.
Metallic colors include gold or copper and can be incorporated through features in architecture or sculptures. The importance of having metallic tones in the overall color pallet is to create a feeling of awe and splendor. Imagine the feeling of walking into a golden temple, those glimpses of shiny gold should be part of the design of an Indian restaurant in a subtle way.
If you have pillars inside the restaurant space, a way of making these chunky columns fit into the interior color scheme is by painting them a copper color. This auburn metallic color fits nicely into any Indian restaurant design.
Texturize With Textiles
India is famous for its textiles. As one of the largest producers of textiles in the world, it would be wrong to not include some in the interior design of an Indian restaurant. Indian textiles are mainly made from cotton or silk and finished with textured embroidery, metallic threadwork, jewels, beads, and mirrors.
Indian textiles are also renowned for durability. The fabric is treated so that can bond with dyes and maintain its color over a long period. Tie-dyed patterns are very common and can help to create those impressions of color explosions inside the restaurant.
Tie-dyed patterns can also be found on carved woodblocks which can create wonderful, authentic ornaments through the restaurant space.
What to include to complement an Indian Eating Experience
It's not all about the color and making the background of the restaurant pop, though! Other decorative components can make a difference in your customer's Indian eating experience.
Some interior design elements are crucial to accompany the eating experience. These elements are explained below.
Saris and Linens
Saris are traditional dress for women in India. They come in a vast array of colors and fortunately, can be adapted into textured décor items that can enhance the restaurant space. If you are unable to adapt saris into interior design elements such as tablecloths, curtains or table runners, a seamstress can easily do this for you.
Not only can you put saris into your staff's uniforms—you can simply incorporate them wherever you want in the interior of your restaurant.
Vintage saris can be remade into upholstery for the chairs or benches inside your restaurant, while tables and window areas can be enhanced through adopting print linens.
Adding saris and linens into the design is crucial to get the authentic feel of India to complement the amazing food being served.
Rugs, Tapestries, and Pillows
The floor of an Indian restaurant should ideally be decorated with hand-knotted Indian rugs. These rugs are highly durable and can withstand large amounts of people walking on them regularly.
For seating areas, especially in the waiting area where there may be bench-style seating, there should be large and comfortable pillows which should be decorated nicely with Indian embroidery. Such accent pillows can make the restaurant feel homely, while the intricate embroidered decoration can also give that sense of the 'abroad'.
Another great way of making Indian fabric more visual in the restaurant interior is by framing some fabrics as wall art. Large Indian tapestries can also be hung on the walls are across the ceiling to give that extra authenticity.
Tapestries can be real talking points for customers. Although they can often be a significant investment, putting down some money on an Indian tapestry does a huge amount to give the feel of an authentic Indian restaurant.
Examples of such items can be bought include:
Block print tablecloths and curtains at Saffron Marigold.
Decorating an Indian Restaurant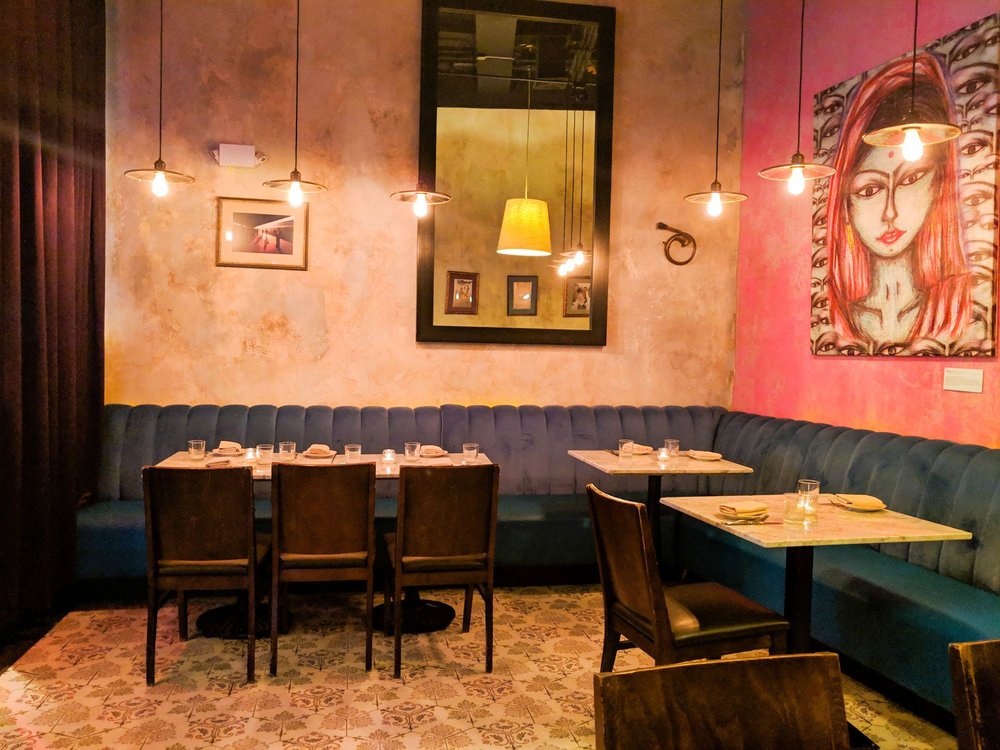 Table and Seating Arrangements
Depending on the style of Indian food inside your restaurant, the seating arrangements say a lot about the intentions you have for the customer. If the restaurant serves Indian street-food or quick takeaway style, having benches or other communal-style seating would be ideal for allowing customers to understand the restaurant.
Restaurants, where customers are intended to stay awhile and enjoy their meal, should have a sufficient number of tables and chairs to fit a decent amount of customers in the space. Don't fall into the mistake of trying to overload the space. Crucial to having a positive Indian restaurant experience is having lots of space to move about to enjoy the restaurant.
Make sure the spacing between guests is sufficient for customers to be able to talk with their company comfortably. Often Indian restaurants crowd tables together and customers simply cannot hear each other.
Hand Carved Furniture Details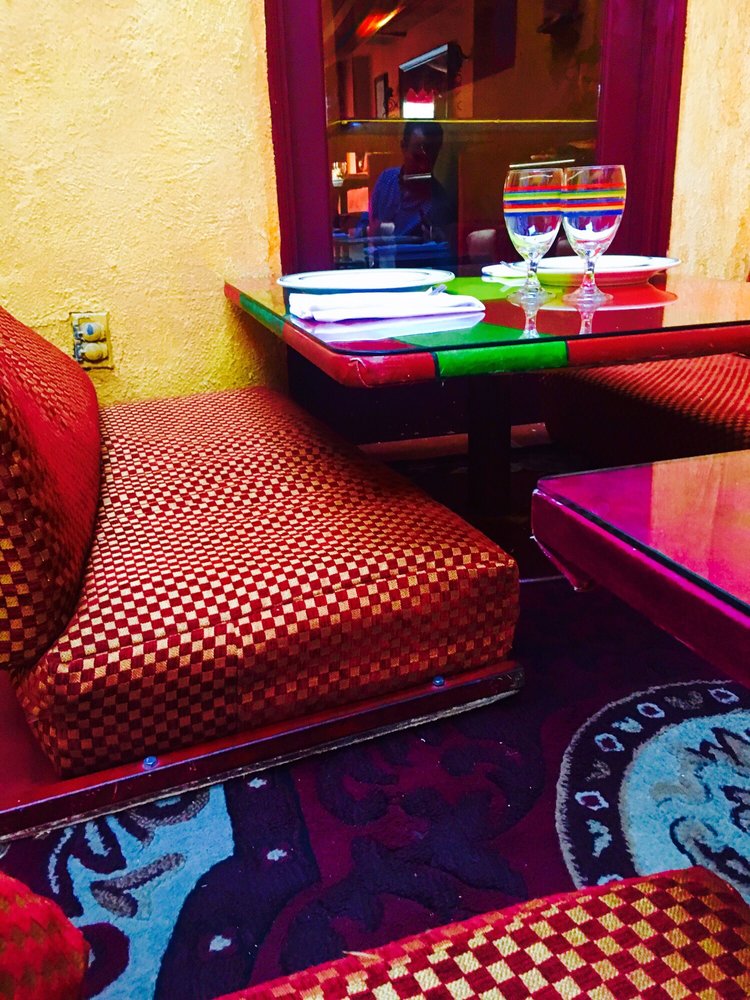 Furniture is another crucial element to get right when looking to create an authentic Indian restaurant theme. A well-known furniture style for Indian restaurants is to have intricately carved Indian tables and chairs. However, getting hand-carved furniture for the whole restaurant is likely to cost an insane some.
The approach many Indian restaurant owners follow is to add a few hand-carved pieces across the restaurant to give customers a visual sense of Indian craftsmanship. Although customers will not be using this furniture, it gives enough cultural flair to add the overall restaurant feel.
A good place to add hand-carved furniture is in the waiting area. Common examples of such furniture include a loveseat, elegant armchair or a rosewood sofa. In this sense, the hand-carved furniture does not over dominate but gives a subtle sense of authenticity.
On entry into the restaurant, a good tip is to have large hand-carved wooden panels to immediately create a strong impression for customers.
Hard-carved Indian style furniture can be bought from the following places:
Exotic Lighting
The lighting of a restaurant is very crucial to get the right ambiance. Particularly for atmospheres of relaxation and romance, having intimate lighting is key. Lighting should focus on the customers and the food. It has to be flattering for both, to ensure that customers are happy with how they look and that the color of the food can be seen in all its glory.
Appetites are often heightened by how the food looks. If customers can see a dish presented with great lighting, they are more likely to want that dish or even order extra.
Moroccan Pendants and Lanterns
Accent lighting can be made very attractive with the addition of pendant lanterns that hang from the ceiling. Moroccan pendants can also fit perfectly with the Indian style as they contain intricate patterns and styles that are similar to Indian style decoration.
Small Moroccan candle lanterns are also popular and can make fantastic lights on the tabletop. These are great for creating that romantic atmosphere that many couples desire on a night out to a restaurant.
These can be purchased at Tazi Designs.
Directional Lights
Directional lights are crucial to ensuring that you have sufficient light across the whole restaurant space. While dimmed romantic lighting is ideal for the right ambiance, it is less practical. Servers and customers need to be able to see across the restaurant to navigate the space. Installing overhead track lights is a great way to ensure sufficient lighting.
To create that desired ambiance from the directional lights, dimmers can be installed so that the restaurant feel is not overwhelmed by overly bright lighting.
Lumens also has a wide selection of track lighting kits and individual track light components which are ideal for restaurant spaces.
Accents and Accessories
India has many cultural icons. Whether that be famous cricketers such as Sachin Tendulkar or one of the many cult hero Bollywood stars.
Adding in accessories such as sculptures or wall-art of famous icons can allow customers to identify with certain aspects of Indian culture.
Whether it be from areas of sport, film or religion, India has a vast culture in which icons are many. Adding in a few could radically enhance the authentic restaurant feel.
What are the must-haves in Indian restaurant interior decorations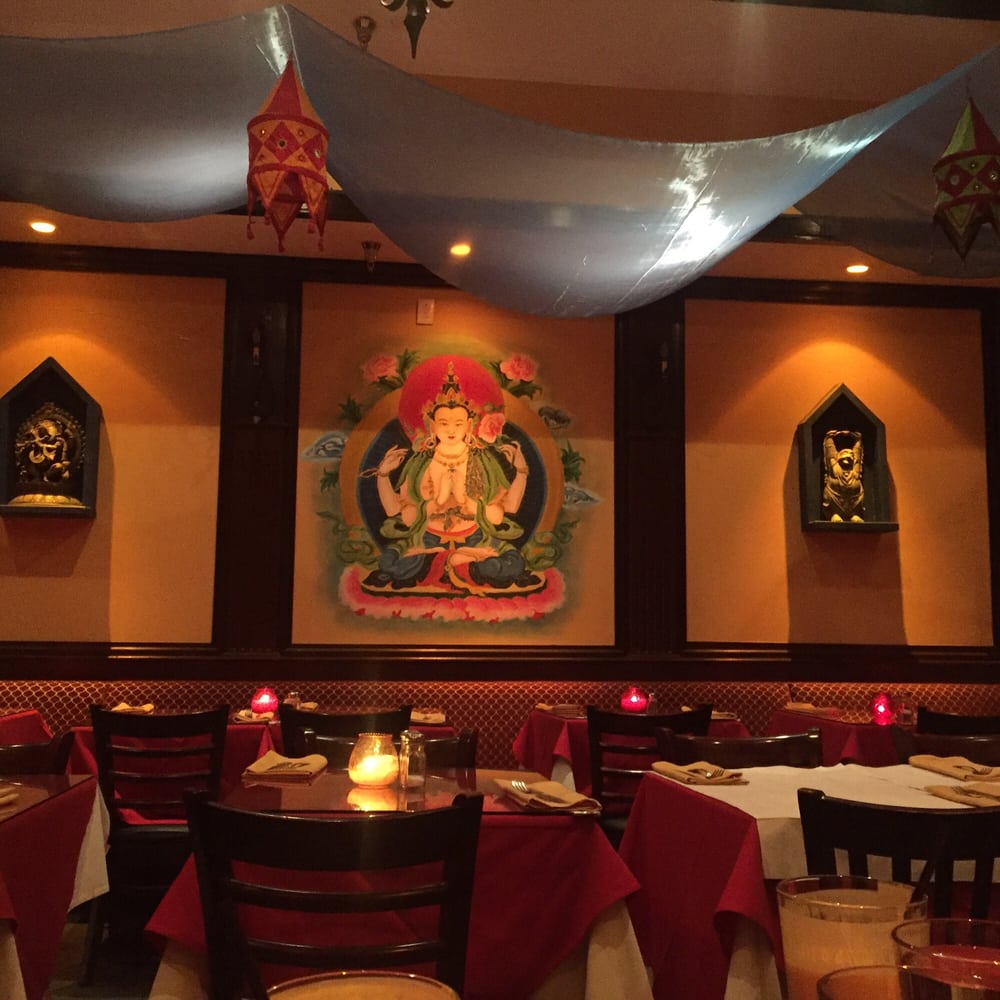 Sculpted Forms
If possible, sculpted forms should be included in the interior of an Indian restaurant. India's majority religion of Hinduism has many different deities from which sculptures can be easily ordered.
Each deity has an important spiritual meaning and will certainly be welcomed by followers of the Hindu religion who may visit the restaurant. The sculptures are mainly constructed from either stone or metal. Common sculptures of Hindu deities include:
Ganesha: Head of an elephant with four arms, Ganesha is one of the most recognizable deities.
Krishna: Often portrayed playing his flute, Krishna is a frequently worshipped by Hindus in India.
Shiva: In Hindu religious practice, it is believed that Shiva is beyond gender and is depicted as a supreme entity in a variety of abstract and humanoid forms.
Vishnu: This Hindu deity is known for having three poses: standing straight and holding his attributes of a conch, wheel, mace, and lotus in his four arms, sitting and reclining.
The Goddess: Commonly referred to as "Mother", this deity has forms, limbs, and other aliases.
Paintings
Traditional Indian art includes Batik paintings.
These paintings can make great wall art for customers to be drawn to. The process of creating Batik art sees the fabric first covered in wax and then dipped in a dye that is ice-cold. The ice-cold temperature then cracks the wax and produces color veins throughout the design.
The color veins are a trademark of Batik art and will be very familiar for those in touch with sub-continent culture.
Indian folk art paintings could be an alternative art feature in the Indian restaurant space. Featuring traditional ornamentation that is associated with prehistoric Indian cultures, Indian folk paintings often depict magic rituals or ancient tales of years gone by.
Exotic India has a great site for those interested in Indian sculptures, paintings, and other cultural or symbolic artifacts.
Tara Design has a huge variety of Indian sculptures, mirrors, glass bottles, carved boxes, and colorfully painted candle plates.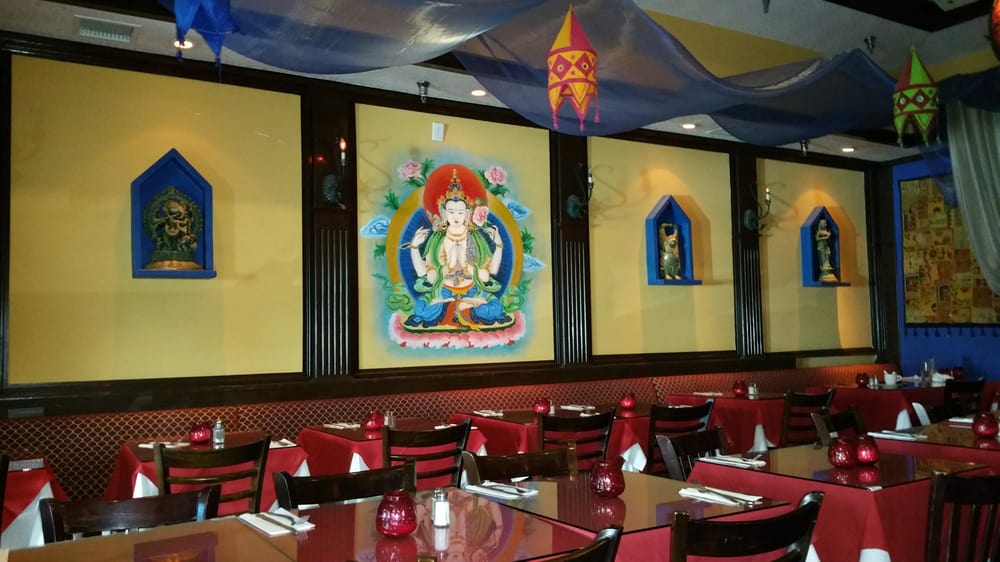 Keep It Classy
This is a very important element to consider. You want to create an impression of India in your restaurant but you do not want to overwhelm customers are making it tacky.
Don't buy too many things and overload the restaurant space. Having too much clutter inside a restaurant can be stress-inducing, customers should feel relaxed and excited when sitting in a restaurant.
Although bright and vibrant, Indian art is intricate, having a small number of interesting pieces is better than overwhelming your walls with too much art. Allow customers the focus their attention on a few pieces of Indian art.
Conclusion
Hopefully, this article has helped you to better understand the design specifications required to create an authentic Indian restaurant.
It is crucial to get it right. Indian restaurants are a crowded market globally, with it being one of the most common cuisines available for customers to access a restaurant. Taking that into consideration, the interior decoration is very important to improve the chances of a customer enjoying their experience and returning to the restaurant in the future. Better still, they make recommend the restaurant to their friends and family.
Food is, of course, the number one priority. Customers may be able to forgive a poor restaurant interior if the food is outstanding, that said, the interior design is crucial to encouraging new customers to come into the restaurant.
Authenticity is the priority. This article has tried to give you all the design ideas that stay true to the Indian theme. Customers will notice if a restaurant is not authentic. Sticking the ideas outlined in this article is a good process to follow.
Keeping everything in moderation is also very important. Do not clutter your restaurant with ornaments or paintings. Avoid color clashes and putting too many tables and chairs. Ultimately, let space breathe.
That way, you will have happy customers who will want to eagerly return to enjoy more Indian food.
Whether you're looking for inspiration or if you want the perfect layout for your Indian restaurant, Central Seating, Inc can help you with your designing needs.
Our company helps cover booth and table seating, as well as creating unforgettable patio or bar areas.
Central Seating can help you achieve the restaurant interior design of your dreams. Before you venture out in the design world on your own, the professional guidance and advice from our staff can help you bond and interact with your clients so they'll come back for more!